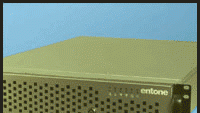 The European cable players have been slower than their U.S. counterparts to take up video on demand (VOD), partly because of financial pressures and partly because they have been waiting to see how successful the U.S. pioneers have been. VOD has been widely deployed in the United States, predominantly by the large cable operators. The motivation stems from the need to reduce subscriber churn and increase the average revenue per user (ARPU).

As Gigabit Ethernet becomes the interface of choice for VOD delivery, density is important. Entone's StreamLiner Lite server is capable of streaming more than 900Mb/s over Gigabit Ethernet and providing hundreds of hours of RAID protected storage.

With the big European cable players now completing their restructuring, we can expect a great deal of activity in VOD throughout 2003 and into next year. In the cable market, the increase ARPU that VOD delivers is a strong reason for a new digital business model. Moreover, new market entrants in the broadband triple-play market see VOD as a key element of their service mix of high-speed Internet, telephony and television.
In the near future, both the established cable operators and the new triple-play market entrants will look to Internet Protocol (IP) to deliver their new VOD services. Even if the final delivery network is not IP, IP-based VOD can offer advantages within the operator's core network. IP enables operators to use a common network layer for VOD, Internet access, voice over IP and possibly even broadcast television. IP can be viewed as a key enabler for cable and broadband VOD. Not only does it reduce the cost of entry and delivery, but also it makes delivering VOD services easier because the same IP experts already required for the Internet and voice delivery can apply their skills directly to video delivery with minimal extra training. What is more, managing a single network infrastructure reduces operational costs, while capital investment is minimized by the use of high-volume IP infrastructure designed for the computer industry.
The cost benefits increase even further when Gigabit Ethernet is introduced to provide high-bandwidth connectivity while preserving Ethernet's traditional low cost point. Each connection can carry a large number of services, and multiplexing at the IP layer is simple. Gigabit Ethernet interface modules are moderately-priced compared to comparable SDH ATM modules.
As operators upgrade their core networks to support VOD, they will look to safeguard their investment by building a network that is sufficiently flexible and scalable to enable new applications and future growth. The introduction of IP into the operator's core network provides opportunities for additional services with associated additional revenues, as well as new possibilities in the design and management of the overall system architecture.
Who will deploy IP-based VOD?
IP is the standard network layer for the majority of today's broadband deployments such as xDSL and fiber to the home/curb/building. For these systems, deploying IP-based VOD is the natural choice, and the new service fits seamlessly into the existing network. IP is carried all the way to the consumer's set-top box (STB) to provide broadcast TV, VOD, Internet traffic and possibly voice over IP. The deployment of IP in this end-to-end manner also opens up the opportunity for new types of STBs, reducing the cost of consumer devices.
In cable networks, IP can be used to transport VOD services to the very edge of the network, only converting to traditional QAM for the final delivery over the Hybrid Fiber Coax (HFC) network. Recent advances in IP over dense wave division multiplexing (DWDM) make this an attractive choice. High-density QAM modulators have been designed to reside at the edge of such networks. They are able to receive tens or even hundreds of single-program transport streams over IP and perform MPEG-2 multiplexing, QAM modulation and upconversion to UHF.
Such units expect the individual VOD streams to be delivered to them over IP, removing that layer before multiplexing, modulating and upconverting in the traditional way.
IP could even play a part in VOD services for satellite and terrestrial networks, even though these networks do not lend themselves to instantaneous VOD. Instead, it is possible to trickle-feed content to personal video recorders (PVRs) so the requested content is available to the customer some time after the request, with popular choices, such as the top 10 movies, being instantly accessible from local storage.
IP for video
At first glance, IP is not well suited to the transport of video. IP provides a basic 'best effort' packet delivery service, which means that if for any reason the network is unable to deliver a packet, it is discarded. Moreover, IP has no in-built quality of service (QOS) structure that can guarantee bandwidth allocation and delivery characteristics.
In contrast, compressed video is intolerant to data loss. The video encoder has already worked hard to remove any redundancy in the bitstream, so every remaining bit is important. Also, some form of bandwidth management will be critical, especially if the video services are sharing with sporadic Internet traffic and timing-critical voice-over-IP connections. Moreover, the timing model of MPEG-2 relies on a constant delay network, meaning that the jitter introduced in the IP network must be removed. This will either take place at the STB in broadband networks or in the edge QAM device in cable.
Although this is a relatively simple process, it comes at the cost of additional hardware and, perhaps more importantly, additional latency.
The loss of an IP packet containing video will be noticeable to viewers, so these losses must be minimized. Retransmission of missing packets is usually not viable, especially when the service is being multicast to a wide audience. Instead, either the IP network has to be set up and managed to deliver a low packet error rate, or some form of forward error correction (FEC) is deployed. With FEC, extra packets are constructed and sent so that the receiver can rebuild a complete stream, even if some packets are missing.
IP VOD architecture
IP provides a simple means of interconnecting servers and delivery devices, regardless of their physical proximity. Traditional VOD servers have been large machines located at the center of the network, with the advantage of a single point of management and a single content repository.
This architecture, however, requires a large amount of core network bandwidth because the network from the centralized site must carry every delivered VOD stream. For large networks, this is likely to be impractical.
An alternative architecture is to locate the servers much closer to the subscribers. This vastly reduces the demands on the core network but requires a more intelligent content management system. By having the servers interconnected by IP, server manufacturers are building fully distributed systems that provide a software management layer that enables them to be controlled and managed as easily as a monolithic central server.
What is more, as Gigabit Ethernet becomes the interface of choice for VOD delivery, density is important. It is now possible to produce a 2-rack unit server capable of streaming more than 900Mb/s over Gigabit Ethernet and providing hundreds of hours of RAID protected storage.

Figure 1. A hybrid VOD architecutre. With the exception of the final QAM stage, this architecture is identical for cable and broadband deployments.

Hybrid solutions are also possible where edge servers store the frequently accessed content while less popular material is stored further back in the network. These hybrid architectures allow the optimal trade-off between core network requirements and server deployment costs. A typical hybrid architecture is shown in Figure 1. In deployments with multiple distributed servers, automatic intelligent content management is key to minimizing operational costs. As user demands change, content may need to migrate from the centralized server to the edge (or vice versa) and be duplicated or deleted. Content management systems today are now capable of performing these operations autonomously.
With edge-deployed VOD, it becomes relatively cheap to add network PVR functionality, and this could eventually allow everything to be on demand. Although many viewers are more than happy to watch the programs put before them, it is widely expected that subscribers will highly value this sort of functionality, contributing to reduced churn and even increased ARPU.
Summary
IP VOD is being deployed today. The technology is available, and it works. As operators secure their long-term futures and look to build profitable business models, they will be looking to VOD as one of the key services that can spark the interest of their customers. Those VOD services will be over IP. Although IP is far from perfect, the pros clearly outweigh the cons. Thanks to development in technology, it is already possible to overcome the shortcomings. Over time, as the IP QOS mechanisms stabilize and become more widely adopted, as with Multi-Protocol Label Switching (MPLS), for example, many of the current problems will disappear.
The main attraction of IP-based VOD is that it provides operators with the possibility of reducing both capital and operational costs. That will be good for the operators, and given the competition, it will probably help drive down the price to subscribers as well. The IP infrastructure may also help to enable new applications, many of which have not been thought of yet. It seems safe to predict that these services will be more interactive than the services we are used to today, and that, again, plays into the hands of an IP-based solution.
Dr. Paul Stallard is VOD product manager for TANDBERG Television.
The latest product and technology information
Future US's leading brands bring the most important, up-to-date information right to your inbox