The Case for Creativity, COTS and FOSS During COVID-19
Making something out of nothing is my favorite part about being a broadcast engineer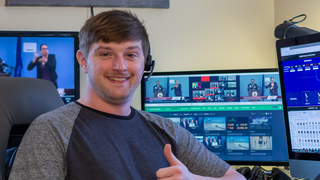 (Image credit: Nick Riebesehl)
As many of my veteran colleagues have put it, we're responsible for everything "from toilets to transmitters," and working at a station in a smaller market makes that set in quickly. What little time we have between putting out metaphorical fires gets burned up by annual capital projects and chipping away a to-do list the size of El Capitan.
When the spread of COVID-19 arrived, the routine fell by the wayside while we pulled spare and standby equipment from every which way to put together small backup facilities to maintain continuity of on-air operations in case of widespread exposure. Between running cables and pulling equipment for those isolated locations, and breathing new life into as many old laptops as possible to get people working from home, there was plenty of work to do and not a lot of time to get it done.
A lot of our success with putting everything together so quickly can be attributed to good "legacy knowledge" of random exploitable one-off features around the studio and tech core. Additionally, the closets of piles of spare/old/questionable-value equipment we just can't bring ourselves to get rid of in a timely fashion really gave us a boost.
Our solutions to social distancing and remote operations paired tidbits from the past with newer technologies. If everyone had to be someplace else, they needed to use internet connectivity to get things done one way or another. There was wiggle room for discretionary spending to make work-from-home happen, but a lot of the things we might have wanted were out of stock by the time we thought to buy them.
We connected video capture and playback cards on old dusty PC towers to the few remaining HD-SDI router crosspoints. Tons of different signals could enter and exit cyberspace and end up as good old 1080i. Video over IP transmission technologies like NewTek NDI and Haivision SRT that are free and/or open source were just what we needed. Any computer we had on hand that had a Blackmagic DeckLink card and could run FFMPEG or OBS could now be a live contribution encoder in someone's home, bandwidth permitting.
Some colleagues at our sister stations setup Unity Intercom servers and deployed Elgato Stream Deck panels with Bitfocus Companion so staff could monitor and control equipment while staying in communication with the skeleton crew at the station and other armchair production control operators. From down in my Nielsen DMA, I could only marvel at the beauty of such simple pieces and parts filling such large needs.
Having fellow video engineers across the globe to exchange ideas and suggestions fosters good creative solutions to many of the hurdles introduced to the pandemic that is affecting all of us. If someone poses a problem on the subreddit r/VideoEngineering, dozens of others will offer input. Like-minded strangers sharing links to freeware and GitHub code repositories makes the daunting task of rolling with the changes easier.
While these circumstances are not ideal and may continue indefinitely, I hope that the global mindset and the free or inexpensive pieces to the puzzle help get a lot of outfits moving up the IP infrastructure ladder. What we figure out how to do today has a big chance to shape the way we get things done in the future.
I know all about mission creep and that trying new things leads "to no good deed going unpunished," but I also know that being a broadcast engineer is getting to be less about metal-oxide videotape and more about bare-metal hypervisors all the time. Putting aside the fate of the television industry and the bureaucratic nightmare machine trying to raise the bottom line, it is empowering to know there are at least a few other resourceful and forward-thinking broadcast engineers out there that haven't stopped learning and growing. The ones that want to get the broadcast/IT convergence rolling wherever they are.
Say what you will about the prevalence of automation and consolidated operations, but the wisest of the ownership groups will always have and will always need those key people that can solve problems and come up with innovative ideas while doing five other things at the same time. When major changes need to be made to the workflow "yesterday," dedicated and inventive engineers are the ace in the hole.
This article originally appeared on www.medium.com.
The latest product and technology information
Future US's leading brands bring the most important, up-to-date information right to your inbox
Thank you for signing up to TV Technology. You will receive a verification email shortly.
There was a problem. Please refresh the page and try again.