Waterman Broadcast adopts new graphics workflow at two Florida stations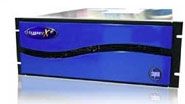 Waterman Broadcasting will begin using six Chyron HyperX2 on-air graphics systems, two CAMIO news graphics management solutions and Chyron's Election Package at two stations.
The systems will be divided between WBBH-TV, the NBC affiliate in southwest Florida owned by Waterman Broadcasting, and the Montclaire Communications-owned WZVN-TV, an ABC affiliate operated by WBBH through a local marketing agreement (LMA).
The HD/SD-switchable HyperX2s, with Lyric PRO creation and playout, are currently on-air in 16:9 SD but will transition to HD in time for the Olympics. At that point, WBBH and WZVN will be fully HD. The Election Package is tailored to fit WBBH's channel branding and will provide significant advantage against competitive channels.
For more information, visit www.chyron.com.