VidTrans Celebrates 25th Anniversary
Video Services Group gathered for its annual three-day meeting focusing on video transport and networking technology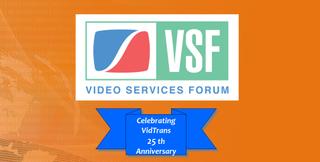 (Image credit: VSF)
MARINA DEL RAY, Calif.—Last week, the Video Services Forum (VSF)—an industry group covering all aspects of video networking technology—celebrated the 25th anniversary of VidTrans, its annual three-day gathering. Usually held the week after the HPA Tech Retreat in Palm Springs, the timing and proximity makes it easier for Tech Retreat attendees to participate in both events.
This year, 148 industry professionals attended the event, Feb. 28-March 2, which despite the not-so-friendly southern California (wet/cold) weather, went on without a hitch.
Topics of discussion covered the transport of video and media signals throughout systems, hence the name "VidTrans." This year's agenda focused on innovative types of networking and video technologies along with their application to video transport.
Here's a summary of selected presentations:
Video Quality Monitoring
In the session "OTT: Best Practices and Challenges," Andrey Pozdnyakov, president of video monitoring provider Elecard, discussed typical OTT tasks and challenges, practical use-cases and quality monitoring models. Andrey described how to detect problematic parts of technical equipment or networks which then quickly identify who is responsible for the issue.
Elecard's monitoring products describe the differences and findings in a Quality of Services (QoS) vs. a Quality of Experience (QoE), similar to those applications in cable or encoding systems.
Implementing Sustainability
In a hybrid session that included in-person and virtual panelists, "Minimizing the Carbon Footprint of Live Production" focused on sustainability in the video networking space.
Moderated by Andy Rayner, chief technologist at Nevion, panelists Thomas Edwards of AWS, Barbara Lange of Kibo121, Athena Trastelis of the CBC, and Geoff Wolf of the BBC, discussed how their organizations are working towards implementing and maintaining a carbon neutral-future, focusing on the environmental impacts and best practices in the workplace. Panelists asked the VidTrans audience to consider buying products from companies who have a demonstrable plan for improving their workplace or products amidst a growing global awareness for sustainability.
Live Cloud Production Networking
On-demand networking for enabling live cloud sports production in a real-world proof of concept (PoC) was discussed by Brad Cheney of Fox Sports, Thomas Edwards of AWS, and Ryan Korte of Cloud Connect, Lumen Technologies. The team showed how they approached "working from home" for live sports productions including the products and practices, showing examples of recent live sports productions done entirely in the cloud from non-venue locations.
Prompted by the impact of Covid on remote production, Fox in particular, has taken a stunning direction in making live production possible using cloud-based services and production support services that literally "sit" in production personnels' living rooms, front porches or in a hotel.
This is obviously changing the structure, feasibility, and cost of doing live sports productions by mitigating the expenses and time associated with moving an entire truck fleet-level staff to the onsite venue. This new approach is changing the model by spreading the production into geographically separated locations and eliminating the requirements to transport large sets of complex hardware (i.e., mobile outside broadcast units) to site.
Designing for Efficiency
Adam Salkin, director of engineering, M&E West for Diversified, discussed how EVS, TAG VS and Fox Sports collaborated with Diversified to design, assemble and configure a fully transportable system (Fig. 1a) contained in a system engineered for transport in a cargo plane's belly.
(opens in new tab)
The folding rack system (Fig. 1b) consists of multiple skids that hold five 44RU systems each and contain a complete ST 2110 mobile production system that was used for Fox Sports' coverage of the 2022 FIFA World Cup, Super Bowl LVII and the upcoming 2023 FIFA Women's Cup this summer in Australia and New Zealand.
(opens in new tab)
Considering the complexities associated with assembling and transporting the huge volume of gear needed to technically produce these events, it was impractical to use ocean cargo methods to get the systems between locations in the time frame available between two major events. Developing the air-cargo system was essential to covering the World Cup and Super Bowl in the minimal time allotted.
'Building the Airplane While in Flight'
I had the pleasure of joining Microsoft's technology team of Jack Clawson, Chief Solutions Architect and John Ball, Project Manager at Microsoft to focus on the timelines involved in transitioning to IP in the session "End User Requirements and Design Challenges," moderated by Brad Gilmer, Gilmer and Associates.
In the session, Jack and John outlined all the detailed planning and implementation requirements for an active project that updated Microsoft's Production Studios services on their Redmond, Wash. Campus.
Panelists talked about the steps taken in the migration from an SDI-based system to IP. Since the five-year-old SMPTE ST2110 standard is so new, such a transition was described by one panelist as akin to "building the airplane while it's in flight."
Discussion topics focused on how the integration addressed supply-chain issues, delays, and the continual changes and additions incurred as the design and install was developed throughout an 18-month period; all the while, keeping live production going and major events Microsoft conference events moving forward. Extensive adjustments were constantly made as switch deliveries and new products were introduced into the Microsoft Production Studio systems—often with delay adjustments driving the "next phase" of each project segment.
Network Details
Chris Lapp, Technical Solutions Architect of Cisco Systems discussed any-source multicasting (ASM) in the session "PIM: there's a better way," which included a brief overview of PIM-DM (dense mode) and PIM-SM (sparse mode). In addition, Chris described the concepts of "PIM flooding," a generic way of distributing information within a PIM domain as well as "PIM source discovery," which announces information of active sources throughout a PIM domain.
Chris discussed the status of this technology within the IETF and Cisco, describing how the oldest multicast routing protocol commonly used today is defined in RFC 3973 (which is only an experimental protocol and not a standard).
Sufficient detail was diagrammed to describe the variations in the family of PIM (protocol independent multicast) as optimized for specific, particular, or differing environments. The protocols provide one-to-many and many-to-many distribution of data over a LAN, WAN, or the Internet.
IPMX and RIST Updates
One of VidTrans's annual rites of passage include a summary status of the variations, findings, and demonstrations of the newest Technical Recommendations, such as TR-10 for Internet Protocol Media eXperience (IPMX) and TR-06 Reliable Internet Stream Protocol (RIST).
The developers for both of these transport technology TRs discussed their progress within the VSF Activity Group, including an update on TR-10 within the IPMX group from Jack Douglas, Vice President Marketing and Business Development for Packetstorm. IPMX is a ST 2110-type implementation focused on products in the ProAV marketplace. Such products are already available for harmonized implementation with ST 2110 systems.
Dr. Ciro A. Noronha, Ph.D, Cobalt Digital, updated the gathering on the latest developments in RIST Source Adaptation. Topics included the motivation for source adaptation, and an overview of the VSF TR-06-4 (Part 1) and preliminary implementation results for this technology.
TR-06-4 (part 1) is designed to recover packet loss via retransmission. When network capacity falls below the stream rate, no amount of retransmission can fix this (i.e., you can't recover a 5 Mbps stream once the link falls below 4 Mbps). TR-06-4 sets a point where the stream source must be reduced to compensate for a link level that is insufficient. This TR creates a signaling methodology to dynamically adjust the stream source rate to compensate for network changes.
New features are summarized in TR-06-3 RIST Advanced Profile for other protocols and in TR-06-4 RIST Ancillary Features including Source Adaptation (approved in November 2022) and the use of Wiregaurd VPN in RIST (approved in January).
Historical Perspectives and PTP Security
Wes Simpson of LearnIPVideo reviewed the history of the Video Services Forum, from its creation in 1997 to the present, while John R. Naylor, Vice President of DashBoard, softGear at Ross Video, presented the SMPTE Study Group's second report on Security in ST 2059, including a detailed overview of how PTP (i.e., IEEE-1588) functions, typical PTP applications, how PTP is used in broadcast infrastructures and the vulnerabilities of PTP on systems plus suggested corrective actions to prevent bad actors from taking over PTP in a system.
The VSF's annual technical conference is an educational and networking experience for all those working in the domain of IP video in a broadcast environment, a WAN or a transport solution provider's world. Each year the VidTrans conference showcases some of the latest applications, technologies and products in its exhibit hall as well as provides attendees with networking opportunities at this special event.
More information about VSF is available at vsf.tv.
The latest product and technology information
Future US's leading brands bring the most important, up-to-date information right to your inbox
Karl Paulsen is the CTO for Diversified, the global leader in media-related technologies, innovations and systems integration. Karl provides subject matter expertise and innovative visionary futures related to advanced networking and IP-technologies, workflow design and assessment, media asset management, and storage technologies. Karl is a SMPTE Life Fellow, a SBE Life Member & Certified Professional Broadcast Engineer, and the author of hundreds of articles focused on industry advances in cloud, storage, workflow, and media technologies. For over 25-years he has continually featured topics in TV Tech magazine—penning the magazine's Storage and Media Technologies and its Cloudspotter's Journal columns.