HPA Tech Retreat Explores Cutting-Edge M&E Tech
Highlights included an up close look at the production of 'Avatar: The Way of the Water'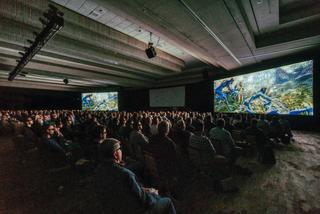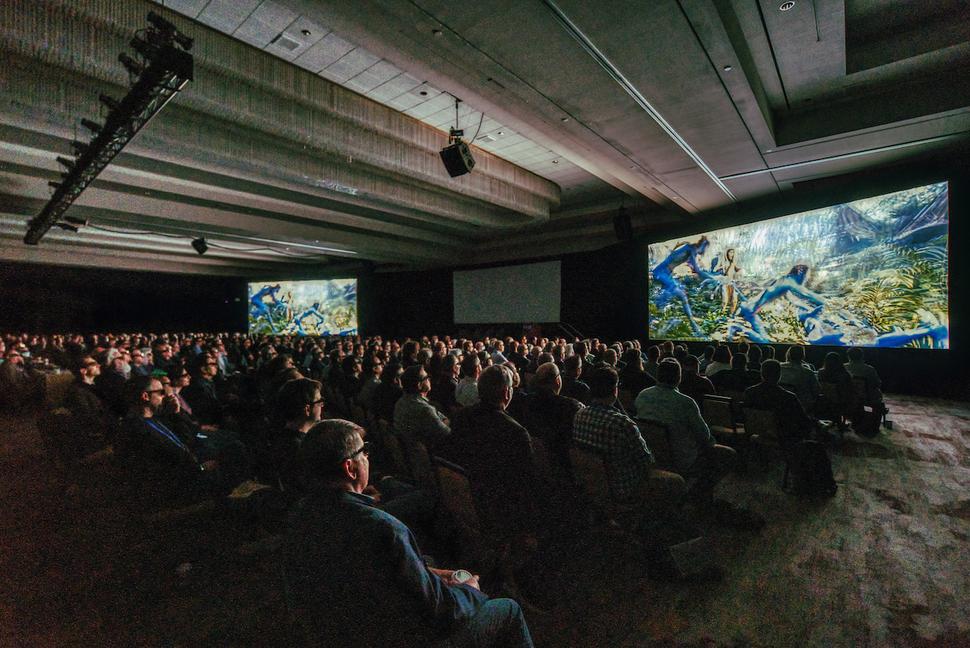 (Image credit: HPA)
RANCHO MIRAGE, Calif.—This year's Hollywood Professional Association's Tech Retreat was held again in its familiar location in Palm Springs at the Westin Mission Hills Golf Resort & Spa, Feb. 27-March 2. The four-day conference was once again sold out and didn't disappoint.
This premiere technology and leadership event brings together a "who's who" world-class roster of thought leaders in engineering, technology, creativity and business to explore and experience the most timely and important topics around the creation, management, and distribution of media content. The HPA's annual Tech Retreat is like no other among our industry's tech events.
The event includes sessions, roundtables and the opportunity to network amongst the thought leaders who regularly attend the event plus an estimated 50-75 new first time attendees. Current, new, and future ideas are rigorously explored and debated throughout the four-day experience.
Presentations are some of the most applicable to the media and content industry and occur continuously throughout the entire event, from breakfast roundtables through to nightcaps.
The retreat kicked off with the first day's TechRetreateXtra ("TRX") and then continued on day 2 (Tuesday) with the HPA Supersession and then Tech Retreat organizer Mark Schubin's "Technology In Review" followed by a series of discrete presentations from industry leaders and organizations.
TRX, The 'Extra Mile'
The TRX consisted of half-day tutorials, technical lectures on color science topics, and featured numerous discussions (e.g., ML/VR/AR techniques) about the most relevant technologies in the media, content, and broadcast industry.
Mark Cholis and Craig German moderated the TRX sessions, which included 40 first timers in the audience, all getting familiar with a "post-Covid workforce." Discussions centered around the evolution of working from home as well as a return to the "office" onsite workplace amidst the drastic changes imposed by the pandemic of the past three years and concerns about keeping up with increasing demand.
Where will the workforce come from? That all depends on a number of factors that were discussed at TRX: from supply chain issues to lack of interested newcomers to the phenomenon of "silent quitting."
Exploring those Tech and Creative Elements
Another TRX panel explored the "marriage of technical and creative elements"—which was demonstrated during Tuesday's Supersession on the making of "Avatar 2 Way of Water."
Recognizing that our new and current workflow cultures possess the ability to influence change in the ways production and post in the cloud have responded in capabilities and demand, this is exemplified by the expectation that include the rapid approval of image data only a few moments after the director shouts "cut!"
The cloud has certainly enabled production personnel to easily and rapidly review materials before the production teams leave (for the day)—resulting in much faster turnaround and significantly reducing costs or overhead.
'Legendary Mortality'
Panelists expressed concern about preserving the mortality of those "legends of the industry" who founded, created or developed the technologies used in video media production and are explicitly asking how their visions and experiences can progress based on evolving knowledge requirements—including collaborative methodologies and how to use these newer "in real time" capabilities across multiple departments.
In a related topic, Dr. Keizer Khaderi, MD, Clinical Associate Professor at the Byers Eye Institute at Stanford University. Stanford's Human Perception Lab ("HPL") addressed the question "What are the pathways into the industry?" Dr. Khaderi offered a biological and neurological perspective and his "Immersion and the Promise" study explored the paths from creation to consumption and how to apply those principles.
Khaderi demonstrated the technology of "Generational Adversarial Networks," a concept that Disney Research Studios has deployed in a tool called the "face-re-aging network," (or "FRAN") which reduces the process of aging editing from hours to seconds. This has been used in motion picture segments for such shows as "The Mandalorian" and the most recent "Star Wars" films.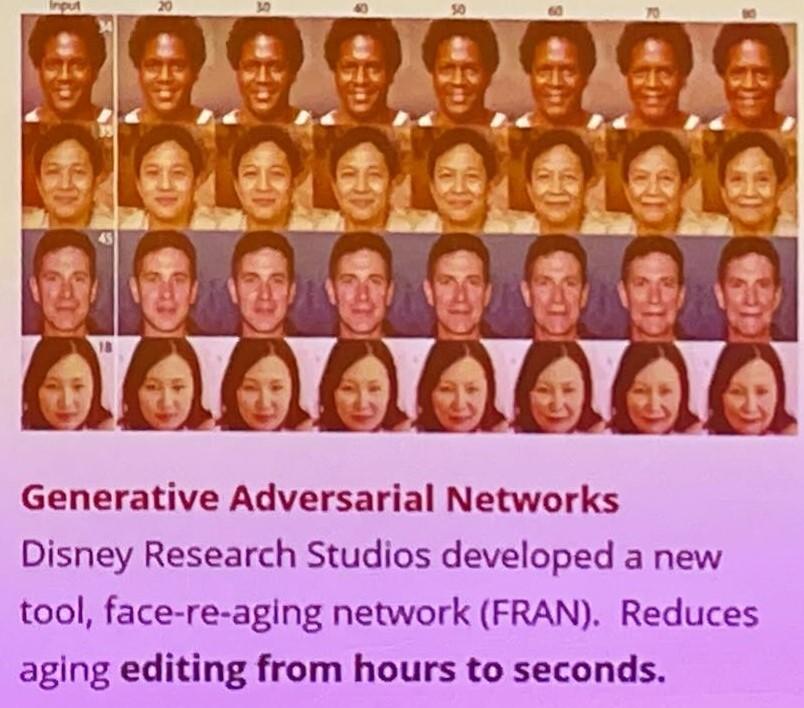 (opens in new tab)
The Stanford Healthcare HPL Program also tests head-mounted displays and the ocular tolerance of contemporary electronic devices. This includes "bridging the gap" in human-machine interfaces with showings of "today" vs. "tomorrow" by merging biological and computation systems by teams of clinicians, scientists and technologists for impactful real-world solutions.
The $225Bn Supply Chain Applied to M&E Industry
Another session offered up three years of supply-chain research with surprising conclusions in the dollar volumes and impacts to the M&E industry. According to researcher Vitrina, global spending in the M&E supply-chain currently stands at $255 billion annually. This encompasses all of the individuals, organizations, resources, activities, facilities, and technologies involved in the development, production, distribution and sale of content. There are roughly half a million suppliers in the supply-chain, consisting of those outlined in Fig. 1.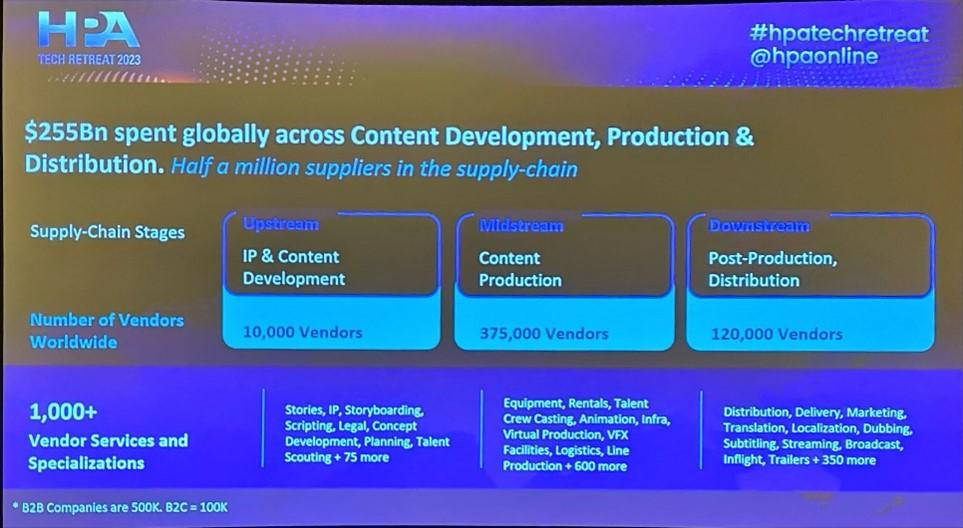 (opens in new tab)
Of the nearly 600,000 contributing companies, the Americas account for 300,000 (50%) with EMEA at 180,000 (30%) and APAC at 120,000 (20%). According to the research, at these volumes, it is "difficult to make sense of market moves or predict demand-supply." Business and commercial models are rapidly changing and the "noisy cacophony" from these companies, suppliers, the inside trade media and events is now "deafening" according to the presenters.
Machine Learning as Computable Everything
Driven by growing demands, machine learning (ML) methods are becoming more sophisticated according to researchers at the University of Southern California's Entertainment Technology Center.
"Lots of limitations, ethical questions and confusion persist" as researchers attempt to define "what's next." HPA attendees were reminded that current models are still too inaccurate to be fully trusted or integrated into products and questions remain about how to bridge the chasm between sophisticated learning and true intelligence.
Per USC's ETC group, traditional media organizations who produce news and information, content for broadcasters, corporate solutions and such, are nowhere near ready to adopt the technology. Those organizations that adopt hybrid methods using "deep neural nets" plus "knowledge graphs" and "human-built symbolic reasoning," however, can and will, likely accelerate the capabilities of traditional ML systems.
Presenters described the "computable everything" model which showed a series of steps or stages relative to enabling true ML applications in Fig. 3.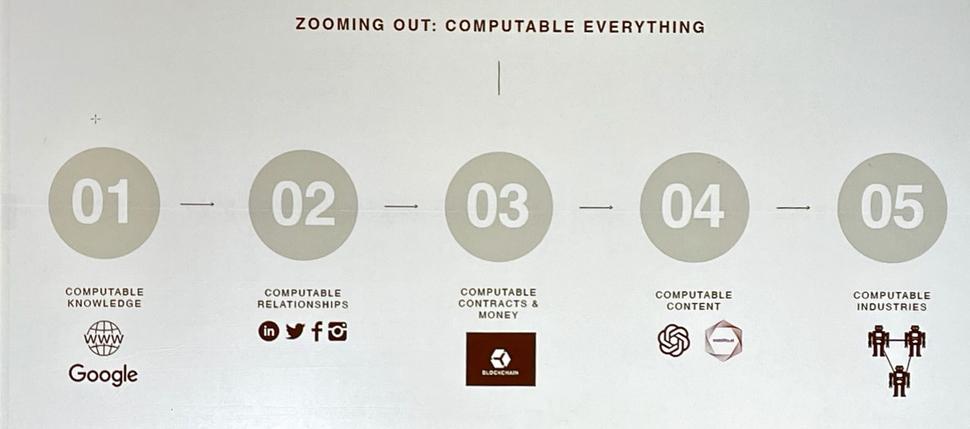 (opens in new tab)
The current popularity of AI elements in ChatGPT, for example, are being applied to startups whereby the "smart money" will go where the opportunities are: e.g., content curation, recommendation and personalization using content data and audio data then applied to social media and streaming activities, according to the ETC.
Highly automated media organizations are crafting and distributing content with growing levels of efficiency by using personalized, highly curated and integrated (metaverse) content. Such levels of ML and AI-based activities are allowing content creators and distributors to connect to audiences previously unreachable using traditional (legacy) approaches.
Avatar WOW Supersession
No one quite expected what Tuesday's opening Supersession on the production of "Avatar: The Way of the Water" would uncover or show.
For starters, set up in the main room were three DCI certified full theatre grade screens for the audience to view clips and segments in full 3D (RealD). Each of the Christy, 4K laser projectors produced a proper 14 ft. lamberts on the screens to emulate what would be experienced in a true theater environment. Real 3D glasses were distributed and the audience saw the Avatar clips and show segments almost as though they were in a high-class theater without the cushy seats.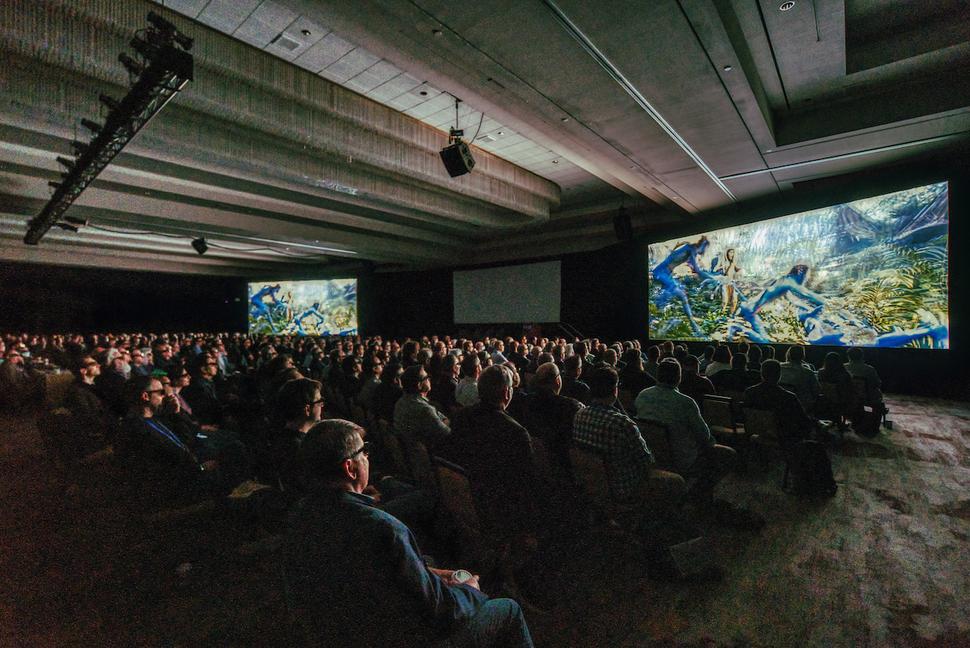 (opens in new tab)
Attendees got a "deep-dive" look at how the film was created—both technically and monetarily. Jon Landau, Avatar's creative executive and producer, led an inspiring discussion about the production concepts and collaborative efforts need to produce the Avatar sequel.
Following Landau's interactive interview, the session focused on how new data pipeline & mastering methods that build DCPs (digital cinema package, a collection of digital files used to store and convey digital cinema (DC) audio, image, and data stream) in the cloud and maintain cloud backups allowed these production to build centralized cloud-centric QC capabilities globally.
The Avatar session provided a great example of how companies that sometime compete against each other brought about a harmonious set of collaborations which enabled the production to succeed visually, technically, and economically, despite the lengthy period it took to complete the production and release. Such harmonious collaboration was a theme of the day for all.
Avatar's distribution specifications included 15-picture reels (for a total of 3 hours and 12 minutes each) with 6,338 total DCP deliveries supported by 28 dubs for 51 different languages. There were 1,065 different builds consisting of 175 for "2D" and 691 versions for "3D" builds plus an additional 199 "IMAX 3D" versions.
Focus on the Future
While impractical to cover the myriad of topics addressed at this year's Tech Retreat, it is easy to see why this event is considered "the place to be" if you're focusing on where you and your business should be in the next 5 years or so.
MovieLabs' 2030 Vision—which was a part of the retreat again this year—is a great resource for anticipating and recognizing how changes are being made to the M&E industry, not just for the cinematic and motion picture industry, but across the entire domain we are familiar with (and in some cases, not so familiar with).
Unveiled in the summer of 2019, the MovieLabs whitepaper "The Evolution of Media Creation" lays out a bold 10-year vision for the adoption of new technologies to aid in content production, post and VFX.
Check out this year's summary agendas and if you plan to attend HPA 2024. Don't delay...this event sells out quickly. Look for the announcements or signup/join the HPA at https://hpaonline.com/.
The latest product and technology information
Future US's leading brands bring the most important, up-to-date information right to your inbox
Karl Paulsen is the CTO for Diversified, the global leader in media-related technologies, innovations and systems integration. Karl provides subject matter expertise and innovative visionary futures related to advanced networking and IP-technologies, workflow design and assessment, media asset management, and storage technologies. Karl is a SMPTE Life Fellow, a SBE Life Member & Certified Professional Broadcast Engineer, and the author of hundreds of articles focused on industry advances in cloud, storage, workflow, and media technologies. For over 25-years he has continually featured topics in TV Tech magazine—penning the magazine's Storage and Media Technologies and its Cloudspotter's Journal columns.