SuperBowl is super promo for equipment companies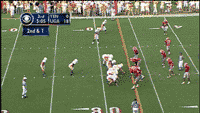 An example of PVI's branded First Down Line which appeared last fall on CBS during a college football game. Dupont's logo appeared on the field.

Video production companies that helped ABC to televise Super Bowl XXXVII had a high-profile opportunity to show their technical wares.
Princeton Video Image produced the virtual first down line for the game to more than 200 countries and also inserted advertisements for the game's international feed. During the live telecast PVI created and produced virtual ads customized for advertisers in the Mexican and Canadian markets.
Simulcasting the game in high-definition television (HDTV), ABC used a HD-capable truck from National Mobile Television that included a Thomson Grass Valley video production switcher and Chyron's Duet HD and SD 2D/3D graphics and animation systems and Aprisa 200 clip store/graphics video servers.
Graphics will be built on the Duet HD systems based at ABC Sports in New York City, and Lyric messages will be transferred to Duet SD systems installed in the remote broadcasting truck on site in San Diego. The Duet controls the Aprisa 200 system, which allows the show's director to include animated clips for the Duet. During the game, the stand-alone Aprisa 200 systems were used to playback network promotion material as well as full screen, rendered graphic elements.

An example of PVI's unbranded First Down Line which appeared last fall on CBS during a college football game.

Motorola's Broadband Communications division provided ABC Sports with its DigiCipher II high-definition (HD) digital transmission equipment to broadcast Super Bowl XXXVII live from San Diego's QUALCOMM Stadium. The DigiCipher II HD encoders performed the original back haul digital compression from the field-based HD cameras.
The source feeds from the production truck were produced in the network's preferred 720p HD format. The Motorola encoder then compressed the feeds to the backhaul rate of 41 Mbps for transmission over satellite to ABC production studios in New York.
There, HD decoders translated the feed back to a baseband HD signal for the addition of graphics and commercials. The finished signal was then recompressed for the distribution feed to participating ABC affiliates.
Finally, the signal went through one more decode/encode cycle at the various affiliates for the final 19.39 Mbps DTV broadcast to consumers.
For more information visit www.chyron.com, www.motorola.com/broadband (opens in new tab) and www.princetonvideoimage.com.
The latest product and technology information
Future US's leading brands bring the most important, up-to-date information right to your inbox
Thank you for signing up to TV Tech. You will receive a verification email shortly.
There was a problem. Please refresh the page and try again.