Snell & Wilcox to launch SD/HD production switcher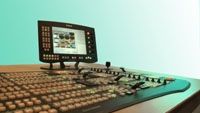 Snell & Wilcox's Kahuna

Snell & Wilcox will unveil its new SD/HD production switcher at the IBC2004 conference in Amsterdam.
Kahuna lets users process selected mix effects on both SD and HD outputs and mix together SD and HD sources simultaneously in one mix effect.
It eliminates the need for separate mainframes to handle SD and HD sources, or for a reboot on the mainframe when switching from one standard to another. It also provides users with a transparent HD upgrade path, delivering a solution that fits with a facility's needs wherever it may be in the process of migrating from SD to HD technology.
For more information, please visit: www.snellwilcox.com.