Riedel moves to new Glendale location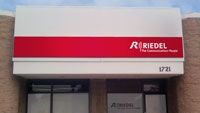 Intercom and communications systems provider Riedel Communications has relocated its U.S. headquarters to a new, larger facility in Glendale, CA.
The company has moved to a new 3200sq-ft building in Glendale, close to its former Burbank address. In the past, Riedel shared offices both on the East and West Coasts with other companies. Now it has its own exclusive space, which gives it the ability to streamline business processes while having a central location to house a larger stock of products and expanding its customer support services and repair work.
The new headquarters consolidates all central services such as the warehouse, administration, commissioning, logistics and repairs. In addition to the new location, Riedel has established East and West Coast service hotlines and a network of Riedel service personnel in key customer locations like New York, Dallas, Montreal and Los Angeles.
The new location will also play host to the company's "Riedel Tuesday" sessions, where engineers and other prospective intercom users are invited to get free training seminars on the second Tuesday of each month.
Riedel's new address is 1721 Victory Blvd., Glendale, CA. Customers on the East Coast can call 914-819-0495; West Coast, call 818-241-4696.