Pinnacle, IBM, Sagitta and Hamlet line up for UK Identity Parades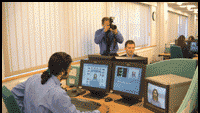 On March 14, the UK home secretary, David Blunkett, opened West Yorkshire Police's National Video Identification Bureau in Wakefield. The bureau, Europe's largest editing facility, houses the groundbreaking Video Identification Parade Electronic Recording (VIPER) Project. The project creates identification (ID) parades on video for police forces across the country. The revolutionary project will potentially save UK police time and money.

Editors use 34 Pinnacle Systems Liquid Silver editing machines at the Wakefield centre. There, one of 20 trained video editors construct a line-up from around 10,000 volunteer image files.

Pinnacle Systems provided an IBM network designed and implemented by storage services company Sagitta. The network supports 34 Pinnacle Liquid Silver editing machines. Maintaining signal quality through the system is the responsibility of DigiScope 601AX units with remote controls and two specially modified 302 WVR waveform monitors from Hamlet.
Where live parades sometimes take days or even weeks to arrange, the new system completes video-based IDs in less than one hour. The portable technology allows police to bring the parade to witnesses, offering them greater protection and convenience, while details of the crimes are fresh in their minds.
In the past, the unavailability of witnesses and volunteers forced police to cancel 50 percent of scheduled parades. With the VIPER system, cancellations are significantly down and more positive identifications are completed.
Changes in the Police and Criminal Evidence (PACE) Codes of Practice in April 2002 gave video ID parades equal evidential weight to traditional 'live' parades and the multiple benefits look set to ensure the Home Office develops the strategy nationwide. £7.6 million have already been invested in the pathfinder and plans are in place to offer the VIPER system to all of the UK's 34 police forces.
Around 60 stations within the ten constabularies with England's highest levels of street crime, including West Yorkshire, South Yorkshire and West Midlands, record 30 seconds of footage of each suspect. They then send it to the Wakefield center, where one of 20 trained video editors construct a line-up from around 10,000 volunteer image files. More than 15,000 video ID parades have already been conducted since April 2002, increasing the number of parades completed from around 50 per week to up to 125 per day.
Project manager Tony King said the return on investment is expected in less than 11 months. "Viper has turned video identification parades from a cottage industry to a national project which has been well received by the police, solicitors, witnesses and victims of crime alike," he said.
For more information visit www.pinnaclesys.com (opens in new tab).
The latest product and technology information
Future US's leading brands bring the most important, up-to-date information right to your inbox