MLB Baseball 2023: Timing is Everything
New rules emphasize importance of speed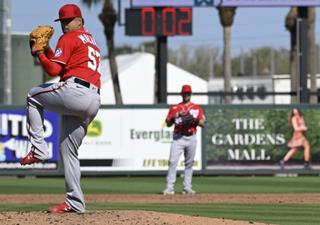 (Image credit: Getty The Washington Post)
The first question being asked in various circles about the 2023 Major League Baseball season is obvious: How will the new rules—the pitch clock, a limited number of pickoff throws and the end of defensive shifts—affect the approach of broadcasters, who will have an average of 30 less minutes of air to present per game? With the pitch clock, for instance, how will talent adjust to less time for analysis between pitches? And how does the quicker pace affect the approach with replays?
Fortunately, MLB broadcasters and the other concerned parties like the MLB office (which tweaked the new rules in late March) had spring training to adapt to this new world, make mistakes and adjust in time for Opening Day.
Early in the 2023 pre-season, one MLB superstar weighed in on the new rules. "Really, the power the pitcher has now—I can totally dictate pace," New York Mets right-hander Max Scherzer told Fox Sports. "The rule change of the hitter having only one timeout changes the complete dynamic of the hitter-and-pitcher dynamic. Yeah, I love it."
Native 1080p
Although the new rules justifiably got the bulk of the pre-season press coverage, there are other new developments on the tech side, particularly for the MLB Network.
"We plan to build out new technology that we've been working on for the past few seasons, such as transitioning our game coverage to native 1080p," said Jason Hedgcock, senior director, remote technical operations for MLB Network.
But that's not all. MLB Network, via its new Graphics Central group, can fully access its trucks from Secaucus, N.J. in real time.
"That new graphics room can support four remote productions at once," said Hedgcock, noting its four game benches with 6-8 seats per bench, as well as three graphics chairs, plus one each for Statcast, a researcher and a graphics producer, plus in-game, off-site umpire clarifications [à la the NFL], also with real-time connections to the mobile units."
However, the network's biggest innovation for the 2023 season will hopefully debut during the stretch run and in time for the postseason.
"The big deal this year is a [SMPTE] 2110 digital backbone," said Jacob Soto, vice president, engineering and information technology for MLB Network. To enable this transition to the advanced video networking standard, the network is building a new Ross-based control room—with elements from EVS and Calrec—from the ground up. "We hope to have it online in August and ready for the post-season," Soto added.
Super Motion
Fox is incorporating more super motion cameras in addition to the usual (up to) two, for each broadcast. "We're boosting that number due to more games on the network," said Brad Cheney vice president of field operations and engineering for Fox Sports, though he doesn't yet know just how many or how often.
Fox also plans more in-game player interviews. "With this year's rule changes, there will be more to talk about, such as pitching sequences or what went into completing a double-play," etc., he said.
As for those gamechanging new rules, "they'll make MLB better to watch and will lead to us broadcasting more games in 1080p, with more super motion," Cheney said, noting that Fox is working with MLB to find innovative angles, etc. "There's much to be done, just not right off the bat."
Entering the season, Fox "will stick to a minimum of nine cameras per game," he said. "For FS1 broadcasts, we enhance the regional sports networks show."
Another goal at Fox is to continue to leverage the trucks with its vendors, which include Game Creek Video, NEP and Mobile TV Group, which have all been upgrading their fleets to 1080p. "About half of their trucks have that capability now," Cheney said. "As the NBC Sports RSNs move toward 1080p, that improves our offerings as they grow. And we'll grow with them and aim to be the leaders in that technology."
As for new techniques, Fox has spent considerable time with cameras in the dirt and around the bases-especially since this season's "pizza box" bases might offer more opportunity for enhancement, Cheney added.
"We're looking for new angles, but that may take the whole season," he said. "We have ideas in the pipeline with MLB, as do TBS, ESPN and Peacock, that we've used during the All-Star Game and postseason that we want to bring to the viewer."
Cheney said Fox also wants to heighten its emphasis on sound. "We are continuing to develop new ways to bring the sounds of the game to our viewers, especially after how unbelievably loud it was in Philadelphia during last year's World Series."
'The Dynamic Has Changed'
Back behind the lens, Phil Orlins, vice president of production for ESPN said "any camera decisions have to do with documenting the game," which has to do with its magnitude and the financial implications.
Typically, the network will use the basic complement of 12 cameras, which "are mostly a combination of Sony HDC-4300s for super slo-mo and with HDC-2500s, with the remainder hard cameras with tripods and long lenses in the typical areas," said Orlins, noting high and low third and first; the baselines; centerfield; a robotic at the home plate screen and a wireless roving handheld, with another for outside the ballpark and beauty shots.
"We can even use FaceTime in the feed, as we did during spring training when we featured [MLB pitching legend] Roger Clemens," he said. "But we're basically using the same equipment complement from last year, with new data wrinkles."
As for the new rules, Orlins says the dynamic has changed. "For instance, we'll now only have time for two replay angles; last season, it was four or five," he said. "It's going to be like football with hurry-up offenses, when were accustomed to a huddle before every play."
However like some other observers who may seem leery of the changes, Orlins has "no doubt that the on-field product will be dramatically improved and that the broadcasters will adjust. Our ultimate plan is to incorporate the pitch clock into our scoreboard in the upper left hand corner of the screen."
Hinting at more innovation to come, particularly in this seasons' broadcasts from London and Williamsport, Pa., he said "There will still be 'great stories to tell.' They'll just be presented "in a more condensed style for a fan base that had grown weary of waiting."
Get the TV Tech Newsletter
The professional video industry's #1 source for news, trends and product and tech information. Sign up below.
Mark R. Smith has covered the media industry for a variety of industry publications, with his articles for TV Technology often focusing on sports. He's written numerous stories about all of the major U.S. sports leagues.
Based in the Baltimore-Washington area, the byline of Smith, who has also served as the long-time editor-in-chief for The Business Monthly, Columbia, Md., initially appeared in TV Technology and in another Futurenet publication, Mix, in the late '90s. His work has also appeared in numerous other publications.