KTVR chooses Euphonix for digital audio mixing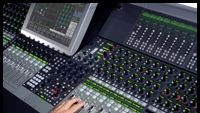 Oregon Public Broadcasting (OPB) station KTVR, located in Portland, OR, has purchased a new Max Air digital audio console from Euphonix to handle its on-air mixing needs. The new console will be installed in KTVR's new Portland studio production facility as part of an extensive facility renovation that includes HD cameras, a production switcher, new character generators/monitor wall and numerous additional enhancements.
The new audio mixing system at KTVR features 96 channels, 32 faders and an eight-fader center section. It features a series of "Layouts" that enable the operator to easily bring up groups of channels to facilitate easier management of a large number of inputs. It also has snapshot recall of all console settings, the PatchNet routing system and a large 17in high-resolution touch-screen display.
OPB has five full-powered TV transmitters and five DTV transmitters. Television stations operating under the OPB corporate umbrella include KOPB, KOAB, KOAC, KTVR and KEPB.
For more information, visit www.euphonix.com.