Fox Sports Tackles Super Bowl LVII Coverage With Emphasis on Clarity
More than 20 cameras are native high frame rate to ensure viewers at home see all of the action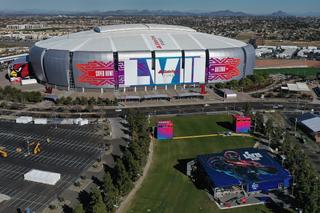 (Image credit: Getty)
GLENDALE, Ariz.—Slow-motion replay of key plays is a fixture of NFL television production, but Fox Sports is taking slow-motion to a new level Sunday for coverage of Super Bowl LVII here from State Farm Stadium.
Every camera on the field—more than 20—will be high frame rate, and others involved in the coverage that aren't may at times leverage the EVS-Fox Sports-developed XtraMotion cloud technology to synthesize slow-motion, says Kevin Callahan, vice president of engineering and operations at Fox Sports.
"We're really about delivering the best quality image to the viewer at home," he says. "So more than ever, we will be relying on high frame rate cameras."
(Fox Sports pregame coverage of Super Bowl LVII between the Kansas City Chiefs and the Philadelphia Eagles begins at 11 a.m. ET. Game coverage starts at 6:30 p.m. ET. Wall-to-wall exclusive coverage will be presented on Fox, FS1 and Fox Deportes.)
High Frame Rate
The broadcaster, which will shoot the Super Bowl in 1080p60 HDR (High Dynamic Range), using Hybrid Log Gamma (HLG), is deploying 94 cameras, including 44 devoted to game coverage, 18 for pregame coverage and 16 robotic cameras. Two SkyCams and 13 pylon cameras are part of the complement.
"That 1080p [60 frames per second] is going to be a much better image [than 720p or 1080i], and adding the high frame-rate on top of that should make a big difference for the viewer," he says.
Fox Sports will upscale the 1080p60 content to 4K, as it announced previously.
Fox Sports is also using several 4K cameras on the goal line and the end line to deliver the clarity of replay to show exactly what's going on as well as an 8K 120-frame-per-second camera at the reverse 50 yard line to "get anything that we might have somehow missed with one of our other cameras," says Callahan.
The high SkyCams is 4K as well, giving the broadcaster the ability to zoom in and to do a pan to get the clarity of image that's desired.
Fox Sports will produce the Super Bowl in 5.1 Surround Sound, relying on 29 field-level microphones to capture game and player sound. "We're trying to get as many microphones as close to the source as possible there on the field," says Callahan. "We've been deploying a plethora of stereo mics around to get that stereo imaging and additional microphones to be able to get the surround so you really get the feel—as if you were in the stadium."
Graphics and replay primarily will be done on-site in Glendale, but up to seven operators in the Fox Sports "Vault" remote production center in Los Angeles will contribute to the production as well, he says.
Prep and Signals
Work on the Fox Sports Super Bowl set began Jan. 13. Two days later, the broadcaster began setting up the production compound, preparing for the arrival of eight OB trucks, which at the time were deployed to cover the end of the NFL playoffs and the NFC Championship game, says Callahan.
That initial phase of the setup entailed putting the power and signal distribution infrastructure in place. It was necessary for Fox to run some 20 miles of fiber and cable throughout the Super Bowl grounds—a number that Callahan notes is a little misleading because each jacketed fiber cable consists of between 12 and 72 strands of fiber. "The interesting number for me is we have over 5,500 fiber connections that were put in place as temporary," he says.
Fox needed to run so much fiber because the 17-year-old State Farm Stadium was not outfitted with many optical pathways when it opened. "It doesn't' have a lot of fiber," Callahan says of the stadium. "It is very well cabled when it comes to triax, but a little lacking when it comes to fiber."
Signal distribution and production are a mix of baseband and IP. "The game mobile unit [Game Creek's Encore] is IP, but it's running Evertz TS," says Callahan. "The pregame mobile unit is running in Evertz EXE. It is a SMPTE ST 2110 mobile unit. Our compound distribution system is all 2110.
"We are able to distribute to our international partners and everybody using that 2110 distribution system. However, to play it safe, we are using SDI as a firewall. We are running 2110 out to a location and then installing a gateway to convert to SDI. When it comes to doing something like a Super Bowl, right now, that's still considered best practice."
While acknowledging that it would be great to eliminate all of the coax cable needed to transport SDI signals, "security has to be No. 1," and SDI as a firewall is "really important," he says.
Complementing the OB trucks is a pair of ST 2110-based flypacks Fox Sports built and debuted for coverage of the World Cup in Doha, Qatar. In addition to distributing ST 2110 signals around the compound, they are being used to support Fox News and Fox Deportes on site, says Callahan.
CES Power is responsible for powering the compound. "All important services are UPS so we have multiple power sources feeding into them and then battery backup," he says.
For Callahan, Super Bowl LVII is a coming home of sorts. ""This is the place where I was given my first Super Bowl as engineer in charge with Fox Sports 15 years ago," he says. "Since then, the production has just exploded in terms of requirements and number of mobile units and all of the support that's required. But this has been a great experience here in Arizona."
The latest product and technology information
Future US's leading brands bring the most important, up-to-date information right to your inbox
Phil Kurz is a contributing editor to TV Tech. He has written about TV and video technology for more than 30 years and served as editor of three leading industry magazines. He earned a Bachelor of Journalism and a Master's Degree in Journalism from the University of Missouri-Columbia School of Journalism.