Digital audio consoles for mobile broadcasting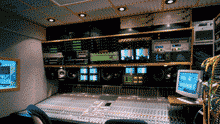 National Mobile Television's DX11 digital production truck uses the SSL MT digital broadcast console for FOX Sports NFL broadcasts in 5.1, Dolby Surround, stereo and mono.

In years past, the major networks owned and operated their own fleet of trucks, mainly for live sports coverage. They designed, specified and built these trucks and manned them with network personnel. Fast-forward to 2002. Virtually no major network owns its own fleet of trucks today. The rapid development of new technologies, as well as the ever-changing shift in sports programming, has driven networks to contract out these events to independent remote broadcast companies that are better suited to respond to the changes in the market. The most important change has been the need for HD and surround audio for live events. This has created a tremendous growth in the number of mobile units operating in the U.S. market, and dramatic advances in the technology being used.
To meet these challenges and to support the demand for live HD programming, U.S. mobile broadcast companies are rapidly upgrading their equipment to offer digital and HD capabilities.
Digital advantages
Tightened budgets have squeezed the amount of time the mobile truck has to prepare at an event. Previously, there may have been two days for setup and rehearsal. Now, this time is often reduced to one day, with trucks arriving at the venue in the wee hours of the morning to hit the ground running as soon as they can gain access. In this situation, a digital audio console can save the day. Its ability to instantly reset and recall prior configurations speeds the setup process and allows the audio engineer more time to spend preparing and creatively improving the audio production. Digital consoles offer other benefits, including improved sound quality and signal processing, fiber-optic connection to remote-mic stage boxes for electrical isolation and interference-free transfer over long distances, and A/D conversion at the source to preserve the quality of the signal.
Although digital technology has not always provided the bulletproof reliability of analog systems, modern designs have overcome these challenges through intelligent use of redundancy, status monitoring, and schemes to replace or reset processing modules that suffer a problem. The result is impressive, with hundreds of digital mixing consoles working in on-air and live applications without issue. Integration questions have also been answered with industry acceptance of such interconnection formats as MADI and AES for audio, and opto-isolated GPI circuits for signaling and switching.

Turner Studios' 53-foot production truck, Mobile Unit #TS1, uses Solid State Logic's Aysis Air Plus console.

There are many mobile units on the road today still using analog audio consoles and distribution equipment. The substantial benefits of today's digital console technology, along with compliance with the emerging HDTV market, should make the analog/digital decision easy for any company considering a console upgrade or a new truck construction project.
Size and weight
Size and weight are two limiting factors more applicable to trucks than other broadcast installations, as trucks tend to be built in a few fixed configurations, and every extra pound brings the truck closer to that expensive additional axle. With a large amount of video and satellite-communications equipment housed within the truck, the space and weight budgets for all the audio equipment are often tight. However, digital equipment tends to be relatively light and compact when compared to equivalent analog systems – mainly due to the reduction of internal and external wiring – so it is possible to outfit a more capable audio production area with digital equipment while remaining within budget.
Today's top mobile trucks need to be able to accept a huge number of audio sources, mix them to a variety of buses – sometimes in multiple formats – for simultaneous broadcast and recording, and generate the cue and communications feeds required for the sports and entertainment events they cover. In any live-production environment, two aspects of this process are vitally important: visual feedback and quick access to critical controls. To keep track of so many signals, the audio engineer needs to be able to quickly scan the console and see exactly which mic pre is a little hot, or check that the signal is present from a mic about to be called into play. If the control of those signals is buried in endless and confusing menus or levels of assignability, it is much more difficult for the audio engineer to perform effectively.
Redundancy
In digital systems, there are three basic points of failure: loss of power, software error and hardware failure. To prevent any of these failures, or at least mitigate their effects, contemporary products provide several backup solutions. To protect against power-supply failure, some consoles use dual redundant power supplies that are fed from different sources (often including a UPS system).

Core Digital Technologies/SWTV's expandable Sundance truck sports a 96-channel SSL Aysis Air Mobile digital broadcast console.

Some consoles have software options that can maximize reliability. Some provide low-level diagnostics to constantly monitor the operation of all software routines and handle any errors in the least disruptive way possible. Some also offer control systems that are independent from the audio processing for interruption-free reset.
Consoles that offer hardware redundancy or the ability to quickly swap out components with minimum interference to the operation of the console score highly. Those that are well-engineered and use high-quality parts can also prevent simple faults like intermittent connector contacts. Obviously, this is important for mobile installations because they are bound to experience frequent vibration.
Nevertheless, it would be unwise to ignore the possibility of a catastrophic failure, and it would be wise to investigate a console's "worst-case scenario" performance specifications. Ideally, a console would recover in seconds to the exact state it was in when the fatal fault occurred. In reality, returning the console to its fully recovered state may take longer than headline figures suggest due to configuration variables or other conditions unique to that installation. With that said, today's digital console technology is no longer on the "bleeding edge," and carefully designed and well-supported systems are very capable of trouble-free operation.
I/O — stage boxes, signaling and foldback
Unless a mobile truck is used to provide cover for a studio installation that happens to be off-air (eg., for rebuild/upgrade), it almost never has the luxury of using installed tie lines at the venue. Instead, the truck crew must collect all the audio sources, preferably as close to their point of origin as possible, and the truck must provide both signaling and cue/foldback lines. The obvious solution is to use a stage box that includes mic and line inputs, full remote control of their parameters from the console, plus a number of cue and GPI outputs. Fiber-optic connection is the best choice for this application. It provides complete electrical isolation between the truck and the acquisition area, it is lightweight, and can provide very long cable runs if necessary.

A 192-input MT Production mobile digital console from Solid State Logic is installed in Corplex's 53-foot Expando flagship truck, Sterling.

Although the fibers themselves are fragile, armored military-spec cables and connectors are readily available to protect them. Ideally, systems should have automatic switching between redundant pairs to ensure continual operation if one leg is severed or (more likely) accidentally disconnected.
Due to the harsh environment in which these stage boxes are used, they should be robust, flight-case mountable and preferably light enough for one person to handle. The inputs and outputs should be immune to electromagnetic interference, and they should be tolerant of AC and DC voltages applied in error or through external equipment failure.
A status display on each stage box would be an additional benefit. This would allow the operator to check or alter settings, and would offer a local listen point for confidence monitoring of any audio input or output. GPIs allow signaling to and from the truck, and may be useful in triggering lamps or other indicators at both ends of the fiber connection. For entertainment events (eg., rock concerts) it may be advantageous to use a stage box with a high quality mic split output that can send a buffered pre-gain feed from each mic to other consoles while avoiding the degrading effect of passive transformer splitters.
Processing
Increasingly, mobile trucks are beginning to adopt audio mixing techniques more akin to long-form TV post. Several multichannel stems are derived from the console to allow music and effects (M+E) mixes for distribution to multiple broadcasters and to provide 5.1, stereo and mono outputs of each bus for local destinations and other needs.
To achieve this, the console must provide flexible internal routing, normally with 48 utility buses to create the stems, eight intermediate audio subgroups and possibly two final program outputs. In fact, dealing with complex shows in a small area is one reason that in-line analog consoles were so popular in trucks in the past.
Adopting digital control surfaces has saved quite a bit of space because the control-surface size no longer represents the total channel count of the console. However, depending on the console design, the audio engineer might require a greater familiarity with the console to make the most efficient use of its capabilities.
Monitoring
The interest in 5.1 surround sound has multiplied the demands on the operator monitoring the output of the console. A show that's being output in 5.1 will also certainly have stereo and mono feeds from the console as well. A console must be flexible and capable of providing the engineer with the option of selecting a variety of types of monitor quickly and easily. Also, with the development of "metadata" systems and other forms of data encoding, it is useful to have flexible monitoring insert points to allow the operator to switch various processing devices in and out of the monitoring chain. This facilitates confidence checking the truck output over the full range of potential audio formats.
Operator essentials
The investment in the truck's equipment returns its maximum value only when used by a crew that is capable of extracting the most from it. The truck's audio console operator is often a freelance specialist. The pressures of the role demand that the operator regard the console as the means to the end, rather than another obstacle to tackle, so the console must be immediately familiar and intuitive. A console also reveals its value if the operator has a knowledgeable and qualified support team he can turn to when he needs help. This element is often overlooked, but it's as essential as the features of the console itself.
The future is now
While there is no substitute for a front-row seat at a concert or box seats behind the home team's dugout, there is no question that technical advances in recent years have brought the home viewer a lot closer to that "you are there" experience. Record-breaking sales of DVD players have sparked home-theater system sales, as consumers look to recreate the movie-theater experience at home. A CEA survey of DTV purchasers said 87 percent watch their displays connected to home-theater audio systems. Even if your home-viewing setup isn't there yet, as an industry professional you still recognize that 5.1 surround sound is a major part of that experience.
This trend will continue as more broadcasters begin offering digital and high-definition programming. With the opportunity that digital broadcasting brings for multiple, specialized channels, being able to move the studio to the event becomes an increasingly attractive way to provide the content that these channels demand.
Steve Zaretsky is vice president of broadcast, and John Herman is a product specialist at Solid State Logic.
The latest product and technology information
Future US's leading brands bring the most important, up-to-date information right to your inbox
Thank you for signing up to TV Tech. You will receive a verification email shortly.
There was a problem. Please refresh the page and try again.