Will Congress crush broadcasters?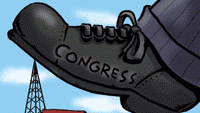 If you're to believe House Energy and Commerce Committee Chairman W.J. "Billy" Tauzin (R-La.) and Ranking Democrat John Dingel (D-Mich.), television stations are going to convert to full-time DTV operations by Dec. 31, 2006, — or go out of business. There would be no 85 percent exception.
Pit bull Tauzin decided to follow up on his earlier threat to involve Congress if broadcasters, CEA, cable and Hollywood didn't come up with a workable DTV implementation plan. "Clearly it's time for us to provide leadership in this area," he said.
Okay, since when did Congress provide "leadership" on anything? Controversy, confusion and chaos, yes. Leadership, no.
My eyes are bleary from reading the 150 pages of testimony and drafts. Since most Broadcast Engineering readers have not had the opportunity to actually review Tauzin's proposal, it might be useful to emphasize several points from the hearings. Keep in mind that Tauzin calls the document "… [an] omnibus Digital Television (DTV) bill … represent[ing] the Committee's starting legislative point to solve the DTV problem" ( energycommerce.house.gov/107/drafts/dtv_staff_draft.pdf ).
Here are some key points of the proposed legislation:
Under the bill, all analog TV broadcasts would cease by Dec. 31, 2006. No exceptions.
The FCC would be forced to set a specific date where each network affiliate broadcaster would be required to pass through "without degradation" any network DTV signal. No downresing would be permitted.
Within 180 days of the bill's passage, the all-digital devices capable of demodulating a DTV signal would have to implement a broadcast flag. It's unclear whether this would prevent consumers from time-shifting programs. It would specifically prohibit any Internet transmission of flagged programs.
As of July 1, 2005, the manufacture of DTV equipment with analog outputs would be prohibited. Professional equipment is exempted.
In total, these provisions would obsolete every analog DTV product out there. Before you laugh at those of us who bought HDTV sets, consider that this provision could even obsolete your own home stereo system. As the proposed bill is currently worded, a new TV set would not be compatible with your current home audio stereo. Because all new TV sets would be prohibited from having any analog outputs, you'd have to replace not only your TV set, but your entire home audio system, too!
Finally, Tauzin totally lowered the boom on broadcasters' heads by specifically proposing to amend the Communications Act of 1934 to prohibit any dual must-carry by cable. No cable system would be required to carry simultaneously both the analog and digital signals from a TV station.
While Tauzin admitted the hearing was intended primarily for discussion purposes, anyone who's been around a while knows that this draft wasn't conceived without an intent to move in the directions outlined.
Unless the industries involved in the implementation of DTV can get on with the DTV transition in a more timely manner, Congress is going to step on our heads, and it won't even feel the bump.
Send comments to: ▪ direct: editor @primediabusiness.com ▪ web site: www.broadcastengineering.com
Get the TV Tech Newsletter
The professional video industry's #1 source for news, trends and product and tech information. Sign up below.