Tektronix WVR600 series rasterizer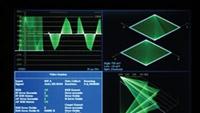 As the transition to digital continues, increasing pressure on capital and operations budgets has led operators to seek digital equipment that maximizes their capital investment. Maximum return on investment (ROI) isn't measured by the lowest price as much as it is by gains in efficiency and flexibility.
Monitoring instruments have long been employed in applications ranging from color correction and editing to broadcast monitoring in master control rooms and contribution validation.
The Tektronix WVR600 series rasterizer provides an all-digital architecture designed to support both standard-definition digital and composite analog monitoring. The 1RU system also offers optional audio monitoring – analog, digital or both – and features remote control via Ethernet, specialized displays for verifying gamut compliance and signal timing, alarms and event logging, and a flexible display mode.
As an artistic and confidence monitor, the rasterizer performs all of the normally expected functions – waveform, vector, etc. – via fully digital processing for increased stability and accuracy in monitoring applications. Composite analog inputs, video or audio, are immediately demodulated using a high-speed, field-programmable gate array (FPGA), doing away with the need for multiple discrete analog components. This digital architecture provides a more stable monitoring tool over time, with minimal need for calibration and thus decreased downtime. It also means increased resolution of the signal being monitored, up to and including magnified or high gain views, and provides better information to operators as to the health of their signal.
Considering the vast inventory of analog equipment and content that exists in the industry, hybrid facilities are a natural offshoot of the digital transition. The rasterizer supports both analog and digital video, and analog and AES/EBU audio to provide flexibility.
The instrument's design also includes loop-through inputs to allow for easier integration into a facility and to minimize disruption of the signal path.

Figure 1. The WVR600 series rasterizer provides several specialized displays for verification of gamut compliance and easy isolation of faults.

The rasterizer also offers efficiency in a variety of ways. Several specialized displays are provided for verifying gamut compliance. (See Figure 1.) To easily check gamut compliance in the RGB domain, two displays – the Diamond and Split Diamond displays – are provided. These displays enable easy isolation of any components at fault. Since most content is created or edited in the component color space, but transmitted in composite, the Arrowhead display delivers enhanced efficiency by allowing composite gamut checking while still in the component domain. This saves time and removes the need for a composite encoder.
For additional operational efficiency, session screens provide a detailed summary of the quality of monitored video and audio content over time, reducing the time an individual must spend monitoring content visually for quality. Alarms and a comprehensive event log capable of referencing events to time-of-day, VITC or LTC provide additional operational efficiency. The event log can be checked for error conditions, and only the content with errors can be checked by referencing the log's time codes.
An additional innovation is FlexVu display capability, which gives operators the ability to independently configure four windows providing four concurrent views of a monitored signal. For example, in verifying gamut compliance, an operator could display Split Diamond and Arrowhead displays in two of the windows to simultaneously check for both component and composite gamut errors, while monitoring the actual picture and video session information in the last two windows.
Eric Hodges is the worldwide marketing manager, and Spyros Lazaris is a product marketing manager, in the video product line at Tektronix.
The latest product and technology information
Future US's leading brands bring the most important, up-to-date information right to your inbox
Thank you for signing up to TV Tech. You will receive a verification email shortly.
There was a problem. Please refresh the page and try again.