NAB Replay - Storage technology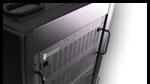 Remember the good old days when media storage decisions at NAB were based on which videotape format to choose? When introduction of cassette-based formats were considered major disruptive technology? When facility workflows were driven by linear tape?

SeaChange's Broadcast Media Library (BML) offers a unique node storage system using their RAID squared architecture.

During the late 1990s, a major market opportunity emerged for both traditional broadcast and IT storage vendors. This technology transition was anything but smooth, as broadcast and IT vendors entered the media storage marketplace.
This year, several viable storage hardware and software products could be found that address today's workflow requirements and frugal budgets. Diverse storage platforms and system architectures were demonstrated at the show.
First, the original disk storage technology, direct attached storage (DAS), is far from obsolete. Along with several video servers, some innovative, network-friendly disk recorder products were introduced.
Leitch introduced the NEO VR DVR-3901 module, which was a 2003 Pick Hit winner. This disk recorder module contains two 40GB IDE drives that plug into the NEO tray system. A Motion JPEG device, each module either records or plays back (non-simultaneously) one channel of video and stereo audio with a nominal two- to four-hour storage capability, depending on compression setting.
Thomson Grass Valley introduced the M-Series iVDR, a Pick Hit recipient targeted as a VTR replacement tool. Featuring a VTR-like interface, the M-Series is a dual-channel and simultaneous record/playback device that supports DV and MPEG-2 materials. It can store up to 64 hours of DV material online and supports low-cost removable storage via its 5 1/4-inch drive bay.
Optimized for file sharing, network-attached storage (NAS) consists of a server that can support several clients from its attached storage array. Benefits of NAS systems include the lower costs associated with Ethernet networking (compared to Fibre Channel fabrics) and easier operation in heterogeneous OS environments.
In their Hilton suite, Ciprico demonstrated a solution to a problem that can exist in NAS media network applications: guaranteed quality of service (QoS). Typical NAS systems can have problems with network crashes caused by overloading from an offline client, resulting in online client failure. Ciprico's DiMeda appliance allows users to guarantee QoS for critical online clients and, in the case of network overload, will only freeze the lower-priority clients.
Most NAS systems utilize some form of mirrored or non-mirrored RAID in their drive arrays. SeaChange's Broadcast Media Library (BML) offers a unique node storage system using their RAID squared architecture. This eliminates the need for mirrored storage and provides a much higher level of useable storage, which results in lower cost per GB. The system's benefits are inverse compared to typical systems because by adding more nodes you increase both your storage bandwidth and useable storage ratio.
Storage area network (SAN) technology performs best when data must be shared at the block level. SANs are typically Fibre Channel-based and have a current bandwidth benchmark of 2Gb/s per FC port. The SAN systems at NAB represented some of the best examples of combined broadcast and IT solutions.
Avid, Thompson Grass Valley, Quantel, Pinnacle and Leitch all have SAN-based post-production and news edit solutions. Typically, these systems are integrated with high- and low-resolution browse capabilities that can be linked to asset management systems. Omneon Networks and Rorke Data support Final Cut Pro, offering some of the first high-performance SAN solutions for Apple users.
DataDirect Networks has partnered with several companies to produce several high-end products, including the Pinnacle Palladium system. They have also developed a high-speed GSN interface that can support 2K datacine transfers in real time. SGI and Storage Tek both use LSI Logic Storage SAN to support their media server and cache applications.
Besides traditional disk storage companies, vendors such as ASACA, Promise Technology and Nexsan Technologies are all offering ATA RAID solutions. These systems can support most post-production and intermediate cache requirements today. SCSI reliability and performance will probably be needed for a while, particularly in heavy use online applications requiring high-bandwidth access.
Sony has introduced the SAIT tape format featuring a 500GB cartridge that is shipping to OEMs this year. Another improvement is the SAIT cartridge, which has taken on the more rugged features of the LTO-2 cartridge which, at 200GB, is the next largest capacity available.
Sony also introduced a new professional optical disc system that received a Pick Hit award. DVCAM @25Mb/s, or MPEG IMX @30-, 40- or 50Mb/s can be selected and stored on a Blue Laser-based 5-inch disc medium. The system replaces the tape-based workflow with several camcorder and deck options.
The DVD RAM debate continues (i.e. shelf life vs. tape, capacity, access, etc.). Blue Laser technology is emerging and will represent up to five times capacity and throughput compared to today's DVD technology.
There were two additional Pick Hit winners in this category. 360 Systems won for their Image Server 2000 video server and Pioneer won for their PRV-LX1 dual-deck DVD video recorder.
Don Morgan is director of project development for Doyle Technology Consultants.
The latest product and technology information
Future US's leading brands bring the most important, up-to-date information right to your inbox