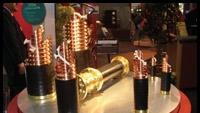 While the physics of RF transmission don't change, the products do. NAB 2003 revealed new products and services that improve an already mature television RF industry. The event showcased improvements to transmitters, transmission lines, antennas, tower lighting, and transmitter/site monitoring products.

Dielectric's FLEXLine is an alternative to rigid transmission line for installation on congested towers.

Conversations with vendors revealed several DTV-related RF trends. Stations that purchased low-power DTV transmitters plan to purchase separate high-power transmitters instead of upgrading the low-power units, keeping the latter as backup transmitters. Many broadcasters who decided not to replace aging analog RF gear after 1996 are considering replacing analog transmitters and antennas now that NTSC may continue past 2006. Transmitter energy efficiency is a concern, since many broadcasters are now supplying power to both an analog and a DTV transmitter.
Active RF
Harris unveiled the Atlas analog series of UHF transmitters, with the company's new common platform for UHF transmitters. The Atlas contains the DTV-660 analog/digital exciter. It allows on-air servicing of the PA modules and power supplies. Users can upgrade this analog transmitter to digital simply by replacing one transmitter module with an ATSC module.
Thales Broadcast & Multimedia showcased the DCX Paragon MSDC-IOT digital transmitter for high-power UHF stations. This transmitter affords improved energy savings thanks to its multi-staged, depressed-collector (MSDC) IOT. The Paragon can be twice as efficient as a conventional IOT and four times as efficient as a solid-state transmitter. It has increased reliability since it uses "Soft Arc Technology" instead of a crow bar. Users can integrate the device's internal oil-cooling loop with an existing site cooling system.
Thales introduced the Adapt III next-generation 8-VSB digital exciter. The Adapt III includes the features of earlier Adapt exciters (digital adaptive precorrection, straight baseband-to-RF conversion and frequency-agile output), plus it has a transmitter Web interface for local or remote monitoring and control of transmitter equipment.
Axcera won a Pick Hit award for its DXA2B distributed-transmission adaptor.
Feedline
Dielectric introduced FLEXLine, an alternative to rigid transmission line for installation on congested towers. Available in diameters between 7/8" and 6 1/8", FLEXLine features precision-fitted connectors for excellent VSWR performance.
Designed to overcome the problem of difficult and time-consuming disengagement after several years in the field, Dielectric's Lite-Fit coaxial patch panel uses a stainless-steel, quick-release locking mechanism and low-insertion-force contact fingers to allow immediate patch-link release after the handle is rotated.
Lighting
Unimar showed an alternating light control with transfer relay (ALTR) obstruction lamp. The ALTR alternates between the lamps of a double obstruction lamp each time the lighting fixture is energized, such that the fixture usage is split evenly between the two sockets. If one of the lamps fails, the remaining operational lamp is automatically energized. Since lamp use is divided between two red LED obstruction lamps, lamps last twice as long as they would if used continuously.
Remote site control and monitoring
Burk Technology released Lynx 4 with Custom Views to enhance the GSC3000 and VRC2500 transmitter remote-control systems. Lynx 4 does simultaneous multi-site control. Available as a free upgrade for existing GSC3000 and VRC2500 users and included with new remote-control purchases, Lynx 4 supports TCP/IP connections. Its Custom View allows users to create a transmitter-site map, on which users can click on an alarming site and drill down to the alarm-conditions display. The system offers three tiers of user access.
Dielectric's Symphony monitor-and-control system has a touch-screen interface at the transmitter site and allows remote Web-based access to real-time RF monitoring and control. The Symphony indicates the complete RF path, monitoring from the transmitter to the antenna. Designed to control a multiple-transmitter plant, it can calculate VSWR and reduce or shut down transmitter power.
Harris's new eCDi enhanced transmitter-network monitoring-and-control system gives broadcasters remote access to in-depth transmitter analysis and management for Harris television and FM transmitters. Using a Web-enabled computer, wireless PDA or cellular phone, broadcasters can monitor and control most transmitter functions. For DTV transmitters, eCDi also monitors SNR and Error Vector Magnitude (EVM), FCC mask compliance, and real-time adaptive control (RTAC).
Harris's ReCon remote-control and facilities-management system provides IP-based computer remote control of transmitters with a serial interface. This flexible, Pick Hit award-winning product can work with almost any brand of transmitter. With SNMP monitoring and EAS logging among its abilities, ReCon facilitates an unlimited number of status, analysis and control channels, and can monitor site conditions.
Andrew's new Broadcast Systems Site Services provides users with site survey and inspection services, transmission-line system design and layout, field technical-advisory service, system-optimization testing service, and system-optimization tuner service.
Dielectric introduced its Single Source Solution, a comprehensive site-monitoring-and-maintenance package. Dielectric does 24-hour remote monitoring from its Alarm Response Center in Franklin, TN. Through the combined abilities of its Brookstone Telecom, Central Tower, Flash Technology and TCI brands, Dielectric can test, inspect, preventatively and predictively maintain, and remotely monitor and diagnose, issues of the site plant, tower, transmission line, antenna, and aviation obstruction lighting through its Web-enabled portal.
Vicki Kipp is a media technician at the Wisconsin Educational Communications Board (ECB).
The latest product and technology information
Future US's leading brands bring the most important, up-to-date information right to your inbox