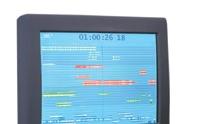 If seeing OMF, MADI, ADAT, DEVA, LTC and VITC all in the same sentence gets you excited, you've been in the studio too long.
Opening an extra audio post suite?
Extending the audio services of a television edit studio? Are you building a top-notch surround facility from the ground up? If you're looking to buy, you're likely considering a digital audio workstation (DAW) to turn square footage directly into plowshares — and as well you should. Processor chips and the average computer are more powerful than ever before, and even today's more-affordable DAWs threaten the audio specs of high-end consoles, effects processors and digital tape recorders that cost ten times as much not so very long ago.
The sound-for-picture, post, radio and music markets have embraced computer tools like never before as well, and the available audio toolboxes get bigger at every trade show. Avoiding the "upgrade-itis" endemic to computer and DSP chip technology every year or two is easier to do if you spend enough time planning your studio's future. Think about your current client roster and the kind of client mix you'd like to have in the next year and a half. Accurately predict the services you'll offer them in that time and beyond, and you'll end up looking like a digital Nostradamus with your DAW choice.
A brief DAW spec sheet
What exactly is a DAW? From $1500 stand-alone personal digital studios to $5000 PC- and G3-based desktop DAWs to $200,000 ultra audio workstations that record, import, edit, perform effects, mix, reformat, export and master multiple digital audio tracks from one common interface, it's a DAW. There is a wide range of overlapping applications at each end of the DAW spectrum so, in no particular priority, we'll focus largely on computer-based DAW tools, interfaces and feature sets used in most television post studios and audio applications today.
CPU/media: True to form, computer hardware and software power has increased dramatically the past 18 months. Stand-alone hardware DAWs use the added firepower by providing more tracks and edit features, more slots for hi-res onboard effects processors and memory cards, extra drive bays, and lots of audio, sync and video I/O options. Computer-based DAWs can now tap into dual-processor G4s and P4s and enough dedicated DSP to turn your $1200 desktop into the central hub of a potent record, edit, mix and mastering tower.
Plug-in/effects-card support: Almost every compact hardware DAW comes with a dedicated effects engine and the ability to add two, three or even four more discrete multichannel processors. A seemingly endless stream of software effects plug-ins support computer DAWs. The availability of desired effects should be one of your first considerations when deciding which platform/program to buy.
Look first at the audio services you want to provide in a year or two, and then shop for the best plug-in suite for the job before choosing the platform and DAW software itself. Full automation of every plug-in parameter and ways to edit those moves, multiple open plug-in windows, support for multiple plug-in formats and built-in dynamics processors per channel are other effects goodies to look for in a well-equipped DAW.
Audio I/O: Planning your current and future analog and digital I/O needs can be a difficult proposition. Will eight channels of Lightpipe and/or TDIF digital I/O be enough for the projects you'd like to take on in two years? How about stereo S/PDIF or 48 channels of AES/EBU? And can you ever have enough analog XLR and 1/4-inch jacks, be it in an analog or digital studio? If you answered "no" to all the above, choose a DAW with the most scalable analog and digital audio I/O options possible. Other than that, be realistic about your future needs.
Audio resolution: 24-bit/96kHz audio is standard equipment on most DAWs today and several offer up to 192kHz support, but make sure your facility needs all that resolution. High-quality special broadcast or HDTV work requires the best possible, but even a sub-$1000 computer DAW these days can do the trick if your resolution ceiling doesn't need to go quite that high. Many DAWs also boast 32- and 48-bit internal processing if the sky is the limit for your audio productions.
Edit features: Does a particular DAW support every edit decision list (EDL) format or let you specify handle lengths and set minimum gaps when loading EDLs from rushes tapes? Can you perform both destructive and non-destructive edits to waveforms and track displays in real time without stopping playback? Other sound-for-picture edit features to look for include machine control facilities, easy-to-use ADR and Foley tools, and some form of auto-conform edit tools for working with EDLs. The ability to automatically capture and spot audio elements to picture is important, as is the ability to automatically load and conform any and all EDL files encountered and import an EDL or portion of an EDL into an already event-listed project. Also important is a DAW's ability to simultaneously scrub fully locked audio and video tracks with ease. Full dynamic automation of all faders, mutes, pans, EQ settings, auxiliary sends and bus assignments, and the ability to edit those moves is essential to any fast-paced television edit room.
Ensure that both a DAW's built-in surround interface and that of the third-party surround plug-ins that augment it provide everything you'll need. Look for ways to at least encode Dolby Digital (AC-3) audio mixes and check out what kind of hardware controllers your DAW supports because you'll likely want to eventually migrate from the mouse to a joystick-based, hardware surround mixing solution.
Format and sync support: If seeing OMF, MADI, ADAT, DEVA, LTC and VITC all in the same sentence gets you excited, maybe you've been in the studio too long. There's a dizzying array of proprietary digital audio and video file formats to import, export and generally interact with depending on your facility's client list and delivery needs, but any television-centric DAW should at least be able to support WAV (PC) and/or AIFF and Sound Designer II and Pro Tools (Mac), Avid OMF, and OpenTL for Tascam MM-series dubbers.
Check to see if a DAW can read and generate SMPTE, LTC, VITC, MIDI, PQ burst and Word clock; synchronize with external units via RS-422/Sony nine-pin machine control, PAL/SECAM, NTSC video and Word clock; and lock to LTC, VITC and Biphase at any speed. Another nice DAW sync feature is the ability to remotely control any number of video decks supporting nine-pin or VLAN protocols with the DAW software, and look for current or future plans for a DAW to offer both AES/EBU and MADI card support.
Randy Alberts is a San Francisco-based writer, engineer and producer exploring music and recording technology. He is a regular contributor to BE's sister magazines Mix, Remix and Electronic Musician and has just published a book about the history of TASCAM for Hal Leonard Publishing.
Get the TV Tech Newsletter
The professional video industry's #1 source for news, trends and product and tech information. Sign up below.