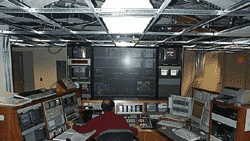 As part of its ongoing upgrade to an expanded, purely digital facility, CNN International sought a redesigned master control system to better facilitate regionalization, as well as accommodate its complex, ever-changing requirements. To this end, CNN International selected Leitch to provide five Opus master control switchers that, when used together with the Leitch Integrator router and Leitch VR server technology, provide a central control over video routing and server playback.
The central design criteria of the new CNNi facility mandated a flexible system that would allow for the origination of seven CNN International networks in a live news environment. CNNi required that any pod (network) must be able to control and view any of the other networks. Each pod needed to be the same design, as the staff of 33 master control operators each handle different regions in the room, and the pod similarity would make it easier to move staff around without concerns about workflow and equipment disruptions.
The Leitch equipment was chosen primarily because of its advanced architecture, the ability to network up to 16 Opus master control switchers together (each can be controlled and monitored at any other pod) and its easy upgrade to high definition. Furthermore, the addition of more networks to the pod system is very simple. These network architectural modifications necessitated CNNi's expansion of its existing space, including the demolition of a bank. Acoustical requirements dictated that the noise generated by the monitoring of all the independent networks must be limited, which led CNNi to go with an audio localizer sound dome to limit the amount of noise in the room.
CNNi now has consistent operational workflow at each pod and the ability to reconfigure monitoring at a pod based on what regions the operator is managing. The facility has proved to be easily expandable, in terms of adding regions, monitoring, additional sources, etc. The master control staff now has the tools it needs to effectively monitor both the quality of the feed and the commercial and programming content. Streamlining the pods has improved performance amongst the staff, as there is not a different learning curve for each individual region. Overall, CNNi's workflow consistency has improved significantly since the implementation of the redesigned master control.
CNN, a division of Turner Broadcasting System, an AOL Time Warner Company, is a respected and trusted source for news and information.
Leitch's Opus master control switcher includes 8:4:4 video processing and features eight channels of audio at 24-bit resolution.
Design Team
CNN International:
Bob Hesskamp, senior vice president, CNN News Group operations
Anne Woodward, director, technical operations
Dave Silver, engineering director
Matthew Holcombe, engineering manager
Leitch:
Geoff Snell, product manager
Greg Weot, regional sales manager
Sim Kolliner, applications engineering manager
Equipment List
Leitch Opus master control switchers
Leitch integrator router
Leitch LogoMotion
Leitch 16×1 digital clean switch
Leitch conversion equipment
Snell & Wilcox conversion and standards conversion equipment
The latest product and technology information
Future US's leading brands bring the most important, up-to-date information right to your inbox
Thank you for signing up to TV Tech. You will receive a verification email shortly.
There was a problem. Please refresh the page and try again.