Shure offers wireless microphone rebate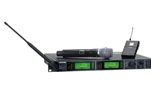 Shure, a manufacturer of wireless microphone systems, is offering up to a $1000 rebate for the trade-in of Shure brand or any other manufacturer's 700MHz frequency band (698MHz to 806MHz) wireless microphone systems purchased before Feb. 1, 2007.
Shure said that although a final decision from the FCC is still pending, the company feels the need to assure its customers now that it will take care of them regardless of the outcome.
Customers may submit rebate forms with the purchase of new UHF-R, ULX, MX690/SLX4L, PSM700 (H3, L2 bands) and PGX products. The rebate offers lasts until May 31, 2009.
For more information on the rebate program and to learn which products are eligible for a rebate, visit www.shure.com/rebate/.