Sachtler unveils new fluid head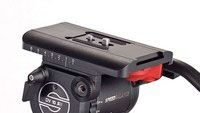 Sachtler has unveiled the DV 10 SB fluid head, the smallest 100mm bowl-mount head in the DV line. The fluid head offers a 12-step counterbalance, as well as five horizontal and five vertical levels of drag plus "0." Its payload range from 2lbs to 26lbs and tilt range of +90 degrees to -75 degrees make the DV 10 SB ideal for diverse shooting conditions.
The DV 10 SB offers the SpeedBalance feature, which reduces setup time due to its 12 steps of counterbalance. In addition to finer counterbalance graduation, SpeedBalance expands the payload range, including a reduction in minimum payload. As a result, the fluid head is ideal for lightweight camcorders such as those in the DVCAM, HDV and DV classes.
In addition, the DV 10 SB features Sachtler's Touch & Go Plate DV for quick camera mounting and a wider sliding range, a self-illuminating Touch Bubble, and the ability to operate in diverse climates, from -40°F to +140°F. The head weights 5.7 lbs. and is available as a system with any of Sachtler's 100mm bowl mount tripods.