MultiDyne debuts fiber transport systems with stereo audio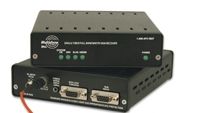 MultiDyne introduced the DVI-5000 transport system last week at the NSCA Systems Integration Expo in Orlando, FL.
The DVI-5000 will provide a long haul, transport solution for high quality, up to 2048 by 1536, DVI single link and dual link video sources via one fiber.
The system, scheduled to ship in June, also supports stereo audio and bidirectional data for monitor control. The system uses no compression with all-digital signal processing and requires no user adjustments or calibration.
The DVI-5000 provides a total throughput of up to 10Gb/s, and supports up to 2048 by 1536 pixels over a single optical fiber. The system requires nonproprietary single-mode, fiber-optic cable with a transport distance of up to 15km. The DVI-5000 transmitter unit supports a loop-through input.
The receiver provides two DVI outputs. The system supports EDID from any monitor. The EDID support is selectable between the loop-through monitor or internal generation on the transmit side.
For more information, visit www.multidyne.com.