Free 16GB P2 card with AG-HVX200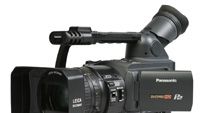 Panasonic will begin shipping the AG-HVX200 P2 HD camcorders with a free 16GB P2 card (model AJ-P2C016RG) this month, the company said this week.
Those buying a new HVX200 from an authorized U.S. Panasonic reseller will receive one 16GB P2 card and a copy of "The HVX Book" by Barry Green.
A single 16GB P2 card can record 16 minutes in DVCPRO HD; 40 minutes in DVCPRO HD in native 720/24p; 32 minutes in DVCPRO50; and 64 minutes in DVCPRO. The HVX200 has two P2 card slots.
For more information, visit www.panasonic.com/hvx200.