AKG unveils new mics at Musikmesse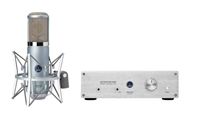 At the recent Musikmesse show in Frankfurt, Germany, AKG displayed several new microphones, including premium dynamic and condenser vocal models along with a new studio tube design. The Perception 820 Tube is poised as an affordable flagship model, featuring ECC 83 dual-triode circuitry for a rich, smooth sound with classical tube warmth. The new condenser model is dubbed LC, for light condenser, and features a tight cardioid pattern optimized for use with in-ear systems, while the D 7 LTD is a reference-class dynamic design featuring a Laminated Varimotion diaphragm to eliminate traditional tuning resonators, enabling a sleek, elegant form factor.
The 820 Tube joins the Perception Series family, sharing that line's 20dB pad and low-cut filter features. The mic offers remote selection of nine pickup patterns, a ground lift switch and full RFI shielding, making it useful for a wide range of both vocal and instrument applications. The mic features a zinc/aluminum alloy body and comes complete with spider mount, mic cable and remote control unit in a metal carrying case.
The new LC condenser model features a 60Hz-20,000Hz response range and comes with the PB1000 presence boost adapter, providing 3dB to 5dB of high-end enhancement between 5kHz-9kHz to optimize vocal clarity. The mic is optimized for live performance with a tight cardioid pattern for excellent gain before feedback, while the piano-black finish and slender profile offer an elegant on-camera look. Other features include a rugged spring-steel grille for pop protection and 24-carat gold XLR connector. The LC condenser mic comes with carrying case, mic stand adapter and presence boost module.
AKG also released a redesigned and limited edition D 7 LTD, a reference dynamic microphone featuring the new deep-drawing Laminated Varimotion diaphragm for pickup pattern control without the use of tuning resonators found in most dynamic mics. Like the classic D 7 it is modeled on, this new edition is ideal for both studio and stage use. Features include an integrated high-pass filter to eliminate handling noise and a replaceable inner windscreen in a visually attractive form factor.