NAB Show Exhibitor Insight: Blackmagic Design
President Dan May shares his thoughts on the upcoming NAB Show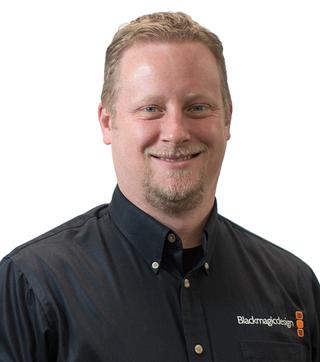 (Image credit: Blackmagic Design)
TV TECH: What do you anticipate will be the most significant technology trends at the 2023 NAB Show?
DAN MAY: We anticipate that the 2023 NAB Show will showcase technology that enhances efficiencies across studios, newsrooms and productions of all shapes and sizes, resulting in faster and more engaging content for audiences. Virtual production and virtual sets will again be at the forefront of this year's show with solutions like our Ultimatte 12 real-time compositing processors, which offer greater creativity and versatility while reducing the cost and need for physical sets.
Remote collaboration will also be a focal point, with tools like Blackmagic Cloud and Blackmagic Cloud Store, Cloud Store Mini and Cloud Pod network storage solutions streamlining entire post workflows, allowing creators to work together more efficiently while unconstrained by one fixed studio or location. From collaborative tools that enable the next wave of remote production, to virtual technology that creates dynamic and visually appealing on-air environments, this year's NAB Show will highlight exciting displays of innovation and progress across the industry.
TVT: What will be your most important product news?
MAY: We are excited to be showcasing our recently announced new models of Ultimatte 12 real-time compositing processors. Designed at lower cost while retaining the same high-quality processing for incredible edge handling, greater color separation, amazing color fidelity and better spill suppression, the line includes: Ultimatte 12 HD Mini ($495), an advanced real-time keyer with HDMI connections, perfect for use with Blackmagic Studio Cameras, Pocket Cinema Cameras and ATEM Mini live production switchers; Ultimatte 12 HD ($895), an advanced chroma keyer in an affordable HD model; Ultimatte 12 4K ($2,495), an advanced chroma keyer with 12G-SDI connections for HD and Ultra HD work; and Ultimatte 12 8K ($6,995), an advanced chroma keyer with Quad Link 12G-SDI for HD, Ultra HD and 8K.
Designed for the next generation of broadcast graphics, Ultimatte 12 enables newsrooms of all sizes, from massive sets to at-home studios, to present weather, sports, news and entertainment in a cinematic-quality environment with real-time photorealistic composites.
TVT: How is your new product different from what's available on the market?
MAY: Ultimatte 12 revolutionizes the broadcast industry, offering innovative features within four unique and affordable models that set it apart from traditional composting solutions. All models of Ultimatte 12 include built-in frame stores for keying using stills for backgrounds, eliminating the cost of external equipment. With its advanced real-time compositing capabilities, Ultimatte 12 allows users to create high-quality and visually interesting virtual sets—without the need for a larger physical space. This is because Ultimatte 12 allows users to load pre-rendered still frames from a 3D modeled broadcast set, enabling massive sets to be created in smaller spaces with frame stores. Additionally, Ultimatte 12 features one-touch keying technology that analyzes a scene and automatically sets more than 100 parameters, and Ultimatte Software Control app for Mac and Windows lets you control all Ultimatte 12 models without the additional cost of a hardware control panel. A low-cost solution, Ultimatte 12 helps to democratize virtual workflows, providing productions big and small with access to photorealistic composites and virtual sets.
TVT: NAB is celebrating its centennial this year. How many NAB Shows have you attended and do you have any particular standout memories of past shows?
MAY: I've been to 18 NAB Shows, and each one is full of good memories. My standout memory has to be NAB Show 2012 when we announced our first camera, the Blackmagic Cinema Camera. It was an amazing experience to not only announce a camera and share our innovations with the industry, but also the response to it was incredible. We are so thankful to all our customers who have supported us over the years as we've continued to develop our cameras to where they are today; from the Blackmagic Cinema Camera to the URSA Mini Pro 12K, we've come a long way.
The latest product and technology information
Future US's leading brands bring the most important, up-to-date information right to your inbox