Sweden's Europa Sound adds Euphonix System 5-MC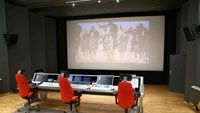 Sweden's Europa Sound Production has installed a new 32-fader System 5-MC digital mixing console to control Pro Tools and Nuendo digital audio workstations (DAWs). The console is being used in mixing a new multilingual film, "Arn – The Knight Templar." Using EuCon, the high-speed Ethernet protocol featured in the System 5-MC, the film's re-recording mixer, Gabor Pasztor, and his team are bringing hundreds of tracks from multiple DAWs directly onto the Euphonix console surface for mixing. The final mix will include a Dolby Digital and DTS master for the film's worldwide release in 2008.
Europa recently moved to a new 8,600sq-ft facility and completed the Euphonix installation this April. The Euphonix console is built into a custom-designed 12ft frame with two producer desks where editors can assist and control the various playback DAWs using either PC or Mac platforms. A second System 5-MC media application controller is used for TV and DVD production. Europa Sound employs both Digidesign Pro Tools and Steinberg Nuendo in its re-recording stage and editing rooms.
The System 5-MC offers full editorial and mixing control to any Pro Tools setup using a combination of SmartSwitch controls, for fast access to edit functions, as well as knobs and faders for parameter control
For more information, visit www.euphonix.com.