MPEG-4 compression: A look at the benefits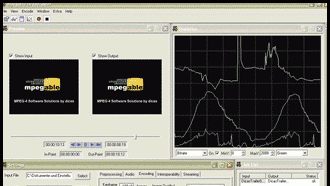 As broadcasters look to the future, many are concerned about the development of even newer compression schemes. While new compression technologies may offer additional benefits, there is the trade-off of having to implement that technology, perhaps, over a widespread populas of receviers and applications.
In order to provide guidance on this important topic, Broadcast Engineering editors have assembled three experts to discuss different aspects of MPEG-4 and related compression systems. This background will provide a good introduction to the technology, as vendors are now just beginning to release products. For more information on MPEG technology, visit the MPEG-4 Industry Forum Web site at www.m4if.org.
Jump to an article:

MPEG-4 audio advanced audio coding (AAC) and aacPlus
MPEG-4 advanced video coding (AVC)
MPEG-4 video coding
By Sebastian Moeritz CEO, dicas digital image coding
Without question, the broadcast industry (terrestrial, satellite and cable) has changed dramatically over the past decade since digital became part of the equation. Certainly, most broadcasts are still following the traditional ways and means of how, for example, television content is produced and created, but there is a significant move towards the use of digital formats. It began with production and archiving, and with DVB and ATSC and others moving on into the coding, transmission and decoding of digital moving pictures. In digital broadcast, the de facto (and the formal) standard is MPEG-2, which is known to all market participants, designed for digital television, at varying resolutions called profiles. Standard-definition digital TV is achieved using MPEG-2 Main Profile at Main Level, and high-definition television uses Main Profile at High Level. With respect to all of these, MPEG-4 offers improved coding efficiency, which improves the quality of coded video and audio, particularly at low bit rates.

Figure 1: mpegable broadcaster from dicas shows a variety of controls to allow users to create custom MPEG-4 signals.

Broadcasters will always strive to be on the very edge of perceived image quality, getting the most quality and quantity of programming out of the least amount of transmitted bits. Therefore, MPEG-4 will potentially play a significant role in the interactive, digital television arena. As a general rule, MPEG-4 comes into its own at bit rates under 2Mb/s.
There are two main areas where MPEG-4 video coding is having a great impact. This first area is directly in the production, archiving and programming chain, where, for example, it permits broadcasters to browse through video archives, with ease of use and speed of rendering being of paramount importance.
An example of this is the Snell & Wilcox Ingest Station. SD MPEG-2 is smart-transcoded on-the-fly with MOLE technology to MPEG-4 to show a frame-accurate proxy and/or browse version of the high-quality MPEG-2 archive. The bit rates used in these kind of scenarios are usually 300kb/s and 800kb/s. The displayed video is of high quality, particularly when the MPEG-4 Visual Advanced Simple Profile is used, which contains features such as quarter pixel estimation.
Secondly, broadcasters are interested in repurposing content — distributing their content not only via traditional broadcast means, but also over broadband, IP and mobile networks. The re-purposing of digital video assets is where MPEG-4, with its high coding efficiency for low bit rates, comes into its own. This is, for example, achieved through Live Engine, a product from Swedish company Popwire. Live Engine real-time encodes high-quality live or taped content into multiple bit rates on a hard disc, where content can then be archived in different profiles for a variety of uses.
In addition, for streaming applications used by broadcasters, there are professional encoding tools such as mpegable broadcaster from German vendor dicas digital image coding, which is a real-time encoder for MPEG-4 multicast streaming. (See Figure 1.) MPEG-4 video coding is extremely flexible. It can be used for low, intermediate and high bit rates, which is a great advantage compared to other video standards.
Further, MPEG-4 offers two interesting functionalities: robustness in error-prone environments and content-based scalability. These built-in functionalities allow MPEG-4 encoded data to be accessible over a wide range of media and with various qualities in terms of temporal and spatial resolutions.
MPEG-4 covers a wide range of applications, bit rates, resolutions, qualities and services, making it an interesting format for media delivery over different types of transmission or storage technologies.
MPEG-4 audio advanced audio coding (AAC) and aacPlus
By David Frerichs VP and GM U.S. operations, Coding Technologies AB
MPEG-4 provides the most efficient and highest quality audio coding available today. The near-CD quality MPEG-1 Layer 2 audio codec (used in many digital video broadcasting services) delivers high-quality stereo at 128kb/s per channel, while MPEG-4 AAC offers the same quality at 64kb/s per channel. MPEG-4 aacPlus delivers CD-quality stereo at 48Kb/s and excellent quality stereo at 32kb/s.
MPEG-4 audio is inherently scalable. If, for example, a transmission uses an error-prone channel with limited bandwidth, an audio stream consisting of a small base layer and a larger extension layer provides a robust solution. Strong error protection on the base layer (adding only little overhead to the overall bit rate) makes sure there is always a signal, even with difficult reception. The extension layer (with little error protection) and base layer together give excellent quality in normal conditions. Any errors lead only to a subtle degradation of quality but never in a total interruption of the audio stream.
MPEG-4 aacPlus is the combination of MPEG AAC and Coding Technologies' spectral band replication (SBR) technology. In June 2001, XM Radio became the first commercial system to deploy aacPlus. In late 2001, its value was recognized by MPEG, and it is now on track to become a core profile for MPEG-4 audio called "High-Efficiency AAC."

Figure 2: MPEG-4 aacPlus codec structure showing integration of spectral band replication (SBR) and advanced audio coding (AAC).

MPEG-4 aacPlus is not a replacement for AAC, but rather a superset that extends the reach of high-quality MPEG-4 audio to much lower bit rates. MPEG-4 aacPlus decoders will decode both plain AAC and the enhanced AAC plus SBR. The result is a backward-compatible extension of the standard that nearly doubles the efficiency of MPEG-4 audio. (See Figure 2)
SBR is a unique bandwidth extension technique that enables audio codecs to deliver the same listening experience at around half the bit rate. As a result, MPEG-4 aacPlus delivers CD-quality stereo at 48Kb/s and 5.1 surround sound at 128Kb/s. This level of efficiency is ideal for Internet content delivery and fundamentally enables new applications in the markets of mobile and digital broadcasting.
The unique capability of MPEG-4 aacPlus to achieve high-quality at low bit rates not only enhances existing markets, but also it enables new markets for digital audio. For broadcasting, mobile multimedia and Internet streaming applications, where bandwidth is constrained, the value of "High-efficiency AAC" (aacPlus) is magnified.
As operators look to enhance their services with more channels or with high-definition, the efficiency of MPEG-4 aacPlus gives them more options to either consolidate audio bandwidth to make room for more video or to layer more audio services such as multilingual and 5.1 surround.
Since SBR is being added to the MPEG-2 standard as well as the MPEG-4 standard, operators have the flexibility to use aacPlus regardless of their video or transport selection.
MPEG-4 advanced video coding (AVC)
By Fadi Malak Manager Business Development, Harmonic, Convergent Systems Division
Consensus is growing behind an emerging video compression standard (MPEG-4 AVC/H.264). Originally developed by the ITU's Video Coding Experts Group (VCEG) to enable wireless single-user video services, MPEG-4 AVC/H.264 also offers significant advances in video compression technologies that have proved to be beneficial for other mainstream video applications such as entertainment television (DVD, broadcast, VOD).
The momentum behind H.264 became so large that the ITU and ISO agreed to develop the standard jointly (creating the Joint Video Team, a.k.a. JVT) and incorporate H.264 into MPEG as MPEG-4 part 10. As a result of this joint development, the same standard is known by many names — MPEG-4 Advanced Video Coding (AVC), H.264, MPEG-4 part 10, H.26L, and sometimes also the "JVT codec". We will call it MPEG-4 AVC here. The compression performance offered by MPEG-4 AVC is above any other technology existing today, including MPEG-2, MPEG-4 part 2 and proprietary video compression formats.

Table 1: Encoding tools in MPEG-2, MPEG-4, H.263 and H.264

Rather than a radical departure from the MPEG-2 standard, MPEG-4 AVC represents an evolution, just as MPEG-2 evolved out of MPEG-1. MPEG-4 AVC takes many of the concepts and compression tools found in MPEG-2 and improves upon on them. For a detailed list of features and comparisons between the various compression standards, see Table 1. MPEG-4 also introduces some new tools for users. These include:
A wider selection of block sizes and the flexibility to dynamically select the motion compensation block size.
Improved prediction of motion vectors, allowing complicated motion information to be represented more efficiently.
Advanced prediction of AC and DC intra coefficients, allowing the encoder to represent texture data more efficiently.
Multiple reference frame selection, allowing the encoder to find the best match across multiple video frames.
Artifact filtering inside the motion compensation process, generating "cleaner" images for motion compensation.
Quarter pixel motion estimation, rendering motion with a higher degree of accuracy, even for non-translational slowly moving objects. MPEG-4 AVC/H.264 further improves motion rendition by using high-quality interpolation filters.
A finer quantizer step resolution for chroma than for luma blocks, eliminating color-smearing problems occasionally visible with MPEG-2.
The MPEG-4 AVC entropy coder, which is context-adaptive and uses an arithmetic coder rather than MPEG-2's Huffman coder.
One of the most significant capital costs in an entertainment system can be the cost of the compression decoder. New receivers and DVD players with greater processing power will be needed to handle the processing-intensive MPEG-4 AVC and High Efficiency AAC audio decoding. With greater compression efficiency comes greater encoder and decoder complexity. Greater complexity means more processing power is needed for encode/decode functions. All of this results in a higher silicon cost.
However, recent advances in semiconductors have paved the way to roll out these revolutionary technologies by making a single-chip AVC decoder a reality. Single-chip SD MPEG-4 AVC decoders are now available, with HD to follow soon. (See Table 2)

Table 2: The efficiency and complexity increases of MPEG-4 AVC as compared to MPEG-2

These state-of-the-art video technologies such as adaptive control of advanced preprocessing filters, extensive video analysis and closed loop statistical multiplexing all contribute to approximately two-thirds of the compression efficiency of broadcast MPEG-2 systems deployed today. Using a combination of these technologies and the new compression tools in MPEG-4 AVC, MPEG-4 AVC (H.264 Main profile) can potentially achieve 40 percent to 50 percent compression efficiency gains over today's state-of-the-art MPEG-2 systems. These results are finally dramatic enough to compel the industry to invest in new technology and take the next leap.
There are significant challenges inherent in the adoption of new video technologies. Adopting a new technology is an individual decision that is based on customer, competitive, economic and even regulatory considerations. "Green field" video applications may pose difficult business decisions, but the technical implementation is typically much easier given that legacy equipment issues do not exist and that other similar systems have been previously deployed.
MPEG-4 AVC roll-outs into legacy systems pose both business and technical challenges. Achieving end-to-end interoperability for MPEG-2 required years of effort with significant adaptations to equipment manufacturers. (See Figure 3.) MPEG-4 AVC will require this kind of effort to attain the interoperability enjoyed with MPEG-2. Fortunately, the timeframes for MPEG-4 AVC are expected to be significantly shorter due to the substantial base of experience and its similarity to MPEG-2.
While migration strategies and timing will vary, a few options are being considered for managing the migration from MPEG-2 to MPEG-4:
A selective approach in which operators may choose to migrate a small number of new services such as VOD or Pay-per-view channels to MPEG-4 AVC.
Content-based migration, in which specialized channels based on type of content (e.g. movie channels) get migrated first.
Regionalized migration-based on geographic region of subscribers.

Figure 3: Coding efficiency of MPEG-2 improved with competition over time. Similar improvements may occur with newer technologies.

Another commonly considered approach is that of simulcast, where services will be broadcast in MPEG-2 and MPEG-4 AVC simultaneously. Depending on the needs of the business, an existing MPEG-2 operator will likely employ a combination of these strategies.
MPEG-4 AVC can enable new business models by allowing operators to offer video services where previously they could not, or by packing more video channels into scarce and expensive transmission channels. With time, it is likely to be adopted in traditional entertainment video applications (DVD, cable TV, satellite TV, video over xDSL, digital terrestrial TV, HD, VOD), as well as the emerging personal TV, streaming video, wireless, and even digital cinema applications.
As new applications for MPEG-4 technology are developed, expect to see wider adoption of the solution and products. Engineers and technical managers need not fear that compression technologies such as MPEG-4 are dead-end roads that may limit even further enhancements. Rather, the versatile platform that MPEG-4 provides ensures a long life for products and, if needed, future transitions to more applications and solutions.
The latest product and technology information
Future US's leading brands bring the most important, up-to-date information right to your inbox
The latest product and technology information
Thank you for signing up to TV Tech. You will receive a verification email shortly.
There was a problem. Please refresh the page and try again.