WSOC-TV HD news takes off with HD news chopper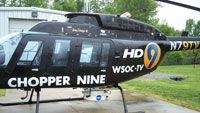 WSOC-TV, the Cox Television ABC affiliate in Charlotte, NC, last week put its HD-equipped news helicopter into service as part of the station's overall move to produce its local newscasts in HD.
The helicopter, which Wysong Enterprises in Blountville, TN, upgraded from SD operation, relies on a COFDM microwave system from Microwave Radio Communications for transmission as well as MRC receivers and Tiernan decoders.
While Wysong retrofitted the helicopter for HD, station chief engineer Ted Hand designed the receive side of the system, which includes four sites around the Charlotte metropolitan area. Two of the four are currently set up for HD, he said.
Getting the system working was a bit of a challenge. "It's a lot different when you microwave an SD signal back than when you do an HD signal," he said. "The payload bit rate is just night and day."
According to Hand, many parameters must be right to make the digital transmission system work. "When you do forward error correction, you've go to get all these parameters, PI numbers and stuff when you set up encoding." Once that's all done, however, "it works like a charm — it's just getting to that point with all your parameters," he said.
WSOC is backhauling helicopter HD shots from the receive sites to the station on the 7GHz band. For the system to work, each step must work. "You just have to take it a step at a time. You get this part fixed, then you move to the next domino and the next, and by the time you get it back to the station, it lights up in your room and you're good — you can actually see it," he said.
Adding to the complexity of the system are HD tower cameras, which share the microwave link from the receive sites with the helicopter relay. "We are sending three ASI paths down one microwave link, so you've got all these different streams," he said. "It's not like you have one piece of rope. It's like you're putting a bunch of rope in a pipe, and you're trying to get it all to come out the same end at the same time all straight. You get there; it just takes time. It's not plug-and-play."
To read an extensive interview with Hand about WSOC-TV's new HD news operation, see "Obstacles on road to local HD news not as impassable as imagined, Hand says."
The latest product and technology information
Future US's leading brands bring the most important, up-to-date information right to your inbox