Wireless companies gear up to assist users of 700MHz gear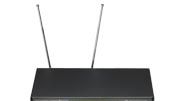 In response to the coming change in the wireless landscape, several manufacturers have announced new programs designed to assist customers who own premium gear in the 700MHz frequency range. The FCC has mandated that wireless mics vacate the 698MHz-806MHz band. Although the final date for this transition has not yet been finalized, it could come as soon as the DTV transition on Feb. 17, 2009. Most companies stopped selling 700MHz equipment when the direction of the FCC proceedings became apparent a couple years back, so it is mostly older systems that require replacement.
To deal with this issue, Lectrosonics has announced a new service policy to aid customers with products in the 700MHz band, which includes Blocks 27, 28 and 29. Owners of current-generation products in these blocks can get factory modification to lower, legal frequency blocks. The cost for this modification varies by model. For older-generation products in Blocks 27, 28 and 29, including the UCR211, UCR201, UM200 and UM100, if purchased new from an authorized dealer within the last five years, Lectrosonics is offering a reduced cost for replacement with new products.
Shure has announced a rebate trade-in program in conjunction with the purchase of replacement products, including its UHF-R, ULX, PGX and MX690.SLX4 microphone systems and PSM700 in-ear monitors. Customers can trade in any 700MHz product purchased before February 2007, including competitive brands, to qualify for the rebate. Rebates include $500 to $1000 off the premium UHF-R system and $150 to $300 on other systems. Rebates for individual components (transmitters, receivers) are commensurately lower.
Sennheiser is offering free phone consultation from its staff RF specialists with sign-up at its Web site. The company's 3000 and 5000 Series products are modular, requiring a simple card replacement for frequency changes. For evolution G2 wireless microphone and in-ear products in the C range, Sennheiser is planning a rebate/trade-in program for systems purchased before 2008. The amount of rebate is keyed to the length of system ownership and system type (100, 300 or 500 Series).
For more information, visit www.sennheiserusa.com/spectrumreallocation, www.lectrosonics.com/PressReleases/whitespace/whitespace.htm and www.shure.com/rebate.