Super sessions to consider at NAB2007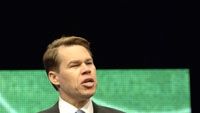 Among this year's "super sessions," the topics are varied and broad, touching on just about every electronic communications media in existence. Basically, there's something for everyone.
Among the highlights for TV broadcast engineers are:
• "The global picture on DTV deployment" on April 18 from 4 p.m. to 5:30 p.m. Media Development Authority of Singapore is sponsoring the session. David K. Rehr, the NAB president and CEO, will engage in discussion with broadcasters and experts from around the globe on their successful and unsuccessful DTV marketing strategies. Attendees are promised a clear picture of what strategies work, and equally as important, the mistakes to avoid. NAB bills this session as "not to be missed" by anyone going digital.
• The two other super sessions deal with IPTV and broadband video. Unfortunately, both sessions occur simultaneously. On April 17, from 9 a.m. to 10:30 a.m. attendees can either can choose "IPTV — Market outlook 2010" or "The revolutionizing impact of broadband video."