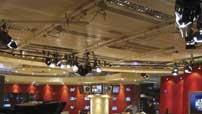 With so many channels offering round-the-clock news, broadcasters must increasingly compete for viewers on the basis of the quality and timeliness of their news coverage. Viewers expect to be able to tune to a channel and quickly get timely, interesting and fresh stories. Unfortunately, those attributes are difficult to meet — unless broadcasters are willing to re-examine how news content is generated.

With BBC Technology's Colledia Control, BBC News can manage its entire production process on a single, digital platform.

Newsrooms live — or die — on the ability to access breaking news stories and turn them around for air promptly. There's no time for tape dubbing, format conversion and multiple attempts at A and B rolls. News stories must be able to go from raw to finished in minutes, sometimes seconds. To do this requires a new paradigm.
A check list
A key goal in a fast-paced newsroom is the ability to ingest many hours of video from multiple sources, including satellite, microwave and videotape, and then quickly refine the images into compelling news stories for delivery to viewers. While the task seems trivial, it is not. The process is complex, not just because of the quickness with which it must be done, but because of the huge amount of content that must be managed through a workflow of many people.
Another important function is the ability for the right people to have access to the desired media, quickly and without delay. Editors must know when the material is available and be able to access it as soon as the ingest process starts.
Finally, a media management system must be available to provide a set of services based on the goals of the news entity. Tracking, control and rights management are also important functions.
Therefore, if one were to create a check list of needed features, they might include:
An open-standards-based, fully integrated production and post-production environment.
The ability to encode and manage video in a variety of resolutions for desktop editing.
Aggregation of multiple underlying data sources, devices and applications into a single, high-quality user experience.
Full integration of business data, including rights clearances and production financials.
A library of near-line stock shots, accessible from the desktop.
Support for both distributed and collaborative workflow.
A single common interface.
The process
Previously, broadcasters used a strictly linear approach to the basic steps of ingest, edit and play-to-air. Historically, the process relied on a variety of third-party hardware vendors of cameras, VTRs, vision mixers, monitors, routers, satellite dishes and more, all of which have their own operational protocols and control panels. Unfortunately, the result was often an inefficient, error-prone and slow process. Any new production platform has to provide a new way to access, edit, create, store and broadcast content.
And with today's multiple channels, broadcasters want to repurpose that content. They are no longer satisfied, for example, to air only once the story of the constable being run down by a drunken driver. Rather, they want to be able to repackage stories in multiple ways, with different lengths and for diverse audiences. This raises the specter of needing a parallel workflow supported by an asset management technology. Combined, this allows stories to move more seamlessly through the content creation process, from ingest to editing, graphics, storage and play-to-air. Today, newsrooms want everything available to everyone — right on the desktop.
A new workflow

Using the Colledia touch-screen interface, a single operator at BBC News can manage equipment across an entire broadcast operation, from content creation to distribution.

When BBC News faced these kind of challenges, it found it necessary to re-examine the entire news workflow process. An early result of this re-examination became known as Project Jupiter. Prior to the project, BBC News had multiple infrastructures spanning across the two main programming channels of BBC World and BBC News 24. The goal became to integrate the resources for each of the London Television Centre newsrooms into a cohesive production center.
While the specific solution created for them by BBC Technology resulted in a product suite called Colledia, the principles used to realign and improve news production are not unique. The key is to provide the functions needed without relying on a single proprietary hardware/software solution. Let's look briefly at the BBC News' solution.
It was obvious that a new operational architecture was needed to handle the more than 51,000 hours of programming per year created by the network, which was composed from 500 hours of audio and video feeds received per day. In addition, BBC journalists wanted the ability to view and share this media and then be able to edit, create, transmit and archive stories, all from their desktops.
Clearly, the days of making copies of tapes and then doing "punch and crunch editing" had to go. And, just as importantly, the network needed a media asset management system that could keep track of the hundreds of resources that were available daily.
Storage
Because there is so much content available and hundreds of hours are added daily, a sophisticated media management system is required. The total storage system is composed of 13 Quantel sQServers, providing a total of more than 1300 hours of 30Mb/s (MPEG-2) and 1300 hours of desk-top-quality 1.5Mb/s (MPEG-1) resolution storage. (See Figure 1.)

Figure 1. BBC Technology used Quantel systems to create an integrated, server-based production workflow for BBC News.

The ingest/editing process is supported by six sQServers configured with a total of 500 hours of 30Mb/s storage and 500 hours of browse storage. That enables any craft edit or journalist workstation instant access to all material on any server.
The database includes all the metadata relating to each piece of media held. BBC Technology custom-designed the control automation system, Jupiter Metadata Core, which accesses this database via its own gateway for media management, archiving and metadata.
Complementing ingest/editing is a near-online storage system, comprising two sQServers with a total of 800 hours each of broadcast and browse storage. The automation system manages bi-directional transfers between the online, nearline and playout servers. All of the archive and metadata is handled by a network architecture from BBC Technology.
The system supports 20 craft edit stations, each based on the new QEdit Pro platform. An additional 142 journalist desktop editors using QCut software are shared between up to 600 journalists' PCs. Once ingested, the images never need return to tape for production.
Finished items are transferred to the production area, supported by five sQServers, each with 24 hours of 30Mb/s storage. Finally, the produced cuts are forwarded to the various BBC News clients for transmission/distribution under automation control to the various channels, including National Bulletins, BBC News 24, BBC Online and BBC regions, as well as to the BBC's archive system.
An integrated system
The networked system allows up to 1000 users per node, supported by a Java framework. A maximum of 300 users can access the same streaming media at their desktops. Scheduling and monitoring software notifies each journalist of media availability, even when it's expected to arrive, so they can begin planning their story.
Once feeds arrive, the system automatically triggers a record session, notifies the users of its availability and starts streaming the desired media to their desktop as soon as the first few frames of video hit the server. Broadcast-quality video is transferred directly to the Quantel Q-Edit Pro workstations, which provide a nonlinear editing environment integrated with paint, color correction and graphics tools.
This open-architecture design allows system designers to use industry-standard formats such as MPEG; media exchange tools, including AAF and MXF; data standards such as SMEF; automation standards such as MOS; and control standards, including SNMP. This also allows the use of industry-standard, high-speed IT networks and Oracle's 9i database and application server. While this may sound like unneeded overhead, basing systems on such industry standards provides customers many benefits.
Controlling costs
Cost control is a part of every decision in today's competitive environment. So, it became important early in the planning to ensure that that savings would result from both streamlining and then managing the entire workflow process. Manual inefficiencies such as duplicated effort and wasted resources had to be reduced, which would also save time. Designers realized that if the project could properly manage the assets and improve content production work-flow while reducing operational expenses, both the network and viewers would benefit.
Not every facility will need such a large system as does BBC News. However, the principles are similar. Use open-standards platforms and software. Ingest material once, repurpose many times. Provide users with all the tools they need on the desktop to maximize the production process. Finally, think parallel, not linear. The results will benefit everyone, even your viewers.
Craig Dwyer is the chief marketing officer for BBC Technology.
Bibliography:
BBC Technology's "Approach to Collaborative Digital Video Production," November 2002
Broadcast Engineering's "Project Jupiter: The Digital Solution for BBC News," January 2003
The latest product and technology information
Future US's leading brands bring the most important, up-to-date information right to your inbox