ABS finds savings in file-based, automated workflow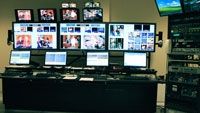 Systems integration firm Advanced Broadcast Solutions recently completed an extensive project for Cowles California Media Group to centralize master control for six stations at a single facility, implement a file-based workflow and maximize automation for greater cost-efficiency.
ABS designed and built the new centralized master control infrastructure around the existing operations and seamlessly switched the stations over to it without jeopardizing the on-air signals. The project was completed within an aggressive time frame of just 15 weeks, from mid-October 2008 through January 2009.
"Based upon a feasibility study by ABS, we determined that the cost of building and staffing stand-alone master control rooms at each station would not be possible," said Paul Dughi, president of Cowles California Media Group. "However, by centralizing and automating control of all six stations in Salinas, we greatly reduced our capital and operating costs, advanced our on-air look with widescreen SDTV and HDTV, and eliminated the inefficiencies and technical errors that hurt the bottom line."
Because the six Cowles stations are split between Salinas and Santa Maria, CA, which are separated by hundreds of miles, ABS built the centralized master control infrastructure on a bidirectional 45Mb DS3 circuit with an Omneon ProCast server that enables the Salinas hub to blast programming, commercials and other content to another ProCast server at the "satellite" facility in Santa Maria. Designed for disaster recovery, the Santa Maria facility can assume control of the Salinas master control room should a disaster or power failure ever shut down the Salinas facility.
Traffic and master control have been centralized at the Salinas facility for four Cowles operated channels serving the Salinas/Monterey market: KION-DT (CBS Channel 46 and The CW on 46.2), KCBA-DT (FOX 35) and KMUV-LP (Telemundo Channel 23). Salinas also handles traffic and master control for Santa Maria-based KCOY-DT (CBS 12) and KKFX (FOX 11).
After acquiring these stations from Clear Channel Communications in mid-2008, Cowles turned to ABS to find an innovative solution to eliminate time-consuming, inefficient processes and reduce operating costs.
"We conducted a feasibility study that projected significant cost savings by consolidating master control for all six stations at Salinas; replacing their banks of videotape machines with a file-based, server-based workflow; and automating the entire broadcast chain from ad order processing and traffic through master control and playout," said Mark Siegel, president of ABS.
Syndicated programming is received via satellite on a Pathfire server in Salinas, and then flipped to the ProCast server, which in turn distributes the appropriate shows to Santa Maria's ProCast server. The traffic department uses VCI software to generate a daily operations log that interfaces with Avid Sundance Titan automation, resulting in fully automated master control and playout to air. Also, the news operations in both markets are now based on Bitcentral's Précis file-based news production system, with acquisition on Panasonic P2 HD cameras and editing on Grass Valley EDIUS NLE systems.
The latest product and technology information
Future US's leading brands bring the most important, up-to-date information right to your inbox