A modular approach to virtual monitoring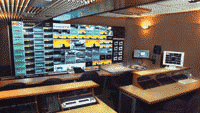 This Core Digital/SWTV digital hybrid OB truck uses Avitech scalable windows for image processing on a Christie Digital monitor wall.

The ongoing development of virtual monitoring systems in broadcast television is providing stations with a previously unmatched amount of flexibility in their monitoring abilities. Many broadcasters are seeking new methods to monitoring the health of their signals and discovering the benefits of expanding beyond the traditional fixed monitor approach.
Avitech International offers new ideas and methods to system monitoring, including virtual monitor wall processors. Referred to as virtual monitor wall systems (VMWS), they provide a modular approach to monitoring through the display of multiple real-time, scalable video images on a single display and, from one point of control, manage numerous signals on lots of displays.
Each system is comprised of a series of individual rack-mounted modules. The modules that make up a typical system are part of the company's Video Command Center (VCC-4x) line of products. Each module displays up to four sizeable and scalable video and graphic windows on a display device with a resolution of 800x600 to 1280x1024.
Typically, this device is a plasma panel, rear projection cube, computer monitor or projector.
The design allows for control and display of multiple sources on numerous display devices from one point of control. A typical system can be cascaded to display up to 60 video windows on a single display device. A system with the ability to display 60 video windows on one display will feature 15 VCC-4x modules, with each module handling up to four sources from a router. The range of the modules can handle NTSC, SDI, HD-SDI and VGA to UXGA input signals.
With a modular design, users can economically add signals when needed, rather than have to purchase an entire, new system. VCC-4x modules are cascaded to the previous module for simple expansion, in a daisy chain fashion. Each module adds four new video sources.
Maintenance and diagnostics are also simplified by the modular design. If a module fails, it is simply detached from the system and replaced with a new module. The entire rack does not need to be removed due to signal failure.
The system has little to no learning curve for anyone familiar with an MS Windows operating system. It functions as a drag and drop system. Users can size and move video windows along with 3-D graphics with the click of a mouse. The images, as laid out on the computer screen by the user, are mimicked on the large virtual monitor screen(s) for system monitoring.
The company also manufactures a range of audio modules under the Audio Command Center (ACC) line. These modules present audio VU meters on the virtual monitor screen and can be associated with specific video windows. Multiple analog, AES/EBU and embedded AES/EBU audio streams can be displayed alongside each corresponding video window.
Along with audio VU meters, the system can display other useful graphic information. Serial, contact closure and network interfaces to routing, switching, clock and automation systems supply input to useful on-screen messaging that includes tally indicators, dynamic text labels, UMD and other pertinent information. User interface software within the virtual monitor wall system is optimized for the broadcast master control and the production environment with integration hooks to broadcast automation, routing and internal clock systems.
An integrated controller, the VCC-C1R, is used as the focal point for the VCC-4x and ACC modules, providing centralized control of numerous video and graphic windows viewed on multiple display devices. Off-the-shelf, a single VCC-C1R control station using a standard Windows GUI interface can drive up to four display devices with as many as 15 modules or 60 real-time windows per display.
Additionally, each controller can be expanded to handle up to eight stacks of VCC modules for a total of 480 windows under one point of control.
The system is designed so that in case of a complete failure, live video remains onscreen. Also, because video processing is physically removed from the noisy electrical and electromechanical environment inside the controller, video quality is improved.
Graphical elements such as multiple clocks with GMT offsets, countdown/countup clocks, 3-D borders, text labels and logos are easily integrated into the on-screen display. Text labels are placed at the bottom of video windows. Windows are automatically resized so that graphical elements never conceal any video information, and aspect ratios can either be preserved or distorted depending upon user preference. 4:3 and 16:9 sources can be displayed on a single display at the same time.
Standalone VCC-4xDVI modules operate as traditional quad-split devices when used without external controls. The modules can be controlled through a serial interface to create four video windows in front of a full-screen computer image background supplied through an analog (RGB) input.
RS-485 communications is standard, though an RS-232 interface can also be supplied.
The complete line of modules includes VCC-4eDVI and VCC-4dDVI versions. When connected to a VCC-C1R controller, the modules can be cascaded to display many sizeable and scaleable video windows with text labels, 3-D borders, digital clocks and other graphic elements.
VCC-4eDVI video modules can accept four composite analog video signals. The VCC-4dDVI video module accepts four CCIR 601 video signals. Both are high-resolution modules that provide simultaneous SXGA and DVI outputs, compatible with many of the newer display devices capable of higher resolutions.
Morris Gong is president of Avitech International.
The latest product and technology information
Future US's leading brands bring the most important, up-to-date information right to your inbox
Thank you for signing up to TV Tech. You will receive a verification email shortly.
There was a problem. Please refresh the page and try again.