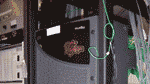 WSMV-TV in Nashville, TN, is owned by Meredith Corp. and began operating in 1950. In the mid-1990s, the station began the process of finding a new routing switcher to replace its old one, in order to remain competitive and to meet FCC mandates regarding digital transmission. Although the original system had performed adequately for over two decades, advances in technology had made it practically obsolete. In addition, the company from which the router was purchased was no longer in business, creating a variety of product support and customer service problems.

Flexibility and customer service were prime factors in WSMV's search for a new router. They chose a Tiger routing system from PESA, which includes the 112x112 stereo/audio router shown above.

It can be argued that a routing switcher is the heart of any broadcast station. Therefore, we needed to do some homework to make the proper purchasing decisions and protect our financial investment.
Researching routers
The initial step was to obtain budgetary approval. The next step involved identifying our needs and finding a router that met our specifications. First and foremost, a router was needed that could help us meet the goal of being on-air in a digital format before Nov. 1, 2002.
It was crucial to find a flexible system, one that would allow for technological advances as well as provide room for growth. With the industry in such a state of transition, this flexibility is more important than ever. We wanted a system that would be adaptable to a wide range of requirements, one with a mixture of analog and digital cards, and a variety of input and output increments to make future expansion affordable and simple. Specifically, the system needed to meet the station's technical requirements. The station currently has one digital and one analog channel. In addition, it feeds inserts to a cable channel, and multiple fiber feeds run into and out of the station. All of this requires access to distribution feeds from several locations.
While price is often the driving factor in any major purchase, there are certainly other factors that need to be considered, including intangible qualities that can't be seen on a specification sheet. First, we were looking for a company with a strong reputation and a stable financial outlook. It was important for our engineers to have confidence in our supplier. After all, a new routing system, like any major technical investment, is a major change to the infrastructure, and it is the engineers who are most affected by this change. Then there was the issue of customer support — an especially sensitive concern since we were no longer getting support for our last router.
Finding a company with a knowledgeable and experienced staff was another important factor, as this would help make the transition to the new router as smooth as possible. One of our major goals was to keep the learning curve to a minimum.
Selecting a router
After researching many companies, WSMV finally decided on PESA Switching Systems and its Tiger routing system. We purchased a 96x96 analog router, a 64x32 digital router and a 112x112 stereo/audio router. All three frames can be expanded to 144x144, and the system offers larger matrices to meet any potential expansion requirements. We will use 12 tie lines between the analog and digital router to accommodate cross-conversion.
While several companies had routers that met our technical specifications, we decided on PESA because it also met our intangible requirements. Dependable and experienced staff provided training and helped us resolve some of the initial timeline and configuration issues. They oversaw the configuration of our new software. In the end, the PESA Tiger system has proven to be stable and reliable, and the right router for WSMV.
Mike Nichols is the director of engineering for WSMV Channel 4 in Nashville, TN.
The latest product and technology information
Future US's leading brands bring the most important, up-to-date information right to your inbox
Thank you for signing up to TV Tech. You will receive a verification email shortly.
There was a problem. Please refresh the page and try again.