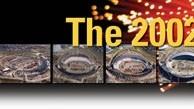 By Jerry Walker
The world's biggest international sports event, the World Cup, this year presents a unique challenge to broadcasters. The matches are under way this month from two countries, Korea and Japan, that have no common border, nor a common language. The Opening Ceremony was held in Korea, and the Cup final match will be played at the end of this month in Japan.

Each of the 20 venues has two TV studios for stadium interviews. One is equipped and staffed by Host Broadcast Services and contains two cameras, one DVCPRO50 VTR, one vision mixer, one audio mixer, two microphones and earphones, and lighting and backdrop. The other contains only the lighting and backdrop for Broadcast Partners that use their own equipment.

In addition, there are 10 stadiums in each host country requiring almost constant transfer of broadcast equipment from venue to venue. Fortunately, all of the hardware intended for Korea stays in Korea, and all of the hardware shipped to Japan stays in Japan. In fact, some suppliers had to provide "doubles" of everything in order to maintain the separation of facilities and services.
What the two host countries have in common is digital technology. And they have the experienced services of Host Broadcast Services (HBS) to design, integrate and build the international broadcast facilities. HBS was formed in 1999 specifically for providing the broadcast of the FIFA (Federation Internationale de Football Association) 2002 and 2006 World Cups. FIFA, HBS and the Local Organizing Committees decided early on that there would have to be two International Media Centres (IMCs), one in each country.
As a result, there are two International Broadcast Centres (IBCs), one in Seoul, Korea, and one in Yokohama, Japan. This arrangement might have caused confusion over responsibilities for ingest and transmission of the match programming. Therefore, IBC 1 in Seoul has sole responsibility for Master Control and distribution. IBC 2 in Yokohama provides limited services such as edit suites and interview studios either with camera and recording equipment or not for both Broadcast Partners (BPs) and unilateral bookings.
IBC Seoul controls
IBC 1 in Seoul occupies 21,000 square meters.

During the World Cup Games, a trial data broadcasting service will be provided by Korean broadcasters.

It includes the Master Control Room and telco rooms for Korea Telecom and Japan Telecom. As such, IBC 1 is the main base for all Broadcast Partners and the central delivery place for all signals from all venues in Korea and Japan. These include the multi-lateral and unilateral signals, video and audio, Commentary and Coordination circuits.
The HBS Broadcast and Telecom Department is responsible for the radio and television infrastructure at both IBCs and the Venue Technical Operations Centres. The video standard for the 2002 FIFA World Cup Korea/Japan is a single all-digital component standard. No analog or composite digital video technology nor 625/50 systems are used. The video is serial digital 4:2:2 compliant with SMPTE Recommended Practice 259M-C, with 525 line, 60 Hz. Audio remains analog. For the IBC, HBS selected the Panasonic DVCPRO50.
The DVCPRO50 VTRs are installed in the Tape Playout and Injection Point. Edit facilities include in each suite two Panasonic DVCPRO50 (AJ-LT 95) laptop editors. The Off Tube Commentary Booth is equipped with one Glensound commentary unit, two microphones, and headset and TV monitors.
The IBC 1 Master Control Room (MCR) manages all incoming and outgoing program circuits. The Commentary Switching Centre (CSC) takes in all commentary signals, where they are monitored and patched.
Each of the 20 venues has two TV studios for stadium interviews. One is equipped and staffed by HBS. It is equipped with two cameras, one DVCPRO50 VTR, one vision mixer, one audio mixer, two microphones and earphones, plus lighting and backdrop. The other contains only the lighting and backdrop for Broadcast Partners that use their own equipment. Both studios are pre-cabled.

Outside view of the International Broadcasting Center (IBC) in Seoul, Korea

Transmission and coordination circuits to IBC 1 Seoul must be ordered separately from the Telecom Services Providers in Korea and Japan.
Data broadcasting
Because of the global importance of the World Cup broadcasts, there is no room for trying out new technologies. Conservative, fail-safe, highly reliable and well-understood systems are the rule. Moreover, vendor personnel play a vital role in keeping the equipment running during the month-long event. Missing even a second of a match is not acceptable to the accumulated worldwide audience numbering in the billions.
Nevertheless, a consortium of broadcasters, equipment manufacturers and a content developer in Korea is putting data broadcasting to a test during the World Cup. In November 2000, Korea adopted DASE as its standard for data broadcasting terrestrial digital television. Since then, several broadcasters, DTV manufacturers and content developers in Korea have had end-to-end tests of DASE.
In January 2002, broadcasters KBS, MBC and SBS, along with DTV manufacturers LG Electronics and Samsung, and a content developer Aircode, plus the Korean Ministry of Telecommunications, established a working group to provide a trial DASE service during the World Cup games. Each broadcaster will transmit both high-definition programs of the matches and DASE data.
Viewers can choose five on-screen menus, including statistics, match highlights, player profiles, voting and World Cup history. Using Java application, the broadcasters can display highlights of the game with moving animations. Korean broadcasters have implemented a database and authoring tools to provide this Java applications scheme, rather than the conventional animation images.
Slow motion
Televising the World Cup without slow-motion replay and highlights would be unheard of these days. Once again this year, all slow-motion replay and highlights systems for the World Cup are being provided by EVS Broadcast Equipment.

Engineers from Scopus and its partner, Dong-In Satellite Networks, install digital broadcast platforms at the International Broadcasting Center (IBC) in Seoul, Korea. The IBC facilities include dozens of Scopus platforms, which will enable the transmission of more than 200 digitally compressed channels to broadcasters worldwide.

This adds up to some 18.5 tons of equipment packed in 197 boxes sent to Korea and 181 boxes delivered to Japan. Twenty-seven slow-motion engineers and operator trainers, a mix of EVS employees and free-lance specialists also are on the scene. Their assignment is to follow the equipment from venue to venue to ensure that the LSMs are installed properly and to train operators in some of the new editing features of the XTs.
The slow-motion project is taking place in collaboration with Thomson for high-speed cameras, Canon for 70X zoom lenses and Egripment and Vinten for camera support hardware. Some 100 EVS LSM-XT slow-motion systems are being deployed, 30 of which are being used in Super Motion mode in conjunction with the Thomson LDK-23 mkII cameras.
Early round matches are being covered by 20 cameras and nine LSM-XTs, three of which are operating in Super Motion mode. Some 23 cameras are available for the nine major matches, 14 of which are to be routed to LSM-XTs. And six of these cameras are LDK-23s, supported by LSM-XTs in Super Motion mode. That works out to a total of 12 LSM-XTs per match.
The BPs also are being offered more flexibility by means of a large choice of ISO- and super-feeds, one of which will provide highlights exclusively. The LSM range always has had an editing capability. Now with the introduction of enhanced software, editing on the fly from the LSM-XT is faster and simpler than before. In addition, two EVS AirBox servers are available specifically for the highlights feed, featuring a preview channel and mix/wipe effects on the main output.
HBS is offering two highlights packages with the slow-motion system. Slo-mo editors are working during the first half to make a highlights package ready for playout during the break. Then they do the same during the second half (plus overtimes) for a highlights package at the end of the matches.
Of the 20 venues in the two host countries, only two are to be used more than three times. As a result, production crews will be moving their equipment from site to site on an average of five times during the 31-day tournament.
In addition to the equipment supplied to Host Broadcast Services, EVS also has delivered an MPEG-2 based server to Univision, the Spanish-language cable TV channel in the USA, for use during the Cup matches. Univision serves some 8.5 million Hispanic television households and is thus among the largest networks in the USA.
Univision has fly away satellite equipment at Seoul, and it needs extensive delays for rebroadcasting due to the time difference between Korea and the USA. It is using one of the EVS MPEG-2 DVB servers to record all the matches, and then with the associated editing and trimming tools, it is rebroadcasting the matches for the American market. The system also is being used for the assembly of highlights. Univision is producing its own highlights using clips as they are recorded.
Distribution
Korea Telecom (KT), the country's largest provider of telecommunications services, is responsible for the worldwide broadcast and transmission of the games from both Korea and Japan. Korea Telecom has chosen Scopus Network Technologies as the exclusive provider of MPEG-2 DVB digital broadcast compression platforms.
After Korea was chosen as co-host country, Korea Telecom was required to develop a complex broadcast system using the entirety of its available infrastructure and adding new elements to bring together telecom and satellite broadcast capabilities. The challenge is to transmit more than 200 digitally compressed channels.
Korea Telecom specifically invited Scopus to participate in the initial systems evaluation because the Israeli company had previously supplied dozens of DSNG (Digital Satellite News Gathering) systems to the co-host. KT's digital broadcast concept is based on MPEG-2 DVB equipment that can be deployed in mobile units and dispersed at each stadium venue. Each mobile unit holds a series of encoders, Integrated Receiver Decoders (IRDs) and multiplexers designed to operate as a full system.
In addition, each stadium has a built-in base station to house the equipment while in use. At the other end, in the IBC 1 at Seoul, all of the games' content is monitored, controlled, processed, edited and re-routed. From there, it goes through an SDH telecom pipeline to three earth stations, where the content will once again be processed, de-multiplexed and routed up to satellites, such as PANAMSAT for a world feed. The system is built so that all content from games held in Japan will be routed to IBC 1 and only then out to the world.
PESA Switching Systems has provided a large number of routers for this project. These routers are switching analog video, digital video, and audio and DS-3 telecom data through the Scopus signal management system using PESA's CPU Link protocol. PESA models in use include the Jaguar 64 × 64 SDV/ASI and analog video routers, the Cougar 32 × 32 SDV/ASI, the Ocelot routers in 16 × 16 and 8 × 8 configurations, the Bobcat routers in 16 × 2 sizes, and the LNS-8 routers in 8 × 2 sizes. (PESA also has supplied its Tiger and 3500 control system to the EBU for mobile routing applications at the World Cup.)
Meanwhile, Japan Telecom, which is sharing distribution responsibilities with Korea Telecom, has selected the DVStation by Pixelmetrix for end-to-end signal quality monitoring from three stadium venues located in Japan and Korea. The DVStation's automated network monitoring technology was chosen to ensure the quality and integrity of seven MPEG 2-way transport streams that connect the stadiums between the two countries, according to Pixelmetrix.
Japan Telecom has connected IBC 1 in Seoul and IBC 2 in Yokohama by fiber-optic cables and satellite links. These links distribute all of the games played in Japan to Seoul for worldwide transmission.
Audio on the fly
A large part of World Cup broadcasting functions on rental equipment, and this is particularly true for the audio systems at the games. Equipment rental firm Audio Specialties in the USA is providing two ATI Paragon Production consoles now in use at venues in both Japan and Korea. Supplying two of 11 total systems, the company purchased the Paragon Production consoles in concert with its sister company, Bexel Video Rental.
Each put together part of two "flypacks" that are traveling to several venues during the month-long tournament. In essence, the flypacks are the equivalent of an OB truck, without the truck. Both systems will be moved three or four times among venues in both host countries.
For an expaned discussion of the World Cup, visit our Web site at www.broadcastengineering.com.
Do you have a comment about this article? To tell us your thoughts, click here.
Get the TV Tech Newsletter
The professional video industry's #1 source for news, trends and product and tech information. Sign up below.