Producing HD on the road: Making mobile profitable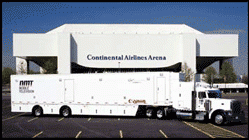 HD4 (pictured in front of Continental Airlines Arena in New Jersey) enjoyed a successful rollout on April 29, 2003, providing the network feed for Game 5 of the first-round NBA playoff series between the Milwaukee Bucks and the New Jersey Nets.

So far, 2003 looks to be the year that high-definition television (HDTV) finally turns the corner toward its long-promised arrival as a consumer medium. CBS and The Madison Square Garden Network (MSG) were early pioneers in offering sporting events in HD. MSG has been providing high-definition feeds of home games for the Knicks and Rangers since 1998, and CBS recently entered the arena by broadcasting high-profile events such as the 2002 Masters Golf Tournament and the 2002 season of SEC college football in HD.
Encouraged by the success of these early adopters, other networks are offering increasing numbers of sporting events and prime-time programs in the new format. And the prices of HD-ready television sets are declining. These are encouraging signs that the mainstream viewing public is ready to accept HDTV. But HD's continued acceptance hinges on the development of enabling technologies, along with the growth of distribution outlets.
Making HD production easier and more cost-effective was the goal behind HD4, National Mobile Television's first all-digital, multiformat HD truck. Its first application was a simultaneous 1080i HD and NTSC widescreen SD feed of a May NBA playoff game and continued through the NBA finals. The truck already has signed to a multi-year contract to broadcast ABC's "Monday Night Football" in HD.
It is a complete break from the traditional design philosophy of broadcast trucks. Unlike previous generations of HD trucks using an HD layer on top of a digital layer, HD4 is a purely HD truck. Everything this truck does is HD, in one format or another. To produce standard NTSC video, it uses a downconversion process. Building a truck of this magnitude required an unprecedented investment of $10 million.
The fact that ABC would use one of its most high-profile sports telecasts as a springboard for HD clearly illustrates the network's commitment to the format. The show's consecutive 18-week annual schedule presents demanding broadcast challenges for a mobile facility. Adding HD to the equation raises the bar even higher, especially considering that a great deal of HD technology is still emerging and many engineers are still unfamiliar with the process. HD broadcasting not only requires new technology, but also new ways of working with audio and video that were never encountered in the analog world, especially with digital audio where issues like latency and synchronization are much more challenging.

HD4 features a complete walk-through environment to improve efficiency and workflow, with all departments accessible from any point in the truck.

Right now, HD equipment is experiencing a technological boom. Compared with cameras or switchers that were introduced a year ago, those introduced today may include completely new functions and features, simply because new production requirements have cropped up that required an immediate update. In fact, during HD4's construction, some equipment that was delivered looked completely different than what was originally ordered because the manufacturers were designing and building until the last minute.
NMT's Venue Services Group designed and built the 53-foot HD4 truck to handle more than 30 cameras and 30 channels of VTR and DDR. The truck features a Thomson Grass Valley HD XTenDD production switcher with four mix/effects busses and 90 inputs, as well as 22 Thomson Grass Valley LDK 6000 MKII cameras. It can operate as a native 1080i30, 1080p24 or 720p60 production unit with a fully digital audio system that can support stereo, 5.1 surround, 6.1 surround, eDolby, ProLogic and CircleSurround.
Monitors
The truck's main production monitor wall, which uses CRT, plasma and LCD technology, can display a total of 95 images. The plasma and LCD monitors produce less heat, weigh less and use less space than their CRT counterparts. For example, in one 50-inch plasma monitor, you can put the equivalent of 16 separate nine-inch images. Such virtual monitors increase flexibility.
But plasma monitors are designed to work horizontally, in a landscape orientation, and there simply isn't that kind of real estate available in any truck. So NMT rotated the plasma monitors 90 degrees and uses BARCO's Hydra universal multi-video insertion unit to display the images in a portrait orientation. This allows the truck crew to enjoy the benefits of virtual display technology while still maximizing use of the available space.
Communications
Using communication-enabling technology is important. To this end, the truck features a 128-port Telex ADAM digital matrix intercom system.

HD4's audio room features a Solid State Logic MTP digital audio console (pictured), Genelec surround sound monitors and Sennheiser mics.

All of the equipment in the truck is designed to provide a plug-and-play environment at nearly any venue across the country. It has also been "future-proofed" by including dual high-speed LANs with Dell, Cisco and 3Com components, which provide full control and recall for all major systems as well as onboard client services. Also built in is a wireless access point (WAP) for 802.11b network access, as well as the capability to seamlessly integrate broadband service for communications, data and remote control/diagnostics.
Video storage and playback
The VTR/DDR complement offers multiformat VTRs as well as dual-format DDRs. Six Panasonic HDVCPRO recorders, two Panasonic D5 machines and two Sony DigiBeta units make up the standard videotape complement. This is supplemented by four EVS LSM-XTHD DDRs. The HD LSM is capable of working either in 720p or 1080i HD formats. All are tied together over an EVS SDTI network that allows file sharing and access by any channel to any other channel in real time.
An EVS Spotbox is tied to the SDTI network. This four-channel HD DDR is coupled directly to the switcher, providing hours of dedicated storage for playing back elements such as replay effects and head shots. Because it is part of the EVS network, the Spotbox can access clips from any EVS channel and can make its content available across the network in real time without distracting the technical director or the production team. HD4 is designed to accommodate additional VTRs or DDRs based on a particular show requirement.
Cameras
Twenty-two Thomson Grass Valley LDK 6000 MKII cameras permit native operation in all HD formats. Since the cameras operate on triax cable, the truck is compatible with the existing infrastructure at most major venues in the United States. In HD4's initial assignments, the crew has been able to employ triax cable to unprecedented distances of up to 3000 feet.
Audio
The truck's audio room features a full complement of current audio production equipment, including a Solid State Logic MTP digital audio console with 216 AES inputs, 104 analog line inputs and 192 mix-down channels on motorized faders. The console can generate multiple and simultaneous 5.1, stereo and mono program and transmission-signal paths.
Conversion and routing
The truck employs Evertz multiformat HD upconverters and AJA distribution amplifiers (with built-in aspect-ratio converters and HD downconverters) in its infrastructure. Teranex Xantus One converters provide additional up-, down- and crossconversion. The truck has over 200 downconversion devices allowing SD feeds (in either 4:3 or 16:9) of every source in a production. It can also upconvert 20 discreet SD sources. The dual Thomson Grass Valley Trinix routing systems allows simultaneous HD and SD feeds of all truck sources.
Mechanical innovations
Actuators mounted below the truck's expandable 48-foot by 5-foot side expand and retract the side. This contrasts with conventional expandable trucks, which often use "tooth-and-gear" drive arrangements prone to jamming and slipping.
A trailer made entirely of aluminum is not unique, but for a trailer of this size and scope to have an aluminum frame is significant, especially when combined with the use of graphite composite materials for the floors and corrugated polyethylene for the walls to reduce weight and improve the trailer's insulation capability.
To further reduce weight, the truck uses "boat cables" to carry AC voltage to the equipment racks. These flooded cables are held in place by special straps and are ideal for very rugged, high-vibration environments. The cables are filled with a special material that keeps the water out and minimizes vibration of the conductors.
Room to move
The truck boasts the largest amount of interior square footage (in excess of 640 square feet) of any television truck in the United States. The design team capitalized upon this by providing a complete walk-through environment. Users can enter through any door in this truck and walk its entire interior length. This provides easier access to all departments – video, audio, transmission, videotape or production – and improves the efficiency and workflow of the production teams.
The bottom line
Every company in the industry is feeling its way through the HDTV transition, learning that HD production costs more and is more time-intensive from an engineering standpoint. Eventually, it will become easier. But right now it's really an investment in the future of broadcasting.
Mark Howorth is CEO of National Mobile Television.
Get the TV Tech Newsletter
The professional video industry's #1 source for news, trends and product and tech information. Sign up below.