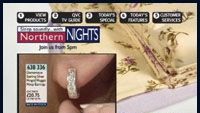 In the UK, the QVC channel has an interactive TV service available behind its channel on DTH satellite and cable. Viewers can access more information about products in the service as well as buy directly using their remote control.

Digital TV has changed forever the way the TV is viewed. Viewers now enjoy higher quality audio and video, a huge range of new general and specialist channels, and far more choice and control over what they watch. Digital TV has also enabled the TV to deliver a wide range of new services to the viewer.
These new services are usually grouped together under the title interactive TV (iTV), but iTV is an ambiguous term and means many different things to different people. Some argue that iTV has been around for years, either in the form of analog text services or in the many different phone-in program formats. Others consider iTV only as a digital technology that may or may not include other mediums such as mobile and IVR.
What's generally accepted is that iTV, using whatever definition, is now flourishing and starting to have a profound effect not just on the way a viewer consumes traditional programming, but also on the commercial models of the platforms, channels and program makers.
The most basic form of iTV is the electronic program guide (EPG), which enables viewers to navigate between channels, investigate future programming and access other services. This is an integral part of digital TV and is perceived as one of the key benefits.
Beyond this, the industry is split into two camps: those that believe iTV will be successful only when deployed primarily to enhance existing television programming, and those who believe that iTV can also provide a commercially successful, multimedia experience.
Many game/quiz shows now enable viewers to participate with the program through iTV by adding an overlay to the linear broadcast. This not only decreases viewer churn by locking the viewer into the channel, but also it can generate significant incremental revenue by asking viewers to pay a small amount to interact.
Live events, such as sports or music, also have been revolutionized by iTV. Viewers now can choose their preferred way of watching a game or concert by selecting alternative video feeds from different cameras or alternative audio streams with perhaps different commentaries to focus on one individual.
Interactive TV can also enable viewers to bet on individual elements within an event. This is best illustrated in live sports events. For instance, during a football game, a viewer can bet in real time on whether a player scores a penalty.
In countries where online betting and gaming services can be deployed through the TV, many companies are now earning significant revenues from iTV. In France, the Pari-Mutuel generates more than E150 million from iTV and, in the UK, betting and gaming revenue accounts for more than 50 percent of BSkyB's total interactive revenue.
Commerce-based iTV services that are directly related to program/channel content also have proven successful. The QVC channel has an iTV service available behind its channel on DTH satellite and cable in the UK. Viewers can access more information about products in the service as well as buy directly using only their remote control. It is estimated that up to 20 percent of QVC's transactions are now made via the TV return path.
Likewise, non-program-related iTV services are also proving successful. Despite lacking the sophistication of the console-based games, iTV games have proved to be highly successful. Most digital TV platforms now provide subscribers/users with at least one dedicated games portal that can drive enormous numbers of game plays as well as significant incremental revenue.
A simple user interface and intuitive navigation is central to the success of any interactive service. The BSkyB DTH platform in the UK, which features a comprehensive range of services, issues a set of guidelines to any third-party launching an interactive service on the platform. These guidelines lay down rules on the design and navigation of a service to ensure all services retain some commonality.
This helps viewers to become familiar navigating through any service on the platform and prevents confusion. One early school of thought on iTV was that Web sites could be played out on the TV to increase the online reach of Web sites by targeting households without Internet access. This has largely been abandoned. Those companies that experimented with Web on TV found it offered their viewers a sub-optimal user experience because the user interface and navigation was specified for a PC and mouse — not a TV and remote control.
Organizations with genuine broadcasting experience now recognize that iTV services need to be specifically designed for the television medium, both in terms of visual issues such as fonts and layout as well as navigation via the remote control.

Table 1. Shown here are the technologies used on different platforms in Europe. Click here to see an enlarged diagram.


There is evidence to support advocates of both positions. For example, many reality TV shows have generated millions of viewer interactions, mainly through voting. Indeed, "Pop Idol" in the UK was said to have generated more votes than the last general election.
One issue holding back the development of iTV is the lack of technology standards across the industry. Table 1 is a snapshot of the technologies used on different platforms in Europe.
Until recently, the lack of standards required iTV applications to be built from scratch for each platform as the technologies are incompatible. This pushes up the cost of each deployment. Fortunately, tools are now available to enable multinational broadcasters to build one application and then deploy it on multiple platforms.
The next step change in the iTV industry will be the wider adoption of the PVR. BSkyB has recently released new software for its Sky+ PVR, which enables interactive services to be recorded alongside linear programming.
Viewers, therefore, will be able to play along with recorded quiz/game shows or access alternative camera angles for their favorite events.
Look for iTV to become more ubiquitous as platforms and channels seek to supplement their existing revenue streams and differentiate themselves from competitors. Technology developments in digital TV will only increase the operational capability of interactive TV as well as make services easier and more cost-effective to deploy.
Paul Ranger is the UK business development manager for NDS.
The latest product and technology information
Future US's leading brands bring the most important, up-to-date information right to your inbox
Thank you for signing up to TV Technology. You will receive a verification email shortly.
There was a problem. Please refresh the page and try again.