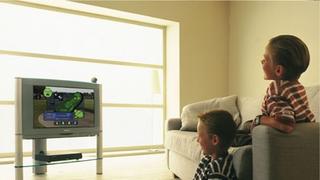 In its first three years on the market, DTV has built a solid foundation fortified by tremendous progress in the last 12 months. One million DTV products were sold in 2001. From the early days of black-and-white and then color TV, to more recent introductions like Direct Broadcast Satellite (DBS) and DVD, passing the million units per year sales milestone has set products on their way to becoming household staples.
TV manufacturers are still leading the DTV charge, offering more than 300 models of DTV products (up from 200 models just a year ago) including integrated sets, digital monitors and set-top receivers at affordable prices. More than half of all projection sets sold last year were digital models, an indication of consumers' recognition of HDTV's value as the price gap between digital and analog narrows. The 2002 International CES will feature even more new DTV products at still lower prices.
We have learned a lot about the DTV consumer over the past three years. CEA found through DTV owner and consumer surveys conducted in 2001 that great strides have been made in increasing consumers' awareness of digital television. An example of this is consumers' familiarity with digital television vocabulary, particularly the terms "digital TV," "high-definition TV," and "HDTV." More importantly, we found that a majority of consumers expect to be able to watch their favorite programs in high-definition, receive high-definition programming through cable and satellite providers, and be able to record programs on their VCR. This underscores the fact that broadcasters and content providers will have to embrace the transition to digital TV for it to be a true success.

As consumer awareness of DTV products grows, DTV is beginning to take firm hold in millions of American homes. Photo courtesy Philips.

Programming will continue to be a key to DTV adoption in the coming years. The FCC has mandated that by May 2002, all commercial stations in the United States must begin broadcasting on their digital channels. While progress on this front has been slow, it is likely that more than half the stations, reaching more than 95 percent of the nation's households, will meet that deadline. This means that, despite enormous challenges, the majority of broadcasters, like the TV manufacturers, will have done their part to make the digital transition a reality.
On the content delivery front, DBS delivery of HDTV continued to grow on both DirecTV and Dish Network including feature films and sports events. Broadcast networks stepped up the pace as well in 2001 with significant strides in their digital offerings, so that by year-end the CBS and ABC primetime schedules were predominantly HDTV. Visionary entrepreneurs like Paul Allen and Mark Cuban, who saw the potential of other technologies before most, have also taken a lead in DTV — Allen with a hi-def cable channel (ASCN) in Oregon and Cuban with HDNet from Dallas on DirecTV. These and other signs point toward 2002 being the year that DTV takes firm hold in millions of American homes.
Just as critical to the transition as broadcast devotion to HDTV is cable carriage. This must be the year that cable operators across the country step up to the plate and allow access to the growing roster of digital HDTV programs for the two-thirds of Americans who receive their television through cable. Pioneers like Cablevision in New York, Comcast in Philadelphia, Action Sports in Oregon and the few others that deliver HDTV to their subscribers cannot carry an entire industry through this transition.
We've made progress addressing the challenges surrounding copy protection, cable carriage and compatibility, and we'll continue to encourage industry, government and consumers to turn on digital television. In one program, CEA and the NAB are working together to introduce a consumer marketing program in the first quarter of 2002, which involves local retailers, broadcasters and DTV manufacturers all promoting the common theme that DTV is here, it's real and it's exciting.
We're bullish about DTV in 2002. We expect unit sales to double to more than two million, with a value of $3.5 billion. And as the inventory of HDTV programs increases, we expect the percentage of DTV receivers and integrated sets to grow quickly as well. The record of success thus far is impressive by any standard, and the growth curve continues to reinforce what we've said all along — that digital broadcast represents the future for American television and that when you show digital programming, the American public will embrace it.
Gary Shapiro is president and CEO of the Consumer Electronics Association (CEA).
The latest product and technology information
Future US's leading brands bring the most important, up-to-date information right to your inbox
Thank you for signing up to TV Tech. You will receive a verification email shortly.
There was a problem. Please refresh the page and try again.