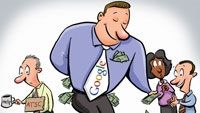 With all the media noise recently generated over Google's predicted Gphone, you'd think all other technology was blasé. The press gave the impression that the Gphone's features would be so all-encompassing that the only other things you'd need to live would be food and water.
The reality is that the Gphone is not a phone at all. It's a software development kit called Android. What does Android do, you ask? First a little background.
In July 2005, Google bought a small, young start-up company called Android. This company was chock-full of mobile-device code-writing talent. This began the media's prediction of a soon-to-come Gphone.
Sixteen months later, Google announced Android, describing it as an open software platform consisting of an operating system, middleware, user-friendly interface and applications. The key here is the word applications, which is geek-speak for functions and features.
What threw most observers is that Google decided not to compete against Apple's iPhone with a Gphone. Rather, the Internet giant hopes to change the rules by forming a consortium of 34 companies under an umbrella called The Open Handset Alliance. These companies have agreed to use Android as the platform for products they will develop. Using a common platform across many handsets would revolutionize the cell phone industry. The benefits would be incredible for both manufacturers and users.
In addition, Google has committed $10 million to reward developers coming up with new ideas developed on Android.
Where does television fit in this mix?
Just prior to this year's NAB convention, the ATSC announced it was launching a development process to create a terrestrial broadcaster DTV-to-mobile broadcast standard called ATSC-M/H. The goal is to enable TV stations to broadcast video to mobile receivers.
The last we've heard from ATSC was that it had received 10 responses to its RFP. Two of those are A-VSB (Advanced VSB) promoted by Samsung and Rohde & Schwarz, and MPH (Mobile-Pedestrian-Handheld) proposed by Harris and LG.
Some might argue that I'm comparing apples to oranges. After all, reception technology in a handheld isn't an application. Or is it?
Users don't care a hoot about whether their cell phone or mobile device uses ATSC or Google's Android to get video. They won't care if it's streamed or broadcast. They just want their MTV and other programs.
So, while Google hands out $10 million to build better handhelds, ATSC works with donated time and unpaid expertise.
Broadcasters need a place at the video-to-mobile table. One way stations and engineers can help protect their future is to participate in the Open Mobile Video Coalition. This is an alliance of U.S. commercial and public broadcasters committed to the development of mobile digital television. The coalition claims its members operate more than 420 stations. However, that means two-thirds of U.S. broadcasters are not participating.
Until someone can hand out $10 million to support an ATSC-compatible solution, it's up to individual stations to make mobile digital television a priority. Give these guys your support. Visit the Open Mobile Video Coalition at www.openmobilevideo.com.
Send comments to:editor@broadcastengineering.com
The latest product and technology information
Future US's leading brands bring the most important, up-to-date information right to your inbox
Thank you for signing up to TV Technology. You will receive a verification email shortly.
There was a problem. Please refresh the page and try again.