Ciprico stars in HBO's "Movies on Demand" project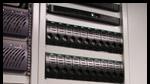 HBO's "Movies on Demand" program allows viewers to watch their favorite shows when and where they want, as well as enabling them to pause, rewind and fast-forward their digital movies at will. For viewers to use this service, HBO's broadcast engineering department ingests video content from videotape, encodes it into an MPEG format, and puts it on the network storage. The video data is then reviewed for quality and content and assigned to servers that are located in cable facilities around the world. The distribution server pulls the content from HBO's networked storage and sends it over satellite through IP. Multiple cable systems receive the video content on their local storage and mount it on their local "on demand" server to be viewed by their customers.

The Ciprico DiMeda allows a number of clients to ingest and play back files in real time without dropping frames.

With its deadline fast approaching, the department relied on its strong relationship with Ciprico to help it meet its goal. The department staff didn't have time to evaluate products for this project – they wanted to go with the tried and true. The company that was identified to distribute the final content required that the department have network-attached storage (NAS). The company recommended a solution, but the department staff had never used that product. In the past, they had worked with Ciprico. They knew the company was working on a new NAS product and felt that the company would work closely with them to supply exactly what was needed, when it was needed. After reviewing the product specifications and seeing that it met their criteria, the staff decided to use the Ciprico DiMeda 2400 digital media appliance, even though it was a new product and had not been tested in the field. Ciprico gave the staff its word that the product would meet its specifications, and a handshake sealed the deal.
The system is the first in a new family of digital media appliances introduced to address the need for shared storage. Capable of handling large media files at fast speeds, it allows a number of clients to ingest and play back the files in real time without dropping frames. The product combines the best of both storage area networking (SAN) and network-attached storage (NAS) at a reasonable price – a perfect fit for content creation and distribution applications requiring shared storage.
Using a product that had not yet been proven might make some nervous, but the staff was confident that Ciprico would deliver on its promise. The staff took the product right from the drawing board to the department's application. It purchased 3TB of storage for its production environment and an extra 3TB of storage for redundancy.
Ever since Sept. 11, the department also has had to provide an emergency recovery system offsite. The department chose to use the same storage solution for this purpose as well. This put all of HBO's storage eggs in one basket, but the staff wasn't nervous because of the close relationship they shared with Ciprico.
The system was brought into the facility, everything was connected and turned on, and then it was time to watch and wait. Usually, when the department rolls something out for production, it spends an extensive amount of time just running the entire application, so that if anything bad is going to happen, it doesn't happen in a full production environment. So the department ran the "Movies on Demand" system for about three months before HBO went live. In that time, DiMeda worked as expected – it was plug and play, which was exactly what the department needed.
Elmer Musser is vice president of broadcast engineering for HBO.
The latest product and technology information
Future US's leading brands bring the most important, up-to-date information right to your inbox
Thank you for signing up to TV Tech. You will receive a verification email shortly.
There was a problem. Please refresh the page and try again.