NAB Show: Virtual, Cloud Workflows Dominate Latest Production Trends
Exhibitors at the NAB Show will showcase new tech to advance remote production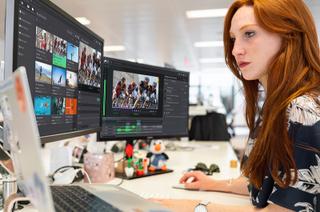 (Image credit: Dalet)
The role of the cloud is now well entrenched in broadcast and cinema production, but some traditional tools remain. This gives flexibility to production workflows that would have been unthinkable 15 years ago, when everyone's attention was focused on the digital/HD transition.
At the 2023 NAB Show, April 15-19, there will be something old and something new. One of the latest technologies is the use of "volumes" to provide hyper-realistic backgrounds for live and cinema production.
The following is a sample of new production gear that will be shown in Las Vegas next month.
Knocking Down Barriers
Pixotope, a provider of virtual production software solutions, will showcase its Graphics XR Edition, which includes a range of tools that simplify setup and operation in connection with the use of LED volumes, by reducing the technical complexities and associated resource costs of XR workflows and environments.
"With XR Edition, Pixotope is knocking down a major barrier to virtual production adoption by addressing the challenges that have previously made it difficult to leverage XR outside of major blockbuster productions," said David Dowling, chief revenue officer of Pixotope. "It effectively removes the need for proprietary hardware, bringing users an off-the-shelf XR solution that enables bigger, better stories with greater ease."
Blackmagic Design will roll out its line of network storage solutions, including Cloud Store, Cloud Store Mini and Cloud Pod, all of which let users share media files between multiple users on a global scale. The devices also understand proxy workflows, allowing a whole timeline and its media to be shared in minutes with responsiveness similar to a directly connected drive.
"We noticed how other storage solutions on the market didn't offer the performance needed by the feature film and TV industry, so we took it upon ourselves to build something for our customers that's not only fast but also reliable, portable and accessible in terms of costs," said Bob Caniglia, director of sales operations for the Americas at Blackmagic Design. "The resulting Cloud Store, Cloud Store Mini and Cloud Pod are easy to set up and use, while providing secure access to media files globally with syncing and sharing media via Dropbox and Google Drive, allowing users from around the world to collaborate."
Open Architecture
Panasonic will feature its Kairos line of IP-based production switchers. Kairos is an IT-based open architecture platform that enables functional enhancements and control linkage with external devices by adding software. At the show will be the next-generation Kairos Core 200 and Kairos Core 2000 mainframes, which offer improved functionality and performance, including many more inputs and outputs, improved video-processing performance and enhanced file-storage capacity.
Avid will be on hand to demonstrate its Maestro suite of graphics design and production tools for broadcasters. From news tickers and data-driven visuals to interactive and augmented reality content, Maestro provides solutions and tightly integrated workflows to add content on-screen in a coherent and engaging way.
LiveU will focus on flexible workflows such as remote/decentralized production, and cloud-based management and distribution help to allow delivery of high-quality, dynamic live content. LiveU will also showcase its latest 5G offerings and cloud-based solutions, which use the company's low-latency, high-quality transmission protocols.
Rolling out its latest NDI-capable switchers is For-A, which will introduce the HVS-190, a 1-M/E version of the company's flagship HVS-490 video switcher. As with the HVS-490, the HVS-190 also supports high-bandwidth NDI and NDI HX input and output. In addition to these switchers, FOR-A's MFR-3100EX all-in-one production center, ClassX graphics, Insight media server, and SOAR-A live production platform are all upgradeable to NDI.
Ross Video will feature its 12G ready Ultrix FR12, the latest version of its award-winning Ultrix Router. The FR12 router has an integrated production switcher that allows customers to build an infrastructure with greater flexibility, performance and integration. The Ultrix FR12 is targeted at studios, OB vans and flypacks.
Monetizing Content
Dalet will highlight its Dalet Flex media asset management and workflow solution, which lets users seamlessly produce, curate, orchestrate, archive, deliver and monetize content. With its new mobile app, FlexMOBILE, you can bring the power of Flex to your fingertips with the ability to find, preview, comment, review and approve your assets from anywhere.
TVU will demo its RPS Link Encoder and Channel Plus. The RPS Link Encoder provides multicamera, synchronized remote production capability, targeted for use in remote locations where reliable wired IP connections are unavailable or inadequate. Channel Plus, a cloud-based playout service with integrated ad sales support, enables broadcasters to create live and VOD channel programming from a simple web browser with minimal training and experience.
Matrox will spotlight its ConvertIP line of 4K distribution products that can send zero-latency 4K over 1, 10, and 25 GbE cabling systems. Built on Internet Protocol Media Experience (IPMX), ConvertIP encoder/decoder line supports 4K60 4:4:4 IP signal transport.
Vizrt will highlight its AR and virtual studio capabilities in live production through Viz Virtual Studio and Viz Engine 5. Together, Viz Virtual Studio and Viz Engine 5 enable the creation of interactive 3D virtual sets, AR graphics, and mixed reality presentations, elevating audience experience through XR with hyper-realistic quality.
"Viz Virtual Studio in combination with Viz Engine 5 is a game changer for visual storytellers," said Chris Black, head of brand and content at Vizrt Group. "Presenters can simply walk through 3D spaces, while the camera follows them and captures the interaction with XR infographics in an XR set that illustrates the story."
NewTek will showcase the latest in its TriCaster line at the 2023NAB Show. On display will be the new Flex Control Panel, TriCaster Mini X, its sports replay solutions, and more. CaptureCast, the company's flagship lecture capture solution for enterprise and education technology, will also be available.
Teradek, which will exhibit as part of the Creative Solutions Group in the North Hall, will focus on 4K with the debut of Prism Mobile, a camera-back video encoder with integrated cellular bonding, delivering 4K HDR live video from the toughest network environments.
Teradek says it developed Prism Mobile "to provide better connectivity, seamless portability, and more reliable video contribution for professionals in the field." It features two built-in high-performance cellular modems, and support for nine simultaneous network connections across WiFi, Ethernet, and Cellular offering the connectivity required for going live at sporting events, political rallies, and conferences.
Get the TV Tech Newsletter
The professional video industry's #1 source for news, trends and product and tech information. Sign up below.
Bob Kovacs is the former Technology Editor for TV Tech and editor of Government Video. He is a long-time video engineer and writer, who now works as a video producer for a government agency. In 2020, Kovacs won several awards as the editor and co-producer of the short film "Rendezvous."