KTWO captures HD news with JVC camcorders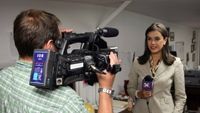 KTWO, the ABC affiliate in central Wyoming, is now broadcasting its local newscasts in HD with seven new JVC GY-HM700 camcorders in the field and three in the studio. The station produces five newscasts every weekday and two on both Saturday and Sunday, plus a weekly sports program.
The station, owned by Silverton Broadcasting, has deployed an all-HD, file-based news production workflow on a limited budget. Due to the affordability of the cameras, Terry Lane, the station's chief broadcast engineer, said he's able to add a frame synchronizer for each camera in the studio and still stay within the resources he had to spend. He said the camcorders have even performed well in low-light conditions.
KTWO's crew will most often reuse the SDHC cards that the GY-HM700 records images to, but the technology is inexpensive enough that they will also archive some of the cards "without seriously impacting our operating budget," Lane said.
The JVC camcorders also help in the KTWO edit suite, where news packages are cut using Apple Final Cut Pro. The HM700 records natively in the .MOV file format, so there is no need to ingest or transcode footage. A reporter simply inserts an SDHC card into a card reader and within seconds begins editing.
"We have spent a lot of money on equipment over the past few years as part of both the government mandated DTV transition and our own strategy to upgrade to local HD news," Lane said. "When you consider image quality and workflow improvements, particularly at such a reasonable price point, our new JVC camcorders have easily given us the best bang for our buck."