Hitachi to feature field, studio versions of SK-3200 HD camera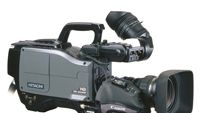 At NAB2007, Hitachi will showcase the new SK-3200 HDTV digital studio and SK-3200P HDTV digital field production cameras.
Both versions of the SK-3200 employ 2/3in IT CCDs for 1080i and 720p. Progressive scan options for the 1080i CCD version of the studio and handheld models are available.
The SK-3200 uses 14-bit analog-to-digital RGB conversion. The cameras employ up to 38-bit resolution in the processing of the digital RGB signals. All SK series HDTV cameras rely on digital optical transmission with 10-bit 4:2:2 specs. The fiber-optic cable system conforms to SMPTE311M and the connectors with SMPTE304M.
Hitachi offers two CCUs with the HDTV SK-series of cameras: the CU-3300, a 2RU, 19in unit that offers HD and SD (480i) simultaneous outputs and an optional crossconverter function; and the CU-3100, which is half the width of the CU-3300.
See Hitachi in NAB booth C5017 or visit www.hitachikokusai.us .