The Growth Recipe for OTT Services
Jumping into the OTT world of content management without a proper business plan will lead to failure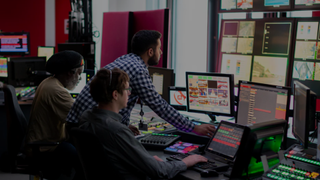 (Image credit: ViewLift)
From computers and phones to TV and social media, entertainment options abound everywhere. Streaming services have certainly experienced explosive growth since the beginning of the pandemic. Research on the over-the-top (OTT) market varies but the numbers across the board are both impressive and enticing.
Research Dive, for instance, has the global OTT market growing at a 19.1% CAGR (compound annual growth rate) and generating revenues upward of $440 million from 2019–2026 alone. And Allied Market Research valued the global OTT market at nearly $122 billion in 2019 and now projects it to reach over $1 trillion by 2027 with a CAGR of 29.4%.
It's little wonder brands are so eager to get into the streaming game and develop their own OTT solutions. All that opportunity can be a recipe for failure or success—it just depends on how the content creators plan to stand out from the crowd.
Recipe for Failure
Jumping into the OTT world of content management without a proper business plan is a recipe for failure. The companies that struggle to grow typically make one or more of the following streaming mistakes:
Not diversifying content: The OTT market already has its superstars in household names like Netflix, Amazon Prime Video and Disney+. Brands that try to emulate these companies and do everything from day one are guaranteed to fail. OTT services should not offer the same content other streaming providers already do.
Not investing in the audiences: While plenty of viewers learn about streaming content offerings from friends and family, word-of-mouth is not an effective growth plan. Nor is a desire for content to go viral. In such a crowded marketplace, content creators can't afford to skimp on understanding their audiences or hope viewers will magically stumble across their platforms.
Not monetizing properly: As varied as OTT solution providers are today, so too are their revenue models. The content companies that inevitably fail are the ones that are too expensive or run too many ads.
Not properly equipped: Brands that try to do too much at once often find they're not properly equipped from a technology standpoint. Content companies that try to build their own streaming platforms in-house or outsource the work to too many different vendors will, inevitably, come up short. OTT solutions with too many cooks in the kitchen will either have vendors pointing fingers at each other or everyone trying to take credit.
Recipe for Success
The good news for content companies is there are concrete steps they can take to stand out in today's crowded OTT market and build successful streaming platforms. The recipe for success has four critical parts:
Create and leverage unique content: For an OTT solution to succeed, the creator has to carve out a niche for their content and master it. This means offering content that is unique, exclusive and fresh – preferably to a big market. For example, MyOutdoorTV.com is regarded as the "Netflix of the outdoor world," because it is focused specifically on outdoor and adventure activities, like hunting, fishing and camping. Again, more of what other streaming platforms already offer won't work. The successful companies offer content nobody else has and when they've mastered that, they continue creating and refine their offerings to keep audiences coming back for more. Personalization and easy search capabilities are key as artificial intelligence can illustrate what viewers care about. TikTok is the best example of mastering unique, personalized content. The social media platform became wildly successful on short-form videos because it offered story creators a new opportunity to express themselves. A good rule of thumb is to create around 250 hours of new content and then launch something new on the OTT solution every week. Creators who are pushing TV channels should also look to video on demand (VOD) to leverage existing content they already have.
Find the target markets: Brands that want to build their own niche companies and grow aggressively must find the right audiences. This may sound intuitive but a surprising number of content creators stumble here. OTT solutions need to get on the ecosystems appropriate for their target markets, test their pricing models, and get their names and partnerships out there to viewers. Marketing matters—whether it's digital, advertising hoardings or grass-roots campaigns. Don't underestimate the importance of price either as it typically establishes the barrier for viewing.
Monetize to your market and industry: Content creators undoubtedly have monetizing on their mind but the successful OTT solutions understand they must balance that monetization with the user experience. This is why flexible business models are important in the streaming world.
Companies today get the importance of content—most know how to create it and some even know how to market it. Where brands stumble is in growing their businesses and staying ahead of the competition. Global demand for streaming services is only increasing. Now more than ever, OTT solutions need a roadmap to success—a recipe for growth.
The latest product and technology information
Future US's leading brands bring the most important, up-to-date information right to your inbox
Co-founder and the president of ViewLift
is a co-founder and the president of ViewLift. Bambha has served in engineering leadership roles at some of the biggest tech companies, including Myspace and Fox Interactive Media. He holds bachelor's and master's degrees in computer science from the University of Pune and the University of Southern California, respectively.
The latest product and technology information
Thank you for signing up to TV Tech. You will receive a verification email shortly.
There was a problem. Please refresh the page and try again.