Monetizing Sports Content Requires Scalable, Fast, Secure, and Affordable Storage
While cloud and tape are options today, there are inherent challenges in terms of cost, security, and performance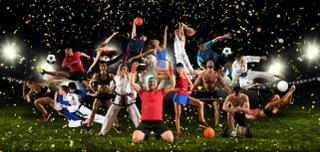 (Image credit: Getty)
The demanding and rapidly evolving sports media industry needs to ensure that new and historical content is always available when needed for the creation and delivery of stories and footage quickly to their dedicated and enthusiastic fan bases. Secure, cost-effective, long-term protection of these assets is paramount for the continued monetization of this content.
According to Parks Associates, annual sports OTT subscription revenue in the U.S. was $13.1 billion in 2022 and will almost double to approximately $22.6 billion in 2027, a 73% increase in five years. There's an opportunity for media companies to monetize historical content, in particular, but first they need to understand the technologies driving enhanced storage and the key components required to ensure long-term content preservation. After all, if content is no longer usable due to corruption from inadequate protection, monetization isn't possible.
Future-proofed, resilient, and secure content storage enables better monetization of sports content.
Key Storage Challenges for Sports Applications
Sports media organizations need all their assets to be easily accessible, safe, secure and all in one place. One of the biggest challenges with storing sports media assets is long-term content preservation. Sports content must be stored for an extensive period of time. It's important for media organizations to consider whether in 20 years' time their storage solution will still be able to read the content. Moreover, determining how the storage will be maintained is imperative.
Mitigating unpredictable costs for storing assets over a long period of time is also crucial. The cost of storing content in the public cloud may be clear today, but it can change in the future. Deploying a storage solution with long-term cost predictability will help media companies successfully monetize their assets.
Key Components for Long-Term Content Preservation
Traditionally, sports media organizations relied on LTO storage due to its low cost. However, recovering content from LTO is slower compared with other archive types. Now, organizations are moving more toward the cloud to gain greater flexibility and scalability, but the cost of pulling out an asset from long-term cloud storage can be substantial. It's hard to anticipate when an asset might need to pulled from storage.
While cloud and tape are options today, there are inherent challenges in terms of cost, security, and performance. These issues can be addressed with software-defined object storage, utilizing the same cloud-native S3 interface and capabilities that power the public cloud.
Leading object-storage based archive solutions run on commercial-off-the-shelf hardware. As lower cost hardware becomes available, media companies can take advantage. Moreover, using object-based storage for long-term content preservation ensures protection against bit rot and long-term loss of content. Erasure coding technology enables seamless upgrades from smaller hard drives to larger hard drives. Ultimately, by choosing an object-based storage solution that is affordable, secure, and easily accessible, sports organizations can tap into their archive for monetization purposes.
Latest Innovations in Content Storage Include Cloud, Edge, and AI/ML
While many media organizations are embracing on-premises solutions for long-term content preservation, more and more, they are using the cloud for live sports production because it is flexible, scalable, and efficient. We're seeing a shift toward cloud-native storage solutions as media companies look to unlock greater efficiencies and scale storage capacity based on changing requirements.
Another key trend is storage at the edge. Most of live sports production is done at remote locations such as sports venues. Edge storage is cost-effective, as it eliminates the need for sports media companies to move video to a physical location during the live event. Sports fans benefit because they receive content fast, without any delays.
During a live sports broadcast, there is not a lot of editing that goes on. But highlights and replays created after the event is over are done at a location outside of the edge. Moving content between the core (i.e., a facility or production center), edge (i.e., a remote venue), and the cloud can be done effortlessly by partnering with an expert in workflow solutions.
AI and ML technology are also pushing the envelope of innovation, enabling faster content search and access, as well as enhanced metadata awareness. When sports media companies are streaming live highlights, they need information about the content at the edge. Until now, AI and ML functionality has almost exclusively been limited to the cloud, but the tides are changing.
Technology providers like Perifery, a division of DataCore, are looking to bring cloud-enabled AI/ML applications to the edge to make content search more intelligent and to open up new monetization opportunities for sports media companies.
Future-proof Storage Strategies
Sports media companies can take a few different approaches toward ensuring their content storage acts as foundation for future monetization. First, sports content must be easily accessible all the time. A great example are cloud-based storage solutions that assure easy access to searching and retrieving files from the archive through a web-based content portal, available over HTTP/S3, which are standard interfaces.
Moreover, metadata awareness is critical. By choosing a storage solution that couples data and metadata together, sports media companies can perform a multi-level search in metadata as well as data. Adding a panel between the content storage solution and popular video editing software applications will enrich the metadata of searched objects and speed up the search for media assets, optimizing content browsing and enabling increased monetization.
Furthermore, content needs to be stored in more than one place. Using a storage solution that supports the core (i.e., on-premises data center), cloud, the edge empowers sports media companies to utilize a storage option that matches their evolving business goals.
Having a strategy for long-term content preservation is imperative if sports media organizations want to monetize their content. Through a mix of core, edge, and cloud-based storage, powered by AI and ML technology, sports media organizations can mitigate unpredictable costs, ensure immediate access to content, and locate content clips faster.
Get the TV Tech Newsletter
The professional video industry's #1 source for news, trends and product and tech information. Sign up below.
Alex Grossman is Vice President Product Management and Product Marketing, Perifery (a division of DataCore)