Is AVOD the New SVOD?
It looks like hybrid ad-supported/subscription services may well be the most sustainable model for the long term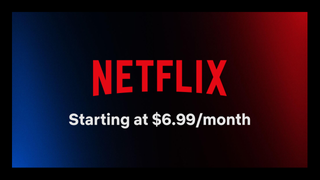 (Image credit: Netflix)
We've witnessed the subscription video on demand (SVOD) market expanding at a remarkable rate over recent years, yet as we approach the end of 2022, there are signs that the market is slowing down. This is hardly surprising given the fact that consumers around the globe are feeling the pinch of inflation and the increased cost of living.
Conversely, advertising video on demand (AVOD) services are experiencing a surge in demand. We're also seeing a trend toward multi-tiered hybrid models offering a reduced fee service with limited advertising alongside the standard ad-free subscription service. With the market going through a period of change, is the golden era of subscription-based video-on-demand over?
Subscription vs. Advertising
Although advertising-based content is growing in popularity, it still may not be the right fit for all video services. Services that adopt a subscription-based model have the benefit of having a predictable monthly revenue stream.
However, to guarantee that regular income, there is a need to ensure that the content shown is valuable enough to the viewer to justify the subscription fee. The constant need to provide new, high-quality content typically requires big investment. The market is extremely competitive and there is relentless pressure to attract new subscribers and minimize churn.
While AVOD lacks the revenue certainty that comes from having a subscription-based model, it is generally considered easier to build a larger audience with this approach. This is understandable given that you don't have to convince people to part with any money before they engage with the service.
However, there is always a risk that ads could annoy viewers enough to make them switch off. This is why it is so critical to get the ratio of ads to content right. After all, ad-revenue is dependent on viewing numbers, and more viewers means higher ad-revenue.
One thing that has changed over recent years that has helped AVOD to gain a bigger market share is the ability to provide highly personalized ads. If you think back to the days when SVOD services were first taking off and people were switching from linear TV, one of the appealing features of an SVOD format was the lack of ads.
It's worth remembering that at the time, ads on traditional linear TV were not able to target the viewer anywhere near as effectively as they do now. Viewers often had to sit through irrelevant ads one after another. But as technology has advanced, ad personalization has become much more effective and sophisticated. This benefits both viewers and advertisers. A well targeted ad is more tolerable for viewers and improves ROI for advertisers because it's reaching the right consumers.
Regional Factors
Ad-based content tends to be more popular in some regions than others. When Disney launched its ad-supported service earlier this year, it opted to do so in the US first, where AVOD is particularly popular among viewers. According to a recent report, a higher proportion of viewers choose AVOD services in the U.S. than in other countries. The AVOD market in the US is predicted to grow by $19 billion to $31 billion by 2027.
Advertising based streaming plays a less important role in Europe than in the U.S., although there are signs that this is changing. Recent analysis shows that revenue from the AVOD market is increasing in all European countries, and was three times higher in 2021 than 5 years previously.
The U.K. has the highest digital video ad spend in Europe at over $4.4 billion. UK broadcaster, and Accedo customer, ITV recently announced that it is launching a new advertising based platform ITVX that will include numerous AVOD services, as well as additional themed FAST channels.
Looking to the Future
With SVOD's domination over the streaming market appearing to come to an end, many video providers are launching new services or packages to achieve a business model that is more sustainable for the long term. The most notable of these launches is perhaps Netflix's (opens in new tab) introduction of an ad supported plan with a reduced fee that delivers 4-5 minutes of ads per hour of content.
The Basic with Ads subscriber option is available in 12 countries initially and is likely to expand to include additional countries at a later date. When Netflix first announced its intention to introduce an ad supported package in April, it sent out a clear message to the industry that the market is changing, and relying solely on SVOD may be risky.
Global AVOD revenue is forecasted to reach $70 billion by 2027, so ad-supported models will play a key role in the future of the video-on-demand market. SVOD most definitely still has, and will continue to have, its place in the market. For some services, and for some regions, it will remain the right choice.
However for other services, it looks like hybrid ad-supported/subscription services may well be the most sustainable model for the long term. What's clear is that tailoring the model to the region and audience will be crucial for longevity in the VOD space over the coming years.
The latest product and technology information
Future US's leading brands bring the most important, up-to-date information right to your inbox
Regional Vice President, North America, Accedo
Mrugesh Desai joined Accedo in 2013 and is Regional Vice President, North America, leading the North American sales, solutions engineering, and marketing functions. He was previously Head of Solutions Engineering, working with customers to understand their video experiences needs and help define ways to scale their brand and content to the fragmented OTT device market while still delivering best in class video experiences. He is most excited about some of the new advents in video experiences specifically in AR, VR and mixed reality and sees Accedo playing an important role in this arena.