Snell & Wilcox upgrades Alchemist standards converter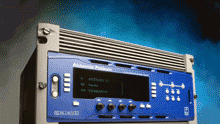 When added to the Alchemist Platinum, DEFTPlus converts standard definition material to 24p and can integrate standard and high-definition material within the same program.

Snell & Wilcox is set for an NAB introduction of DEFTplus, an upgrade to the company's Alchemist Ph.C and Alchemist Platinum standards converters. DEFTplus allows program producers to convert standard definition material to 24p and integrate standard and high-definition material within the same program.
An acronym for Digital Electronic Film Transfer, DEFT technology, in its original form, corrected major 3:2 pulldown problems encountered when filmed dramas were edited on 525-line NTSC videotape and subsequently converted to 625-line PAL. The enhanced DEFTplus technology includes the ability to integrate SD archive footage with film material shot at 24 fps.
DEFTplus also addresses issues in editing and time compression (vari-speeding), which can cause problems with the 3:2 pulldown cadence. This is accomplished through its abilities to digitally store numerous sequential fields for motion analysis and to identify the 3:2 pulldown sequence by searching for identical fields. Because DEFTplus can differentiate "true fields" from duplicates, it knows which fields to motion process. The resulting images are virtually indistinguishable from the original film.
The DEFTplus conversion process is more complex than that of normal standards conversions. DEFTplus operates on a principle of reordering the television field sequence so that the new PAL fields are produced only from the original film fields. The resulting video looks as if it was transferred directly from film to PAL.
DEFTplus includes Snell & Wilcox's Ph.C (phase correlation motion estimation) technology and "Clean Cut" scene change detection system.
For more information visit www.snellwilcox.com.
Get the TV Tech Newsletter
The professional video industry's #1 source for news, trends and product and tech information. Sign up below.