Providing a world of coverage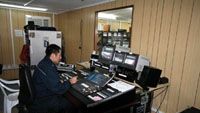 Delivering live global event coverage is a complex undertaking, requiring months of planning. Last December, sports and entertainment teleproduction company NEP Broadcasting faced the challenge of providing worldwide coverage for three such global events — at the same time. Within a 15-day period, the company covered the 15th Annual Asian Games live from Doha, Qatar; the 52nd Annual World Golf Championship live from Barbados; and the World Wrestling Entertainment's (WWE) "A Holiday Tribute to the Troops" in Iraq.
Successfully providing coverage of the three large, complex sporting events within a tight time frame required nontraditional measures.
None of the event locations lent themselves to mobile truck units. So, the company found a sound solution through modern, flexible and fast assembly fly pack infrastructure. For the logistical preparation, the company called on specialized internal divisions according to their unique expertise: NEP Visions, an independent outside broadcast facility company based in London; International Events Group (IEG), jointly comprised of NEP Broadcasting and Broadcast Services International, specializing in operational and engineering management of large-scale global events; and NEP Supershooters, a provider of mobile broadcast facilities.
To ensure that each fly pack was assembled and shipped in accordance with each location's rules and regulations, it was important that the company be prepared by having the appropriate team in the trenches doing the necessary research. The company's three specialized divisions gathered information in the field and reported it back in a thorough and timely fashion, allowing for sensible and responsible shipping schedules that complied with each area's environment and guidelines.
Manning the team
In preparing and facilitating the 2000 hours worth of television coverage, the company's London-based division led the effort to provide facilities and services for the 15th Annual Asian Games. The preparation for the 15-day coverage of the 45 countries competing at 40 venues began a year and a half in advance. The process included thorough research of Doha's geographical region, weather conditions and travel customs, and proceeded with the identification, assembling, packaging and shipping of 95 tons of high-tech equipment to Qatar via land, sea and air.
Requiring an "all hands on deck" perspective, more than 80 members of NEP Visions' team of digital architects and engineers were dispatched to the Middle East to deliver comprehensive coverage to the estimated 200 million viewers tuning in throughout the two-week competition, held Dec. 1 through 15. While the country typically has more than 300 dry days a year, the skies unprecedently opened up during coverage of the opening ceremonies, causing engineers and staff to ensure all equipment and personnel remained covered and dry.
A customized equipment configuration was comprised of 12 production galleries spread throughout the games, all of which were fed into four master control rooms, three SD and one HD.
The equipment list included a Grass Valley Kalypso HD switcher and a mix of cameras in HD (30 LDK 6000s and nine slow-motion LDK 6200s), SD (42 LDK 200s and eight slow-motion LDK 23s). There were also 10 Sony HDW-500 VTRs and three DVS-7350 switchers; 14 HD and 15 SD EVS XTs; and 12 Yamaha MC7L 48-input sound desks. Additionally, more than 1000 monitors and 270 microphones were used during the games.
Set up according to venue and activity, the arrangement of galleries included one HD location in the Kalifa Stadium for live coverage of the opening and closing ceremonies and athletic and gymnastic competitions. The SD gallery consisted of a separate location for basketball, one production area for bodybuilding kabbadi, two sites for badminton, one location for track cycling, one boxing production area and one production site for wrestling and weight lifting coverage.
Televising this comprehensive event required quick assembly and disassembly of equipment — a challenge that began with coverage of the opening ceremony at Khalifa Stadium. All cameras used for the exclusive broadcast of the ceremonial kickoff were immediately dismantled upon its conclusion and quickly transported to the gymnastic hall, where they were swiftly reassembled overnight to ensure everything was up and running in time for coverage of the next day's gymnastic competition.
Driving the distance
While planning for the Asian Games, the teleproduction company also prepared for live broadcast of the 52nd Annual World Golf Championship, held 5-10 December. To spearhead the six months of research and planning needed for this event, the company sought reinforcements from its IEG division. To provide live telecast of the 28-nation, two-man team golf tournament, the company worked closely with IMG Media to synchronize schedules for equipment delivery to predetermined shipping locations in Barbados. More than 45 tons of equipment were assembled, packaged and shipped from headquarters in Pittsburgh, PA, to the Caribbean. In addition, eight core engineers were sent on-site to manage and maintain the gear throughout the event to ensure uninterrupted coverage.
Challenged with the responsibility of televising 12 hours of U.S. reporting for ABC and ESPN networks, while simultaneously capturing event highlights for broadcasts in 140 countries, the OB crew worked from one main production gallery for overall tournament coverage with an additional smaller production area used for international broadcast.
Adhering to the event's outdoor nature and tropic terrain, all gear was protected with weatherproof tents. Barbados, beyond its traditionally windy and wet weather, is also home to such native species as monkeys, which made themselves at home inside the compound.
The equipment used at the main site featured 62 stacked monitors and 35 isolation monitors and included a Sony HDS-X3600 64 × 64 video router accompanied by a HDS-X3600 128 × 128 audio router; a Grass Valley DD35 digital switcher; eight Sony Digital Beta tape machines; two six-channel EVS LSM hard disk video recorders; a 52-channel Soundcraft Series 5 mixing console; a 48-channel Yamaha PM 4000 effects console; and 20 cameras comprised of Grass Valley LDK 6000 HDs and Sony 900 SDs.
While the smaller production unit shared footage from the core production gallery, it also had its own equipment tailored for international coverage. The equipment included a Trilogy intercom matrix; a Network Electronics 32 × 32 video and stereo audio router; a Ross Video Synergy 2.5 MD switcher; two wireless Sony 950 cameras and two Digital Beta tape machines; a Crest Century VX mixing console; and a six-channel EVS LSM.
Tackling the desert
The final event, WWE's "A Holiday Tribute to the Troops," fell just days after completing coverage of the World Golf Championship. The team worked alongside WWE's technical personnel for two months planning for and packaging teleproduction equipment for international broadcast of the event.
As the exclusive broadcast equipment provider for WWE's annual holiday visit with U.S. Military personnel in Iraq, IEG and NEP Supershooters assembled and shipped a Ross Video Synergy 3 with WARP 3D DVE production switchers; a Pro-Bel Freeway router; seven Sony 700 CCUs, four BVP-950 handheld cameras, three BVP-900 hard cameras and eight DVW-A500 Digital Betacam recorders; and two Soundcraft K3 24-input mixing consoles. Once again faced with having to provide broadcast coverage without mobile units, the equipment braved the desert's dust, heat and unpredictable weather with weatherproof rain covers and tents.
World travlers
Providing equipment and technical support to three unique projects in vastly different parts of the world was certainly a challenge calling for a systematic approach in both operation and planning.
Allison Gayne writes about broadcast technology.
Technology at work
At the Asian Games
EVS XTs
Grass Valley LDK 6200, LDK 6000, LDK 23, LDK 200 cameras
HD Kalypso
Sony
HDW-500 VTRs
DVS-7350 production switchers
Yamaha MC7L sound desks
At the World Golf Championship
Crest Century VX mixing console
EVS LSM hard disk video recorders
Grass Valley
DD35 digital production switcher
LDK 6000 cameras
Network Electronics video and stereo audio router
Ross Video Synergy 2.5 MD switcher
Sony
Digital Beta tape machines
HDS-X3600 video and audio routers
900, 950 cameras
Soundcraft Series 5 mixing console
Trilogy intercom matrix
Yamaha PM 4000 effects console
At the WWE
Pro-Bel Freeway router
Ross Video
Synergy 3 production switchers
Warp 3D DVE production switchers
Sony
700 CCUs
BVP-900, BVP-950 cameras
DVW-A500 Digital Betacam recorders
Soundcraft K3 mixing consoles
Design team
NEP Broadcasting
NEP International Events Group (IEG)
NEP Supershooters
NEP Visions
The latest product and technology information
Future US's leading brands bring the most important, up-to-date information right to your inbox
Thank you for signing up to TV Technology. You will receive a verification email shortly.
There was a problem. Please refresh the page and try again.