O'Rielly on Broadcast: 'Entire Regulatory Model Needs to be Shredded'
Calls amount of overregulation "mind boggling"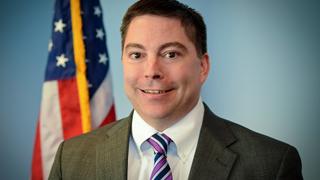 (Image credit: FCC)
WASHINGTON—FCC Commissioner Michael O'Rielly is an advocate for modernizing FCC regulations, and according to recent statements that should include shredding the current regulatory model for the broadcast industry.
O'Rielly was a speaker at the Media Institutes' Luncheon Series, which took place virtually on July 29. Among the topics he spoke on was the need to deregulate legacy media companies so that they can more effectively compete in the ever-changing landscape. When it comes to broadcasting, he said the "level of overregulation is mind boggling."
He asked why the FCC needed to regulate things like the placement of a broadcast tower as long as it doesn't cause interference with an adjacent market? Or why the commission tells stations to maximize OTA listeners or viewers, arguing that it is already in their best interest to do so.
He cites how recent steps will help free up what he described as regulatory burdens facing broadcasters, like how the completion of the repack can put an end to license modification freezes. Also, he says that an update is needed for station waiver analysis, saying the current structure is outdated and doesn't account for certain mergers that would provide increased local and live programming.
"In both instances, these changes to our rules could shift the focus to what truly matters to consumers: more and better locally focused programming," O'Rielly said.
He also spoke on how removing regulations for the cable industry, like the franchise model, would help companies compete with OTT services that are often lightly regulated and are thriving in the current market. O'Rielly said he hopes that the FCC can close out all open media modernization proceedings before the end of the year so legacy media companies can operate in a "freer market."
That is the type of setup that O'Rielly says NextGen TV is entering as it continues to roll out across the country. Broadcasters have been the ones making the decisions about their own deployment of ATSC 3.0 without regulatory permission. Because of this, O'Rielly says that how NextGen TV will be utilized will be determined by the market and consumer preferences.
Another free market that is changing the shape of the industry, as O'Rielly detailed, is OTT. With new streaming services popping up from major cable and broadcast networks, they are bypassing "stodgy, outdated FCC regulations," describing it as a great time for consumers.
However, O'Rielly says that some regulators are slow to recognize the changing market and how things like OTT are impacting legacy providers. O'Rielly gives an example that when TV stations and radio stations in a market want to combine, the Department of Justice fails to acknowledge non-broadcast sales in its analysis when looking at relevant advertising market participants
The need for adaptation of FCC regulations is not just limited to marketplace issues, per O'Rielly, rules regarding diversity must also be looked at.
"No one should be able to say with a straight face that our rules meant to promote diversity have been anything but a complete failure," O'Rielly said. He argues that removing current FCC limitations would allow for more minority investment and ownership.
The entirety of O'Rielly's speech is available through the FCC website (opens in new tab).
The latest product and technology information
Future US's leading brands bring the most important, up-to-date information right to your inbox