NYC broadcasters may not co-locate on Freedom Tower after all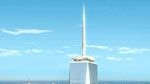 Ongoing negotiations to co-locate the digital transmission equipment of 11 NYC broadcasters on top of the yet-to-be built Freedom Tower — the 102-story building at the heart of the rebuilt World Trade Center site — have broken off amid reports that broadcasters have worked out other arrangements. The high price tag of roughly $20 million to build out and install the required antenna and transmission equipment, plus $10 million in annual rent, appear to be the sticking points.
According to an online report in "The Observer,"the Metropolitan Television Alliance, a consortium of local television stations, has decided to pursue long-term agreements for alternate sites on top of the city's Empire State Building and the Durst Organization's 4 Times Square — where the stations are broadcasting from currently.
However, the deal is not dead yet. Saul Shapiro, the MTVA's president, said that the group has not ruled out the Freedom Tower completely, citing undisclosed technical benefits of having a DTV antenna at the World Trade Center.
The Freedom Tower is owned by the Port Authority in New York, which had reached a tentative agreement with the MTVA in 2003 for an annual rent of about $10 million, on top of a $20 million payment to build the antenna. Once completed, the 1776ft site would be the highest location in the city skyline.
"The Observer" said the Port Authority is now considering whether to build a less costly antenna — the price was north of $20 million — with the hopes of striking a new deal later on, or to build a spire that has an aesthetic function alone. Antenna deal or not, the agency still plans for a spire atop the $3.1 billion tower to bring the building to its symbolic height of 1776ft.
The plan to put an antenna atop the new skyscraper was proposed after the Sept. 11, 2001, terrorist attack, when the city's main television broadcast antenna went down with Tower 1 at the lower Manhattan site.